Fetterman returns home to Pennsylvania after hospital discharge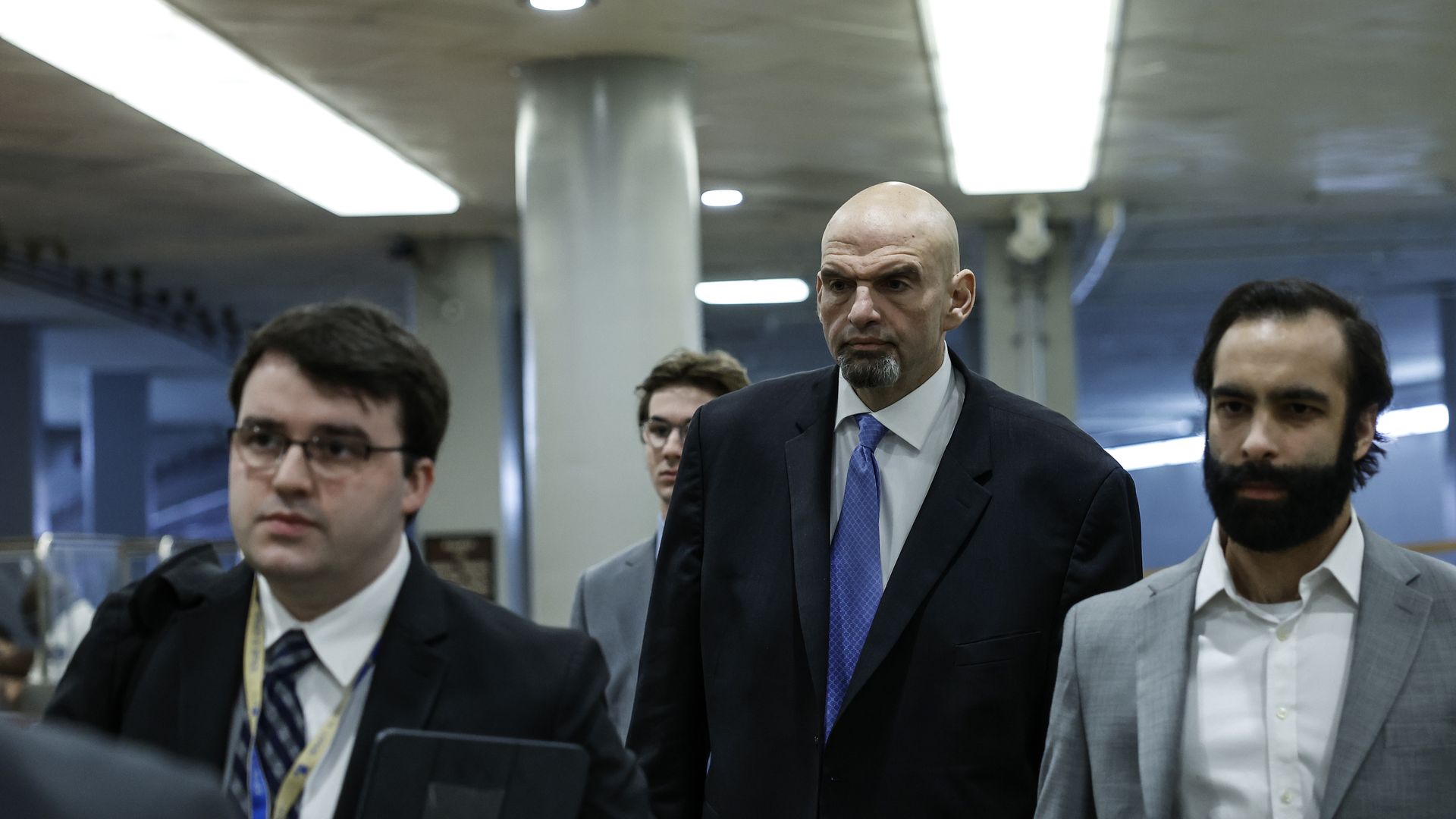 Sen. John Fetterman (D-Pa.) on Friday returned to his home in Braddock, Penn., after being discharged from a hospital in Washington where he was treated for depression.
Driving the news: The first-term senator said in a statement that he will be back in the Senate when his colleagues return from recess on April 17.
What they're saying: Fetterman said he was "extremely grateful to the incredible team" at Walter Reed National Military Medical Center.
"The care they provided changed my life," he said in the statement.
"I will have more to say about this soon, but for now I want everyone to know that depression is treatable, and treatment works," he added.
In a CBS News interview recorded during his stay, Fetterman said that despite winning his Senate race in November, his depression convinced him that he "actually lost," according to a partial transcript released Friday.
"You just won the biggest, you know, race in […] the country," he told CBS anchor Jane Pauley. "But depression can absolutely convince you that you actually lost. And that's exactly what happened."
Fetterman said it was "the start of […] a downward spiral."
Details: Fetterman had "severe symptoms of depression" when he was admitted in February, according to the lead doctor on the senator's treatment team.
In a discharge briefing provided by the senator's office, Dr. David Williamson — the neuropsychiatry chief and medical director at Walter Reed — said Fetterman exhibited other symptoms, including low energy and motivation, minimal speech, and slowed thinking.
He also experienced "feelings of guilt and worthlessness, but no suicidal ideation," Williamson said, per Fetterman's office.
Those symptoms had "progressively worsened over the preceding 8 weeks and Fetterman had stopped eating and taking fluids, causing him to develop low blood pressure," which Williamson said could have affected the senator's brain circulation.
The big picture: Fetterman's mood "steadily improved" after he began treatment, which included reading a book on depression, Williamson said, adding that Fetterman "expressed a firm commitment to treatment over the long term."
"We believe that significant continued improvement is likely with continued outpatient rehabilitation," Williamson wrote. "His depression, now resolved, may have been a barrier to engagement."
Of note: Fetterman's weeks-long hospital stay was one of several recent prolonged absences from the Senate.
Minority Leader Mitch McConnell (R-Ky.) worked from home this week after completing physical therapy for injuries sustained during a fall at a fundraising dinner earlier this month.
Sen. Dianne Feinstein (D-Calif.) has been recovering at home in California since being hospitalized for shingles in early March.
Go deeper