SVB's collapse was a failure of ESG (as in governance)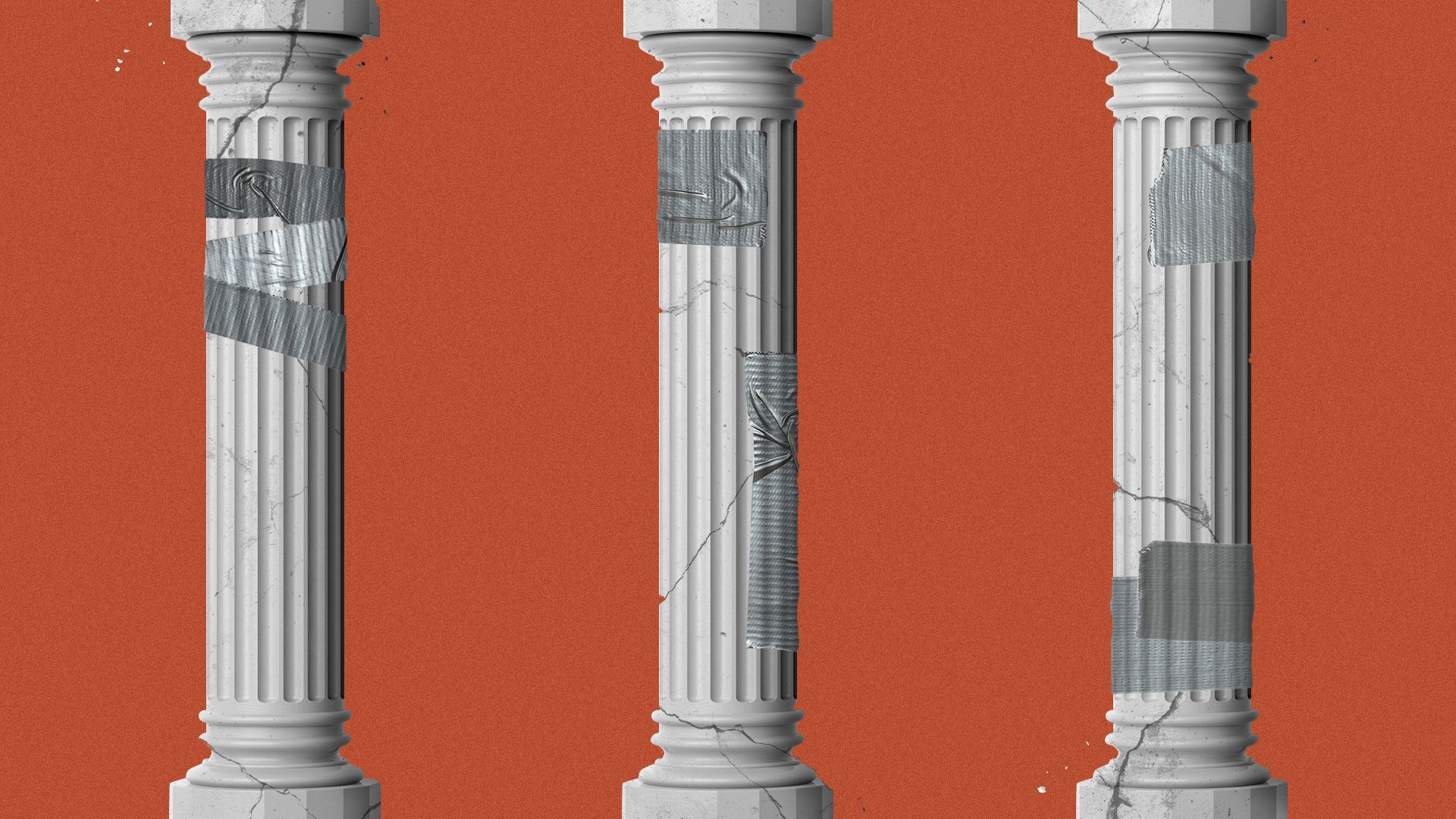 The collapse of Silicon Valley Bank was about ESG — the now-controversial moniker for Environmental, Social and Governance measures — just not in the way that critics have portrayed it.
Why it matters: The bank's undoing had everything to do with the "G" in the acronym (i.e. governance, or how a business manages itself).
How it works: SVB's risk management procedures — a key component of the G — clearly didn't function. The bank was even without a chief risk officer for months last year.
Michael Barr, the Federal Reserve's top banking regulator, said at a Senate hearing earlier this week that the bank's collapse was "a textbook case of mismanagement."
"The picture that has emerged thus far shows SVB had inadequate risk management and internal controls that struggled to keep pace with the growth of the bank," he said.
The bank had been warned in 2020 by Fed regulators that its risk control mechanisms weren't adequate for a large financial institution, the WSJ reported earlier this month.
P.S. The Fed itself could have some G issues; there are big questions about the way it regulated SVB.
Yes, but: When asked by lawmakers in the House Wednesday, Barr and FDIC chairman Martin Gruenberg both rejected the idea that ESG played a role in the failure of SVB.
Still, it's doubtful that "governance" was on anyone's mind.
Zoom out: Most corporate failures, whether it was Enron or Lehman Brothers or now Silicon Valley Bank, were in fact governance failures, said Paul Washington, executive director of the Conference Board ESG Center.
"One of our mantras here is don't forget the G."
Yet, that is often forgotten in the politically charged debate over ESG.
In the wake of SVB's failure, for example, conservatives have blamed the company's focus on environmental and social justice for its undoing. But they haven't much mentioned how the bank was governed.
Context: Silicon Valley Bank seemed to understand that risk management was a part of the G.
In its 2022 ESG report, the company says it seeks directors on its board with "knowledge of, or experience with, key risk oversight and risk management functions to help oversee the dynamic risks we face."
But the key risk the bank failed to deal with was a "bread and butter" issue, as Barr explained this week. That is the bank failed to manage its interest rate risk. That failure was its undoing.
ESG critics, and there have been many lately, are far less focused on governance.
"Good governance, I have no issue with," Vivek Ramaswamy, the author of the book "Woke Inc.," and a vocal opponent of ESG, told Axios.
But including it in ESG actually "prevents good governance," because firms are more likely to focus on social and environmental issues instead of what could be viewed as "boring" governance work, he said.
That's what happened with SVB, he said, clarifying that he doesn't think ESG is why the bank collapsed.
Flashback: The term ESG stems from a 2004 United Nations report, which said that focusing on these non-financial areas would be beneficial to the public and to the companies themselves.
At the time, 20 financial companies pledged to integrate ESG into investment analysis and decision-making.
What they're saying: The term can be "problematic," Washington said, adding, "I lead the ESG center."
That's partly because environmental and social justice issues are more or less relevant depending on the company and industry, he explained. For example, an oil company may face big E issues, while a media company not so much. "But governance is always relevant," he said.
As the E and S have become "political footballs," the G got overlooked, said Lisa Gilbert, executive vice president at Public Citizen. "The whole thing has been politicized to such a degree that we should call the whole thing, just 'responsible investment.'"
Go deeper