The hidden hurdles of social safety net programs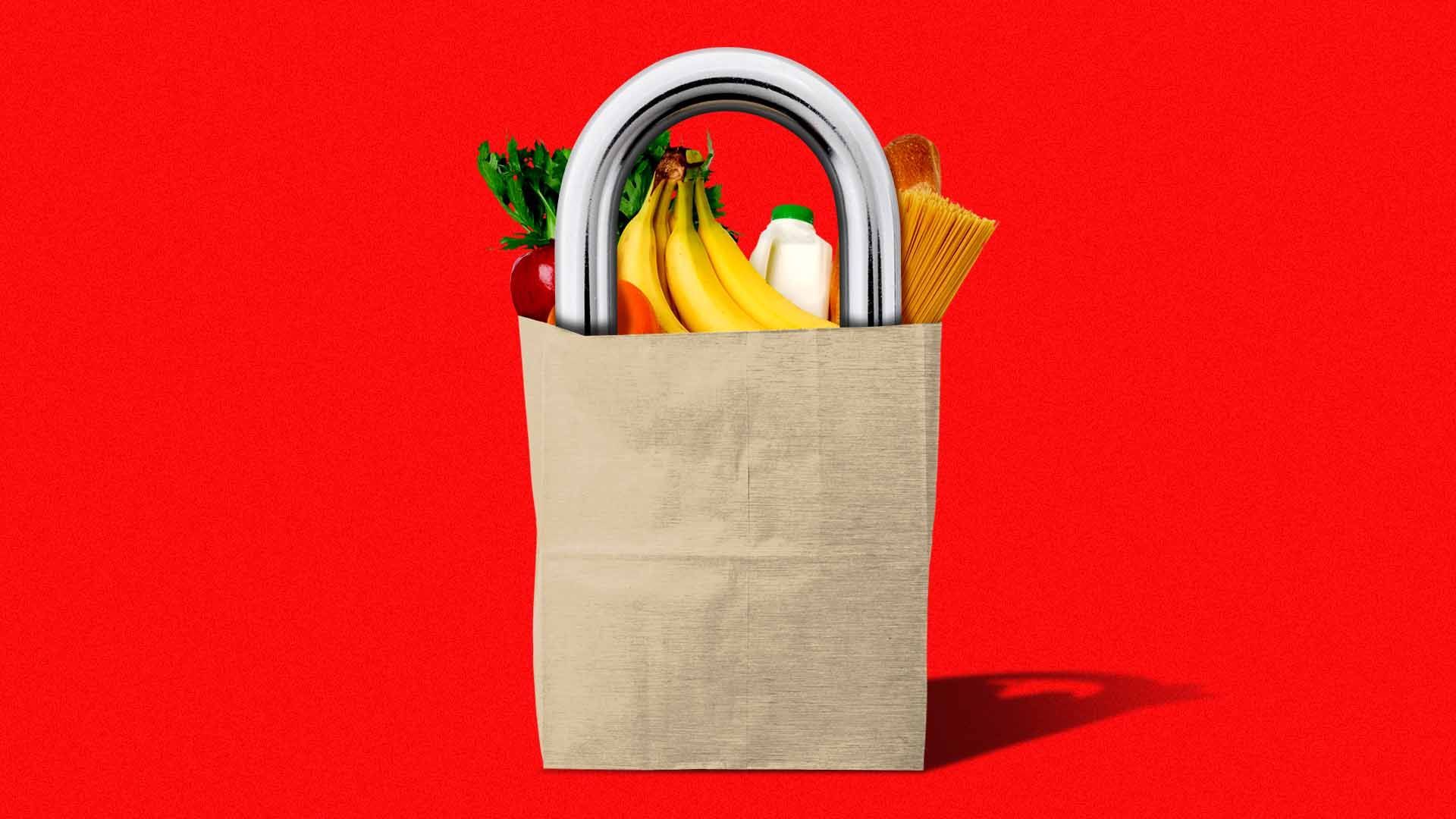 Administrative barriers are holding up social safety net funds like SNAP and WIC from reaching Americans in need as expiring benefits threaten to send them over a nationwide "hunger cliff."
The big picture: Burdensome applications and fragmented eligibility systems are adding to the mounting financial pressures of vanishing pandemic-era benefits low-income Americans are now facing.
What we're watching: There are some efforts to lower the bureaucratic hurdles — but there are also new political pressures that worry advocates and analysts.
"We're at a critical emergency moment with regards to the food security of tens of millions of folks across the country," says David Helene, founder and CEO of public benefits tech startup Beam. "And these systems are not going to be able to meet the need at the present moment."
Language barriers, time constraints, troubles with transportation for in-person interviews and poor communications between agencies operating public benefit programs all block people from accessing safety nets like SNAP and WIC, according to Helene.
That's in addition to the complexity of the programs and the burden of meeting the documentation requirements, said Helene, whose company streamlines the administration of benefits programs.
Meanwhile: The Biden administration recently announced a slew of initiatives designed to improve delivery of public service programs for low-income families experiencing financial shocks.
Yes, but: This comes at a time of uncertainty over the future of food stamp funding, fueled by nearly two dozen Republicans introducing a bill that proposes tightening SNAP's work requirements.
The move has been met with criticism by several Democrats, as food price inflation combined with expiring pandemic aid has increased food hardship nationwide.
Zoom in: Helene says his startup has seen a significant uptick in the number of households citing difficulty affording food among critical needs — an increase that strongly correlates with rising grocery prices.
What they're saying: 55-year-old Gertrudix Alvarez of Cornelius, Oregon tells Axios that over the last year, her family has been forced to choose between buying groceries or paying other essential bills.
"At one point we got our water cut, and then at a separate time we got our electricity cut, because we weren't able to pay it," says Alvarez in Spanish.
She says they can't afford food without the aid of purchasing programs, but when they tried to apply for SNAP, were told they "make too much" to qualify.
"We end up sacrificing the money that we have for food and it ends up an afterthought, in order to ensure that we get our bills paid," says Alvarez. "It's really difficult."
Of note: This is an "all-too-common" theme found within the muddled nutrition assistance eligibility picture, according to Ariel Kennan, fellow and research faculty member at the Beeck Center for Social Impact + Innovation at Georgetown University.
"There's a clear need to look at that, not only the eligibility levels, but how complex these rules are to parse," says Kennan, who researches the digitization of public safety net access.
Context: A 2023 Urban Institute report found that more than four in 10 adults reported one or more enrollment difficulties with SNAP, including trouble determining eligibility, providing required documentation and getting benefits when needed.
State of play: Stacy Dean, Deputy Under Secretary for Food, Nutrition, and Consumer Services at the Agriculture Department, tells Axios that SNAP, which is administered through the agency, reaches about 80% of eligible people in a typical month.
"But that means we're not reaching 20%," says Dean. "It's a constant area that you want to continually work to retool and improve."
According to Dean, the ending COVID-19 public health emergency has meant the "wide variety of flexibilities" Congress gave states on how they operated SNAP is also ending, so returning to "the new normal" is "a big part of what we're dealing with."
Zoom out: While the ending of SNAP's emergency benefits on their own is "certainly an important story," Dean said, another administration priority is "highlighting the fact that families have these other needs."
One focus is modernizing WIC, which has seen steady coverage declines since 2016, per USDA data. (The USDA proposed a rule change in February to "remove barriers to online ordering and internet-based transactions.")
Dean identifies "the visits to the office, the paperwork, the fact that they couldn't always align appointments between their one-year-old and their three-year-old, and the shopping experience" as common pain points the FNS has heard in its investigation into declining participation rates.
The bottom line: "Many times, people in need don't know where to go to ask for help and receive help," Alvarez tells Axios.
Go deeper