First look: New leader, new mission for pro-Biden group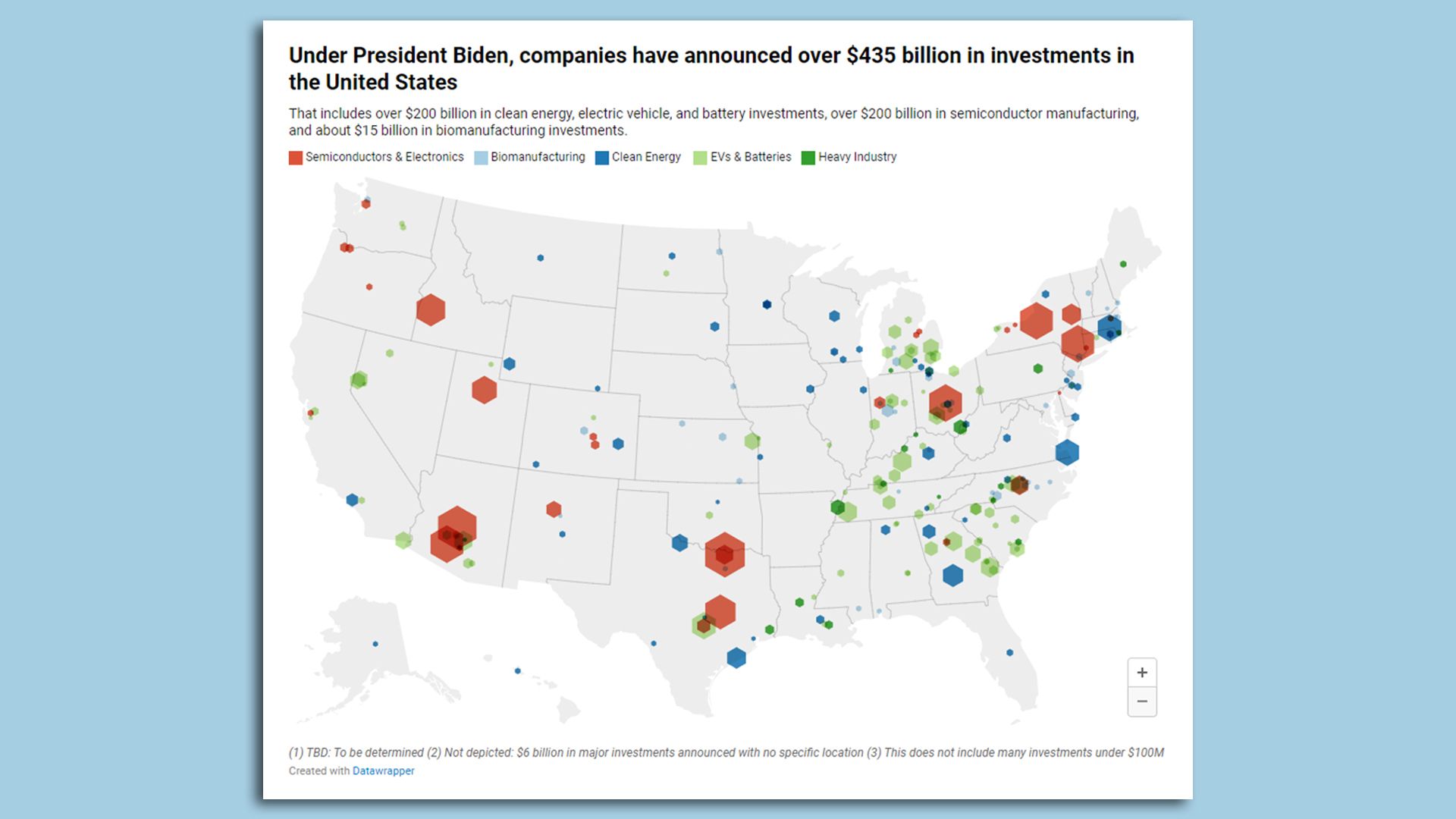 The head of Building Back Together, a "dark money" group designed to highlight President Biden's accomplishments, is leaving the organization, Axios has learned.
Why it matters: The departure of executive director Danielle Melfi signals a new mission for the nonprofit organization — which accepts unlimited contributions from anonymous donors — as President Biden prepares to announce his re-election campaign.
Instead of paid media campaigns, BBT will focus more on helping progressive groups draw attention to the Biden administration's push to implement its climate, semiconductor and infrastructure programs Congress approved last year.
Mayra Macias, who has led a progressive advocacy group called the Latino Victory Project, will serve as BBT's interim executive director.
The intrigue: In 2021, BBT raised more than $40 million and spent about $28 million on advertising, according to tax documents obtained by Politico late last year.
Because the group is organized as a 501(c)(4), it doesn't not have to report its political spending to the Federal Election Commission.
The big picture: Ahead of an expected campaign announcement later this spring, Biden is embarking on a three-week roadshow today, designed to convince Americans that the trillions of dollars of projects he signed into law will produce good-paying jobs for the next generation of American workers.
During his "Investing in America" tour, Biden and his Cabinet will visit some 20 states, touting the new projects — and new industries — Biden is touting.
Today in Durham, N.C., Biden will visit Wolfspeed, a company that produces semiconductors and recently announced plans to invest $5 billion for a facility the White House says will create 2,000 jobs.
Driving the news: Biden advisers are preparing a Rose Garden re-election strategy that will rely on sunny White House ceremonies, surgical sorties to swing states, and a busy international travel schedule to overcome his low approval ratings.
A major focus will be on private-sector manufacturing investments the White House says Biden's policies have encouraged.
Officials are breaking down what they say is about $435 billion in private investments in more than 240 projects, state-by-state.
What we're watching: Before the formal campaign is launched — and before a campaign manager is announced — Democratic aides and strategists are calculating which outside groups they should join to help ensure that Democrats hold on to the White House.
Much of the Biden campaign's paid media expenses will be run through a single Super PAC that accepts unlimited contributions, just as Priorities USA did for then-President Obama in 2012.
With its new focus, that PAC is unlikely to be Building Back Together.
Top Democrats expect a group called Future Forward to become Biden's preferred outside spending vehicle, as Puck reported in October.
What they're saying: "I could not be more proud of what our team has built over the past two years to play a role in passing President Biden's historic legislative agenda — an agenda that is changing lives for the better," Melfi said.
Go deeper