Fate of abortion rights in Georgia comes down to this major court case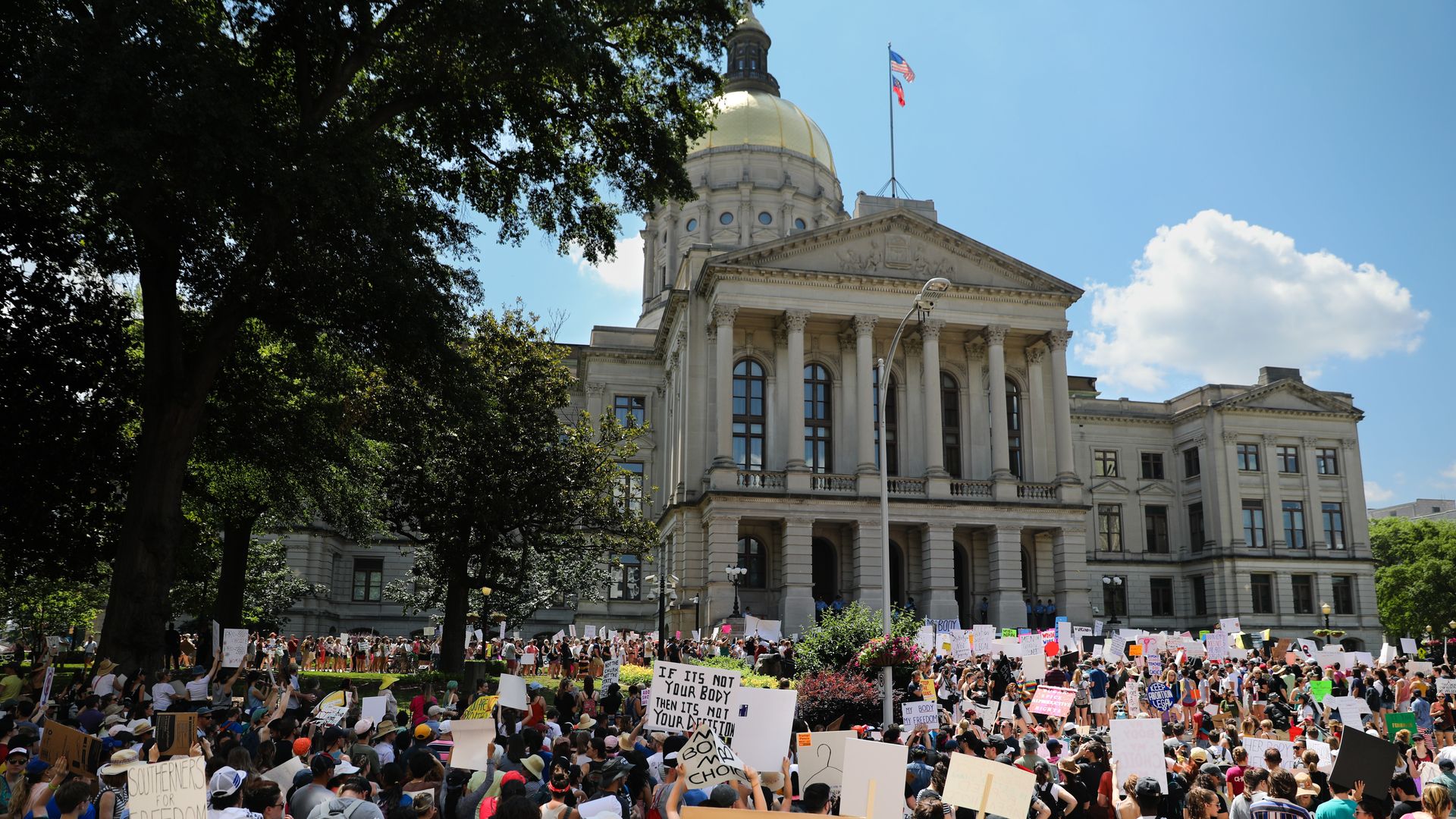 The future of abortion access in Georgia hangs in the balance as the state's Supreme Court heard arguments Tuesday in a case on its six-week abortion ban.
Why it matters: This case represents the remaining significant legal avenue for abortion rights advocates to overturn Georgia's anti-abortion law, which is in effect and has been snarled in federal and state courts since 2019.
Driving the news: In court Tuesday the word "abortion" was hardly mentioned, as lawyers instead zeroed in on whether the anti-abortion law was void when passed in 2019 — because Roe v. Wade had been in effect.
The big picture: As in many states that have increased abortion restrictions, Georgia abortion services providers have to deny patients daily "who are in life-threatening and life-changing situations," Kwajelyn Jackson, executive director of Feminist Women's Health Center, an Atlanta abortion services provider, told reporters at the courthouse Tuesday.
Jackson called the policy "deplorable," "cruel," and "unconscionable."
What they're saying: State Solicitor General Stephen Petrany admitted that while the law "generates strong policy views," those weren't relevant in the debate. He defended the law as constitutional because the federal constitution hasn't changed, despite the Supreme Court's historic reversal in the Dobbs decision.
Judicial decisions, he said, "don't create the law" or "exalt this court above" other branches of government.
Julia Stone, a lawyer for abortion rights advocates countered that Supreme Court precedent is binding. "For 50 years the rule was states could not ban abortions before the point of viability," she said.
She argued the legislature should have to pass the law again to make it valid today, after the Dobbs decision.
Some justices appeared skeptical of that argument on Tuesday.
But, Stone told reporters after, "e can't read ever too much into the questions," and defended her point that constitutionality should be determined "at the moment of its enactment."
"So when you do that here it's a pretty straightforward application," she said.
State of play: If they lose, Stone said, "the fight continues" back in superior court over other claims within their case, including that the law violates Georgians' constitutional rights to privacy and equal protection.
Catch up quick: The law first went into effect last summer after the U.S. Supreme Court overturned Roe v. Wade.
After appeals, the fate of the ban now rests with the state's highest court, which temporarily reinstated it last fall pending the case.
Zoom in: The 2019 law prohibits abortions once cardiac activity has been detected in an embryo — generally at about six weeks, which is before many people know that they are pregnant.
Abortion rights advocates today recommend Georgians past that point in their pregnancy travel to North Carolina or South Carolina — where looser restrictions are in place.
Of note: The Georgia General Assembly has studiously avoided any further abortion-related legislation since its emotional fight over this bill in 2019.
Anti-abortion GOP elected officials including Gov. Brian Kemp, who handily won re-election in the midterms, have cited the pending court case as the reason.
When asked by reporters Tuesday if the legislature would revisit the issue, the bill's original sponsor, GOP State Sen. Ed Setzler said he thinks it will be deemed "fully constitutional... And I don't think there's any value in speculating otherwise."
What's next: Chief Justice Michael Boggs promised a ruling "as soon as possible," but per court rules it must come within six months.
Editor's note: This story has been updated with additional developments and reporting.
Go deeper