Georgia's six-week abortion ban to take effect immediately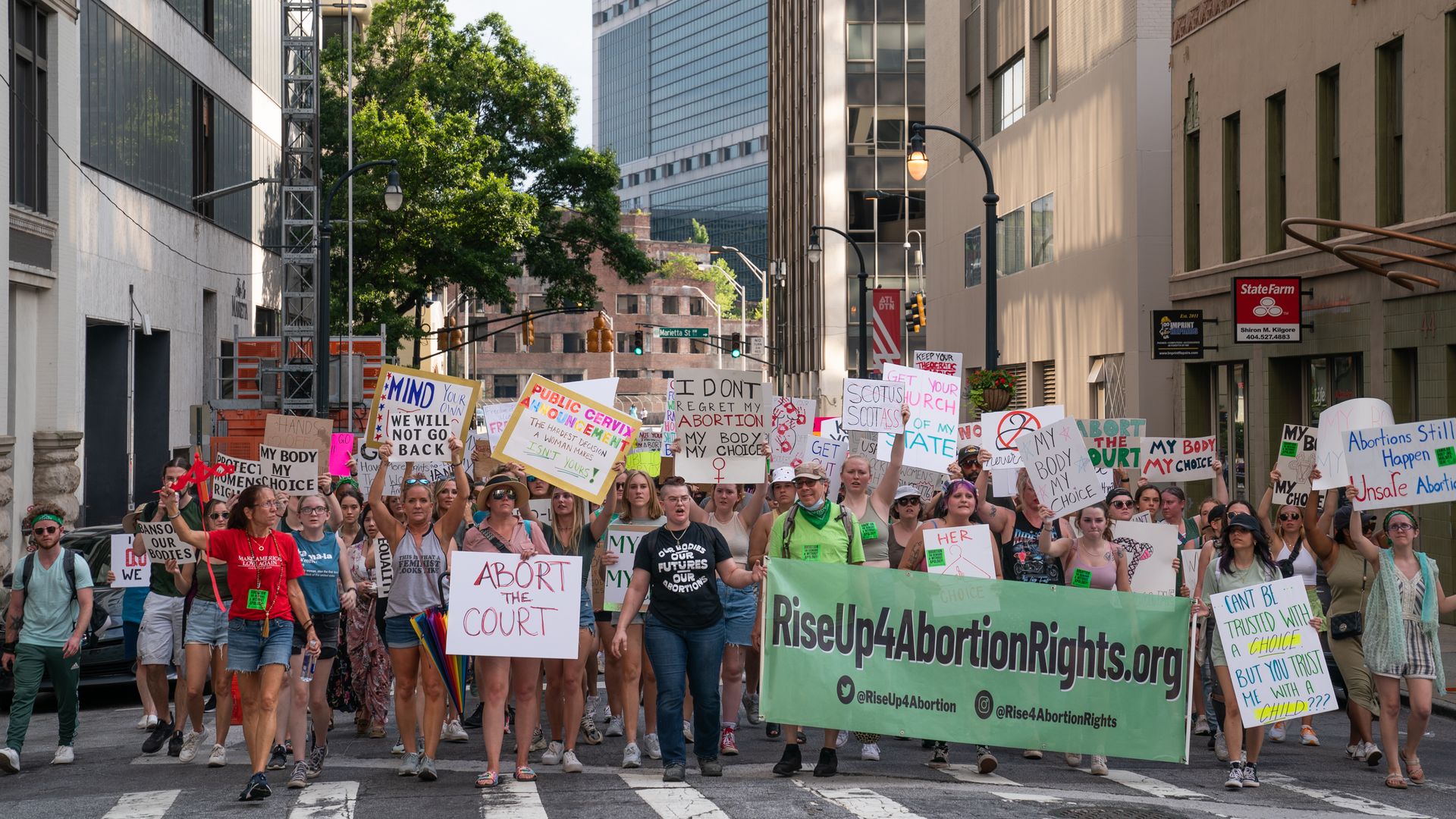 A federal appeals court on Wednesday lifted an injunction on the state's 2019 anti-abortion law, which bans most abortions after about six weeks and ruled the law is fully in effect.
Driving the news: "We vacate the injunction, reverse the judgment in favor of the abortionists, and remand with instructions to enter judgment in favor of the state officials," the court said Wednesday, before staying the lower court's decision, even though plaintiffs could still move for reconsideration of the decision.
The court cited the Supreme Court's decision to overturn Roe v. Wade in its ruling, saying that "the Constitution makes no reference to abortion, and no such right is implicitly protected by any constitutional provision."
State of play: HB 481, the 2019 law, bans abortions once cardiac activity has been detected in an embryo — generally at about six weeks, which is before many people know that they are pregnant.
The bill contains exceptions if a doctor deems a pregnancy "medically futile" and for victims of rape and incest after they've filed police reports and only for fetuses younger than 20 weeks old.
What they're saying: A joint statement from groups including ACLU and Planned Parenthood Southeast called the court's stay of the lower court's ruling a "highly unorthodox action that will immediately push essential abortion care out of reach for patients beyond the earliest stages of pregnancy. "
"Across the state, providers are now being forced to turn away patients who thought they would be able to access abortion, immediately changing the course of their lives and futures," the groups wrote.
Georgia Republican Attorney General Chris Carr confirmed in a statement: "Today, our arguments have prevailed, meaning the Eleventh Circuit has allowed Georgia's LIFE Act to take effect immediately."
Of note: The court also rejected the plaintiffs attempts to target the "personhood" provision of the law, which defines an embryo as a "natural person." An Arizona judge recently enjoined a similar law there as "unconstitutionally vague."
What's next: Georgia's abortion rights community has already been weighing potential state-level legal challenges to the anti-abortion law. Some have zeroed in on state-level protections of a right to privacy as one potential avenue.
Don Samuel, an Atlanta attorney who has defended the right to an abortion in Georgia, said the ruling is "not surprising." But, he said there are still several open questions in Georgia.
He's watching whether the legislature will go for a total abortion ban and whether there will be criminal exposure to women in grayer areas of the law like a morning after pill, IVF implications and traveling across state lines for an abortion.
"It's not like: 'It's all over, it's all darkness,'" Samuel told Axios. "It could get darker, and it could get lighter. The voters have a lot of power."
Go deeper... Georgia's abortion law explained
Editor's note: This story has been updated with information from a newly released filing, as well as with statements from ACLU and Planned Parenthood Southeast.
Go deeper