Updated Mar 24, 2023 -

World
Biden: U.S. will "act forcefully" to protect American troops in Syria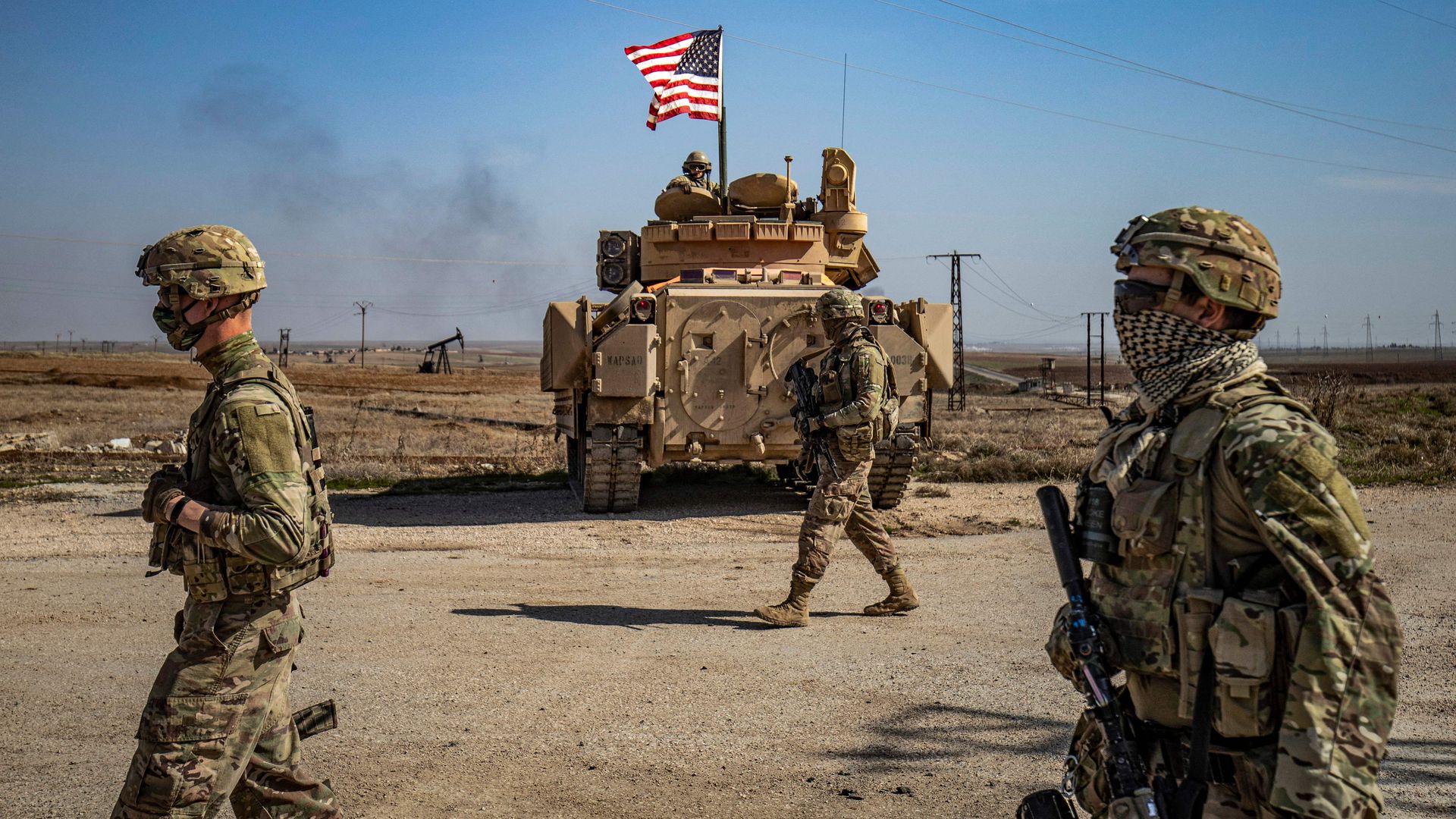 President Biden on Friday said the U.S. will "act forcefully" to protect its troops and other personnel in Syria after a drone strike by suspected Iranian proxies in the northeast part of the country killed an American contractor and wounded five American service members and another U.S. contractor.
Details: A U.S. intelligence assessment determined that the "one-way unmanned aerial vehicle" that struck a maintenance facility on a coalition base near Hasakah on Thursday was "of Iranian origin," per a U.S. Defense Department statement issued late Thursday.
Two of the wounded service members were treated on-site, while the three others and the U.S. contractor were taken to coalition medical facilities in Iraq following the incident, which happened just after 1:30pm local time, according to the statement.
What they're saying: "The United States does not, does not seek conflict with Iran," Biden said from Canada, where he was concluding a two-day state visit.
The U.S. will, however, "act forcefully to protect our people. That's exactly what happened last night," Biden added, referring to the "precision airstrikes" U.S. Central Command forces conducted late Thursday in eastern Syria against facilities used by groups affiliated with Iran's Islamic Revolutionary Guard Corps.
Defense Secretary Lloyd Austin said in a statement Thursday night that the strikes "were conducted in response to today's attack as well as a series of recent attacks against Coalition forces in Syria by groups affiliated with the IRGC."
"As President Biden has made clear, we will take all necessary measures to defend our people and will always respond at a time and place of our choosing," Austin added. "No group will strike our troops with impunity."
Syrian and Iranian officials did not immediately comment on the incidents.
The U.K.-based Syrian Observatory for Human Rights, which monitors the war, said the U.S. strikes killed at least eight Iran-backed fighters. The death toll has not been independently confirmed.
The big picture: Former President Trump announced the withdrawal of thousands of American troops from Syria in 2019 following the defeat of ISIS, but some 900 remain in the country.
Gen. Michael "Erik" Kurilla, commander of U.S. Central Command, said during congressional testimony on Thursday that Iranian proxies were believed to be behind 78 attacks against American forces in Iraq and Syria since January 2021.
"The Iranian regime now holds the largest and most capable unmanned aerial vehicle force in the region," he told the House Armed Services Committee.
"What Iran does to hide its hand is they use Iranian proxies," Kurilla said. "That's either UAVs or rockets to be able to attack our forces in either Iraq or Syria."
Editor's note: This article has been updated with additional details throughout.
Go deeper