GOP senators see impact if McConnell's not back soon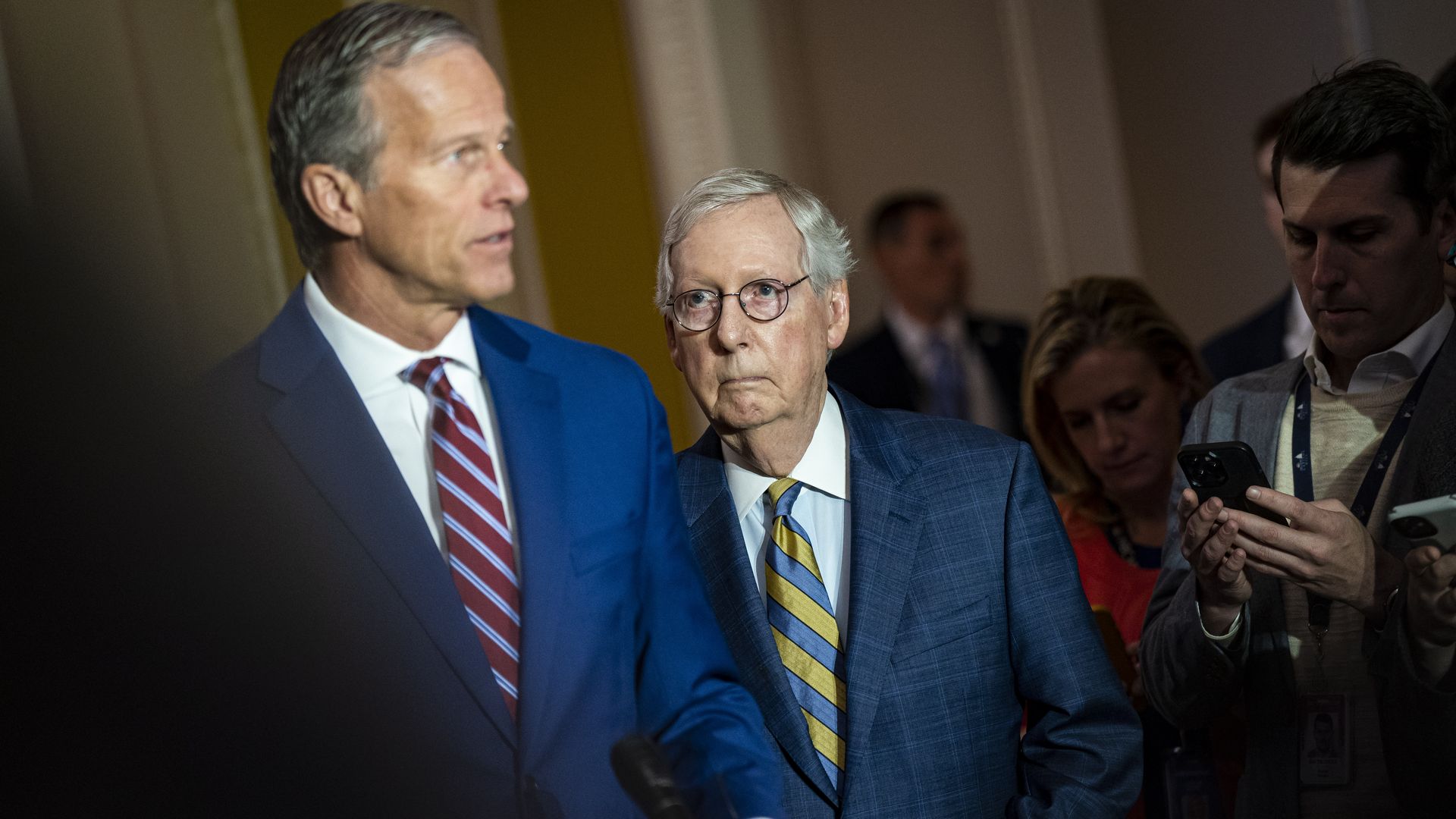 Some of Senate Minority Leader Mitch McConnell's (R-Ky.) Republican colleagues say his absence from the Senate could be a problem if he doesn't return in the coming weeks.
McConnell was treated for a concussion and a minor rib fracture after falling at a fundraising dinner this month. After he was discharged from the hospital last week, his office said he would undergo physical therapy at a separate facility before returning home.
Why it matters: McConnell's Republican colleagues see some concern on the horizon about the impact his absence could have — both as a reliable floor vote and elected leader.
In a chamber with 48 Democrats, 49 Republicans and three Democratic-leaning independents, every vote counts.
"I wish we had one more vote on some of the CRAs coming up," said Sen. Roger Marshall (R-Kan.), referring to resolutions aimed at overturning Biden administration regulations that can pass the 100-member Senate with 51 votes. "I think that'll be a challenge next week, to see who's here and who's not."
McConnell isn't the only senator who's missed time recently: Dianne Feinstein (D-Calif.) has battled shingles, and John Fetterman (D-Pa.) is being treated for depression.
Sen. Marco Rubio (R-Fla.) said he has "not yet" seen McConnell's absence having broader ramifications, but believes it could: "He provides strategic guidance and things of that nature."
Zoom in: McConnell's lieutenants have been steering the ship this month, with his No. 2, Senate Minority Whip John Thune (R-S.D.), presiding over leadership lunches and press conferences.
"He's doing a great job," Marshall said of Thune, also citing the stewardship of Senate GOP Conference Chair John Barrasso (R-Wyo.) and Policy Committee Chair Joni Ernst (R-Iowa).
What we're hearing: Several Senate Republicans told Axios that McConnell and his staff have conveyed the GOP leader's desire to get back to the Senate as quickly as possible.
"We've been getting reports. It sounds like he's antsy to get back into the swing of things," Sen. Mike Rounds (R-S.D.).
"He's doing better," Sen. John Cornyn (R-Texas), a McConnell confidante, said Tuesday. Cornyn said he's one of a few senators who have spoken with McConnell recently.
Between the lines: Just because he's not at work doesn't mean McConnell isn't keeping tabs on the comings and goings of his colleagues.
"I can guarantee he'll know what we're having for lunch today," Marshall said.
Sen. Mitt Romney (R-Utah) said: "Last week he was joking about my lobster lunch, and how offensive he thought that might be to [Maine Sen.] Susan Collins."
"His presence is here and it's known every day that the lights are on," said Sen. Thom Tillis (R-N.C.), who added that he's exchanged texts with McConnell.
What we're watching: It's unclear when McConnell will return to the Senate.
"I hear he's probably going to be back next week," Sen. Rand Paul said of his fellow Kentucky Republican.
But Rounds said "there's been no date given to us," adding, "We had assumed it would probably be next week, but it sounds like he took a pretty good fall."
Go deeper