Scoop: Sinema delays vote on FAA nominee Phil Washington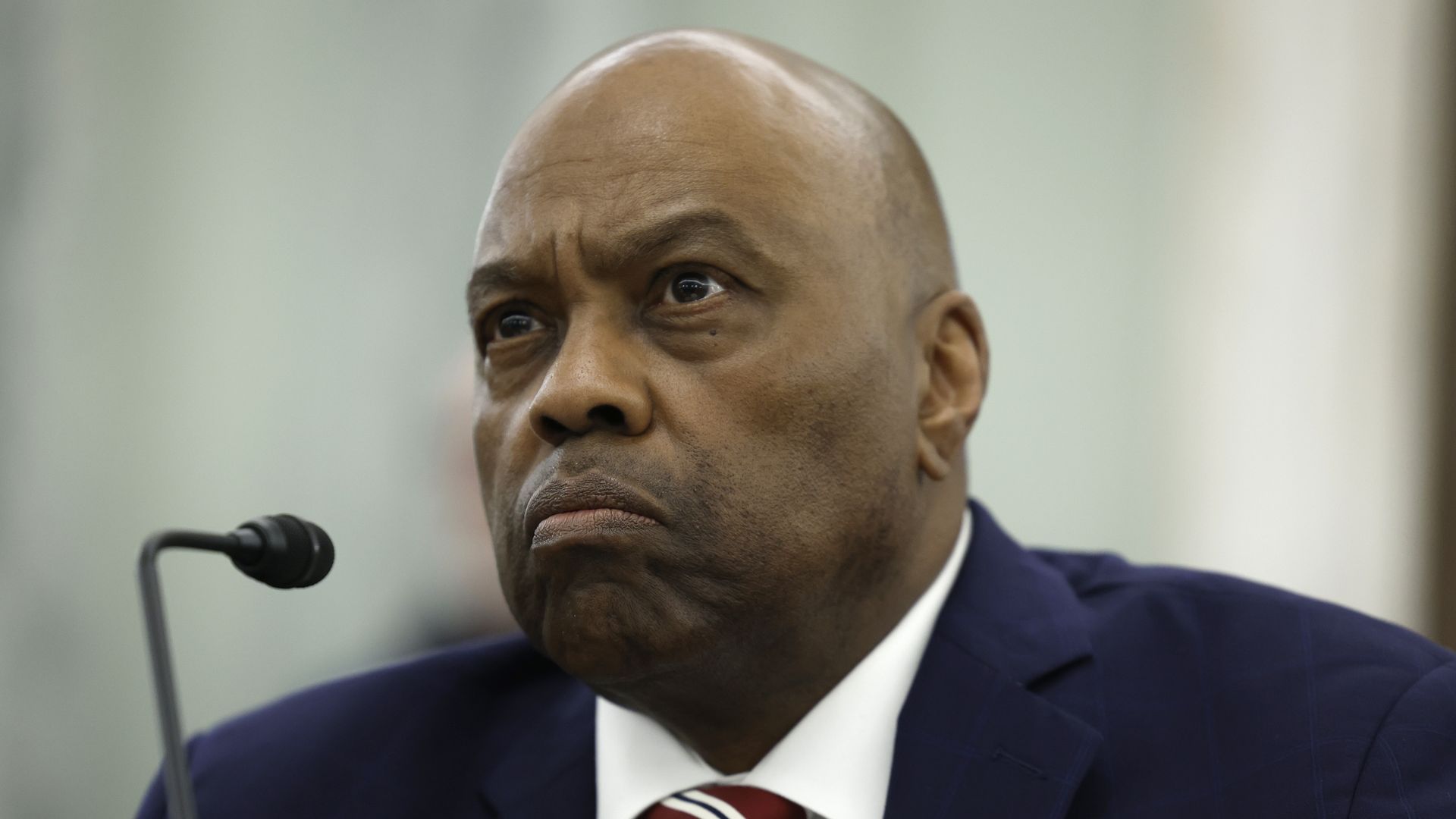 Sen. Maria Cantwell (D-Wash.) was forced to scrap a scheduled committee confirmation vote for President Biden's pick to lead the Federal Aviation Administration, after Sen. Kyrsten Sinema (I-Ariz.) raised last-minute questions about the nominee, according to people familiar with the matter.
Why it matters: If Sinema's concerns hold, the prospects for Phil Washington, the current CEO of Denver International Airport, getting confirmed as FAA administrator are close to zero.
That would deal a significant blow to the Biden administration's immediate plans to address the delayed flights that have frustrated travelers — not to mention the near-misses on runways that have alarmed experts.
The FAA has been without a Senate-confirmed administrator since March 2022.
Democratic officials are scrambling to address Sinema's issues and determine if they are fixable.
Even if Washington clears the committee, he would still need to pass the full Senate. Republicans have repeatedly called him "unqualified'' and said he lacks specific aviation experience.
Driving the news: At the outset of a Senate Commerce, Science & Transportation Committee hearing this morning, Chair Cantwell announced that "we will not be considering the nomination of Phil Washington."
"We are moving that to future date pending information that members have been seeking," she said.
Sen. Tammy Duckworth (D-Ill.) said the vote was postponed due to "one person," but would not say who.
Spokespersons for Sinema and Cantwell declined to comment if Sinema forced the delay.
Sen. Ted Cruz was ready to pounce. "I am glad to hear that the committee is delaying," the Texas Republican said in the hearing. "I think every member of this committee knows that Mr. Washington is not qualified for the position for which he is nominated."
What we are watching: Washington's potential defeat would mark the second time a nominee has failed to advance out of the Commerce Committee this month.
With no obvious route to confirmation, Gigi Sohn withdrew her name for an open seat on the Federal Communications Commission on March 7, leaving the FCC essentially deadlocked at 2 Democrats and 2 Republicans.
The big picture: Last week, aviation officials and industry leaders gathered near Washington, D.C. to discuss the recent headline-grabbing incidents across the country, which includes the alarming near-misses.
Republicans have routinely — and gleefully — blamed Transportation Secretary Pete Buttigieg for nightmare travel days, with Democrats looking to Washington to help address some of the problems.
"You might wonder who would want the job given the recent chaos," Sen. John Hickenlooper (D-Colo.) wrote in the Denver Post this week. "But that's what Phil does. He takes on the big, complex problems and gets it done."
From a White House official: "The FAA needs a confirmed Administrator, and ... Washington, has the right qualifications and experience ... This is a role with a key safety mandate and we continue to urge the Senate to move swiftly on his confirmation."
The intrigue: The commerce committee is home to three of the most embattled senators facing reelection in 2024: Sinema (an independent who caucuses with Democrats), Sen. Jon Tester (D-Mont.) and Jackie Rosen (D-Nev.).
Tester and Rosen never publicly indicated how they planned to vote but Rosen planned to vote yes, according to a person familiar with her thinking.
In recent days, Washington won support from the heads of both the Las Vegas and Reno airports, as well as the powerful union, UNITE HERE!.
Both the Arizona Pilots Association and the Montana Pilots Association opposed Washington's candidacy.
Go deeper