Scoop: Israel sees opportunity in Iran-Saudi deal, Israeli official says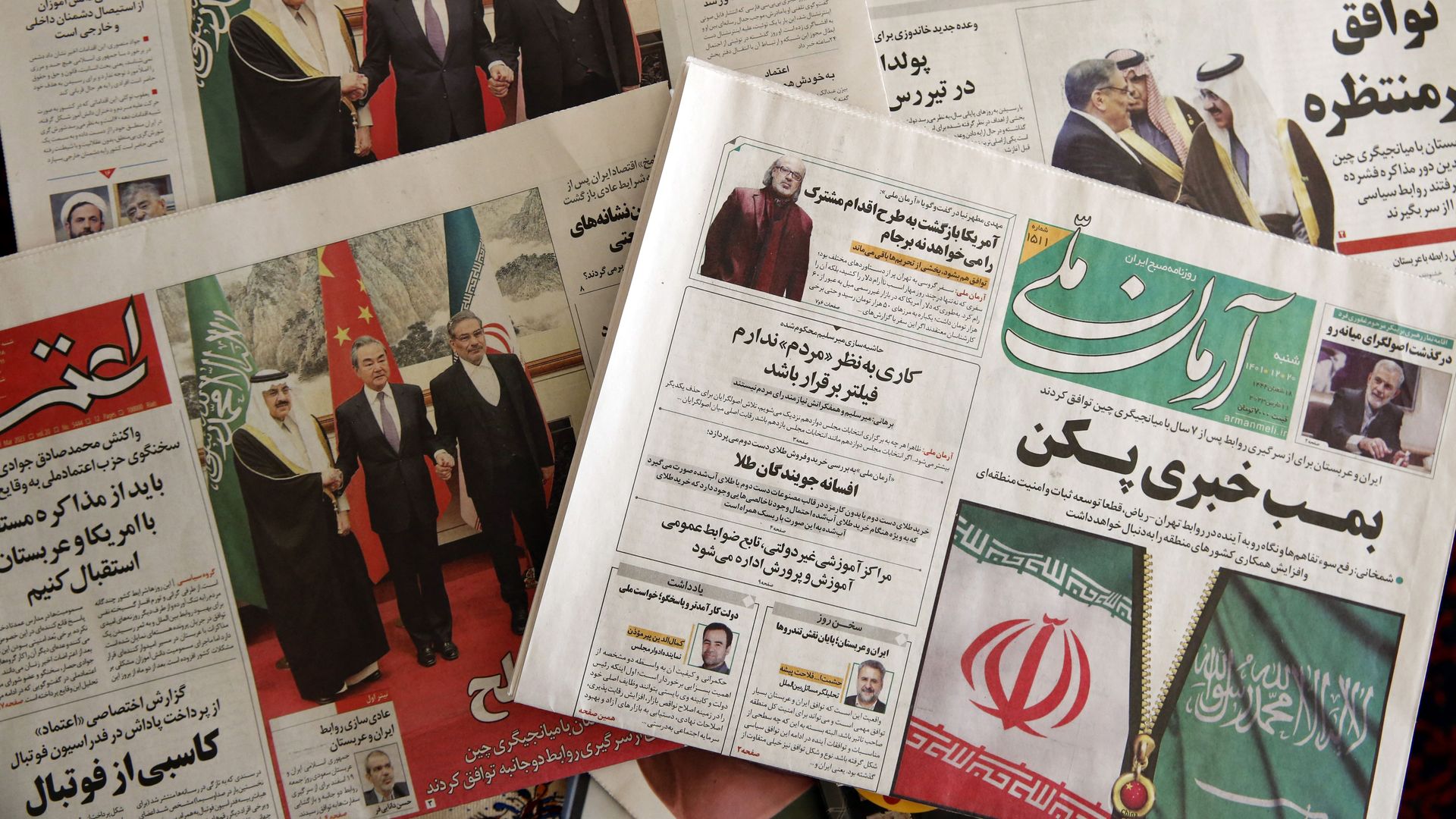 The Israeli government sees the recent agreement between Saudi Arabia and Iran not as a threat, but as an opportunity for Israel's efforts to normalize relations with the Saudi kingdom, a senior Israeli diplomatic official directly involved in the efforts told Axios.
Why it matters: Netanyahu said in his inauguration speech three months ago that his main foreign policy objective is to broaden the Abraham Accords and reach a peace agreement with Saudi Arabia.
Driving the news: The senior diplomatic official said the war in Yemen has been a major "irritant" in U.S.-Saudi relations in recent years, hampering efforts for Israel-Saudi normalization steps.
If the Saudi-Iran agreement leads to the end of the war, "this irritant will go away and relations between Saudi Arabia and the U.S. will improve," the official said. "The more relations between the U.S. and Saudi Arabia improve, the easier it will be to work on promoting normalization between Saudi Arabia and Israel."
Behind the scenes: The Israeli Foreign Ministry's Center for Political Research last week issued a classified report analyzing the Saudi-Iranian deal, a Foreign Ministry official who read the report said.
The report concludes that the Saudi-Iran agreement will not block the normalization process between Gulf countries and Israel, the Foreign Ministry official told me.
"The experience of the last two years proves that a dialogue between the Gulf countries and Iran doesn't mean suspending the contacts with Israel," the official quoted the report as saying.
The Israeli Foreign Ministry declined to comment.
The big picture: The White House also doesn't think the Saudi-Iran deal will hamper the Biden administration's efforts to push for normalization between Saudi Arabia and Israel nor will it lead countries that have signed on to the Abraham Accords, like the United Arab Emirates and Bahrain, to cool their relations with Israel, as Axios previously reported.
"We completely reject the idea that Saudi Arabia reopening an embassy in Tehran will somehow frustrate the process of Israel-Saudi normalization," the U.S. official said.
Yes, but: The efforts to push for normalization between Israel and Saudi Arabia appear to be facing significant hurdles from other directions, including the ongoing escalation of tensions in the occupied West Bank and the policies of Israel's right-wing government.
The Saudi Foreign Ministry has issued at least five condemnation statements against Israel since the new Israeli government was sworn in less than three months ago.
The Saudis have escalated their rhetoric and public criticism against the Israeli government and started to again refer to it as "the occupation government."
Go deeper