SVB employees blame remote work for bank failure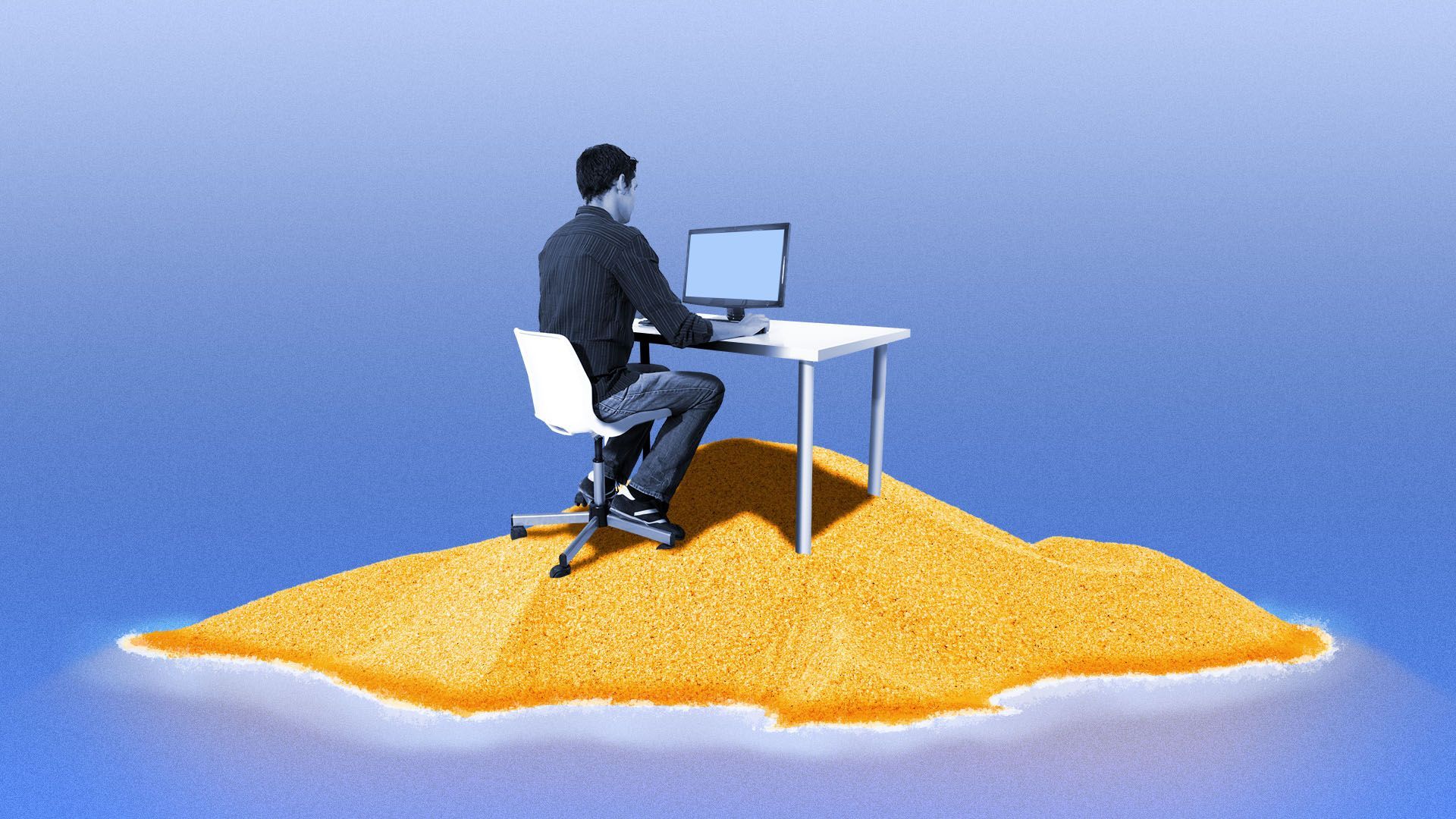 In a story in the Financial Times out Thursday, current and former Silicon Valley Bank employees cited the bank's commitment to remote work as one reason for its failure.
Why it matters: In the aftermath of the collapse of the 16th biggest bank in the country everyone is trying to understand what happened.
Whether remote work led directly to a bank failure, or whether poorly-managed remote work was simply a sign of bigger problems at the company, we may never know. Either way, what happened at SVB will likely enter the broader debate about returning to the office.
Details: The banking industry has led the return to office charge for a while, and SVB was an outlier in its commitment to something different.
The company's career site touted its flexible culture. "If our time working remotely has taught us anything, it's that we can trust our employees to be productive from wherever they work," the site says.
The executive team at SVB was spread out around the country, with CEO Greg Becker at times working from Hawaii, according to the FT.
Yet, SVB included remote work as a risk to its business in its 2022 annual report — in part because of the IT issues posed when employees are dispersed around the country, but also for productivity reasons.
The FDIC, which now runs the bank, told staff they could continue working remotely — except essential workers and branch employees, per Reuters.
The big picture: Whether or not remote work succeeds in any organization depends a lot on how it's managed.
"There are well-managed organizations that operate remotely," said Kevin Delaney, CEO of Charter, a media and research firm that works with companies on talent strategy. And some companies have abandoned remote work or hybrid work models because they weren't well-run, he said.
Best Buy, an early pioneer of hybrid work, got rid of its hybrid work policy because it had stopped training new employees on how to operate in a flexible work environment, leading to cultural issues. (Read this 2021 New Yorker piece for more on that.)
Yahoo famously called all its employees back to the office a decade ago, when a new CEO took the helm and tried to turn that sinking ship around.
The immediate cause of SVB's failure, as we've said before, was that the company didn't take into account the risks that a high-interest rate environment, coupled with its concentrated tech-heavy clientele, posed to its balance sheet.
Then, its public communications around a needed capital raise incited panic, which led to an unprecedented viral bank run, as Axios' Eleanor Hawkins reported.
It's certainly possible that if more executives were working in closer proximity those missteps would've been avoided. But it's hard to really know.
The bottom line: Companies looking for a reason to bring workers back to the office may find it in this piece.
Go deeper