Silicon Valley Bank's fatal communications flaw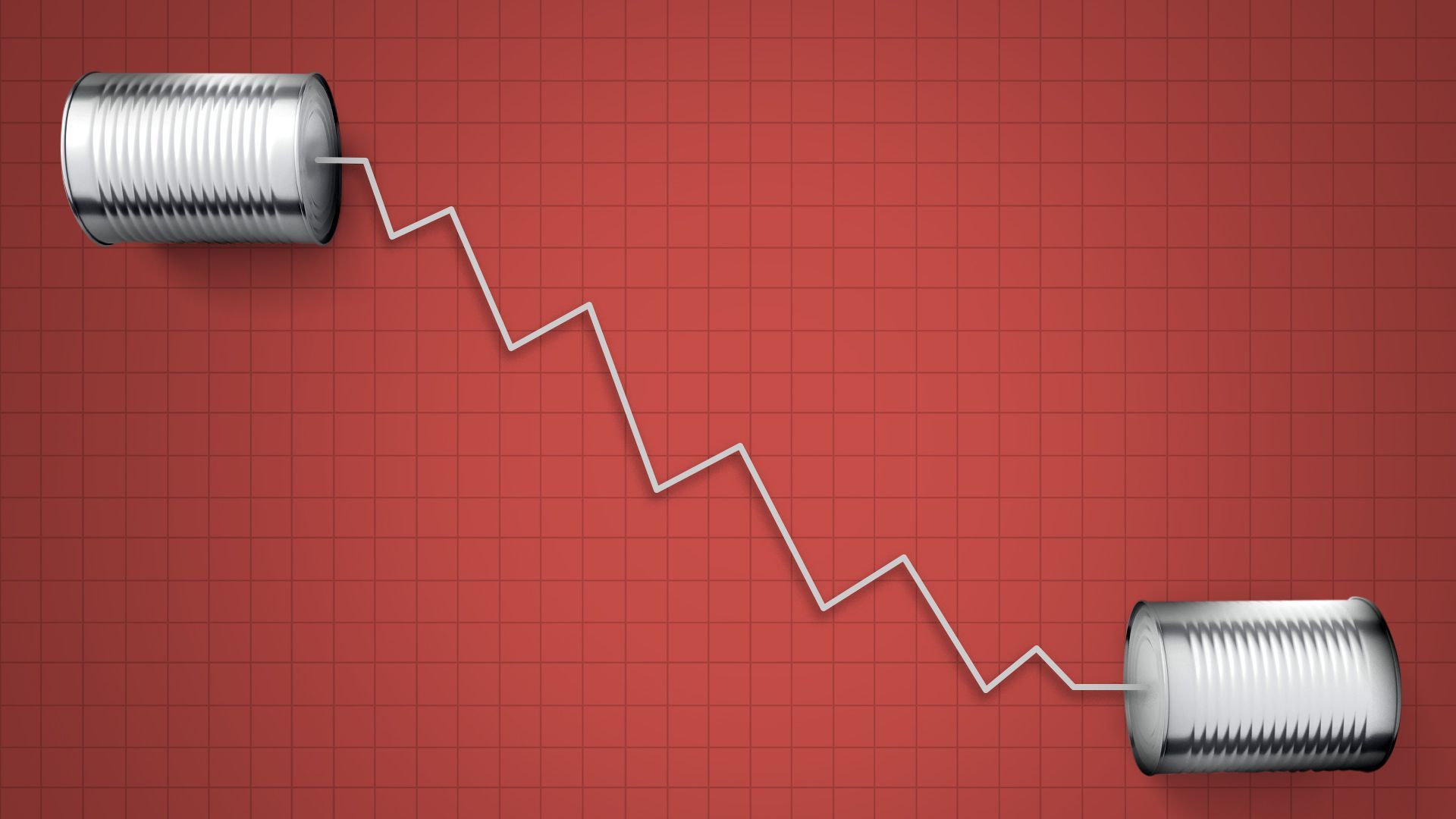 The collapse of Silicon Valley Bank — one of the tech industry's leading financial institutions — left venture firms, the startup community and the banking industry in a tizzy.
Why it matters: In moments of uncertainty, overt communication drives confidence.
As Activision Blizzard CCO Lulu Meservey put it, the fall of the country's 16th largest bank "was largely driven by a communication collapse."
What happened: By issuing a press release last Wednesday that it was rushing to raise cash, SVB spooked its investors and depositors.
The stock collapsed. There was a run on the bank, now controlled by the FDIC.
Between the lines: An act meant to shore up its balance sheet did the exact opposite — because the bank failed to explain its actions to customers, who were already wary from the closure of Silvergate Bank just days before.
SVB's silence allowed online hysteria to fill the void. And when its CEO did speak, the message — "stay calm and don't panic" — only encouraged the spiral.
Some communications professionals went so far as to describe this line of messaging as "negligent" and "unsophisticated."
It also immediately generated distrust among one of the bank's VC partners, one source told Axios.
"As opposed to reassuring us with facts, SVB took the 'you owe us your loyalty' route — and in a panic situation, that messaging doesn't work ... While VC firms do deals together frequently, we also compete. And the idea that we all trust each other enough in a prisoner's dilemma is wrong."
Zoom in: Most notably, SVB didn't communicate effectively with tech founders and the startup community — a key stakeholder group — who are very active online and across social media.
Much of the panic spread through long Twitter threads and popular blogs, with some calling this the first social media-driven bank run.
Yes, but: "While SVB's communications left lots of room for improvement, the reality is that any communication about their fundraising plans was bound to spark a contagion effect given their customer base and the current economic environment," Mission North co-CEO Bill Bourdon told Axios.
Plus, SVB would argue that it was required to keep quiet due to SEC filing laws around its effort to shore up capital.
Thought bubble, via Axios Pro Rata author Dan Primack: SVB might have been toast the minute some of its investments went upside down, but its nonexistent messaging strategy sealed the deal.
There was no emergency PR plan to stem a bank run, which is comms malpractice at a bank. Or, if there was, it was waylaid by its devotion to the "quiet period," preferring to risk collapse than a future fine by securities regulators.
The bottom line: SVB did not have a communications professional on their leadership team, and it showed. While effective communications can't make up for the bank's poor financial planning, they can help instill confidence among investors and customers.
What we're watching: These runs — although rare — present the biggest possible risk for a bank.
If they don't already, every banking institution should have a communication plan on hand that takes into account the role social media and digital platforms play.
Go deeper