Warren to SVB CEO: "You lobbied for weaker rules, got what you wanted"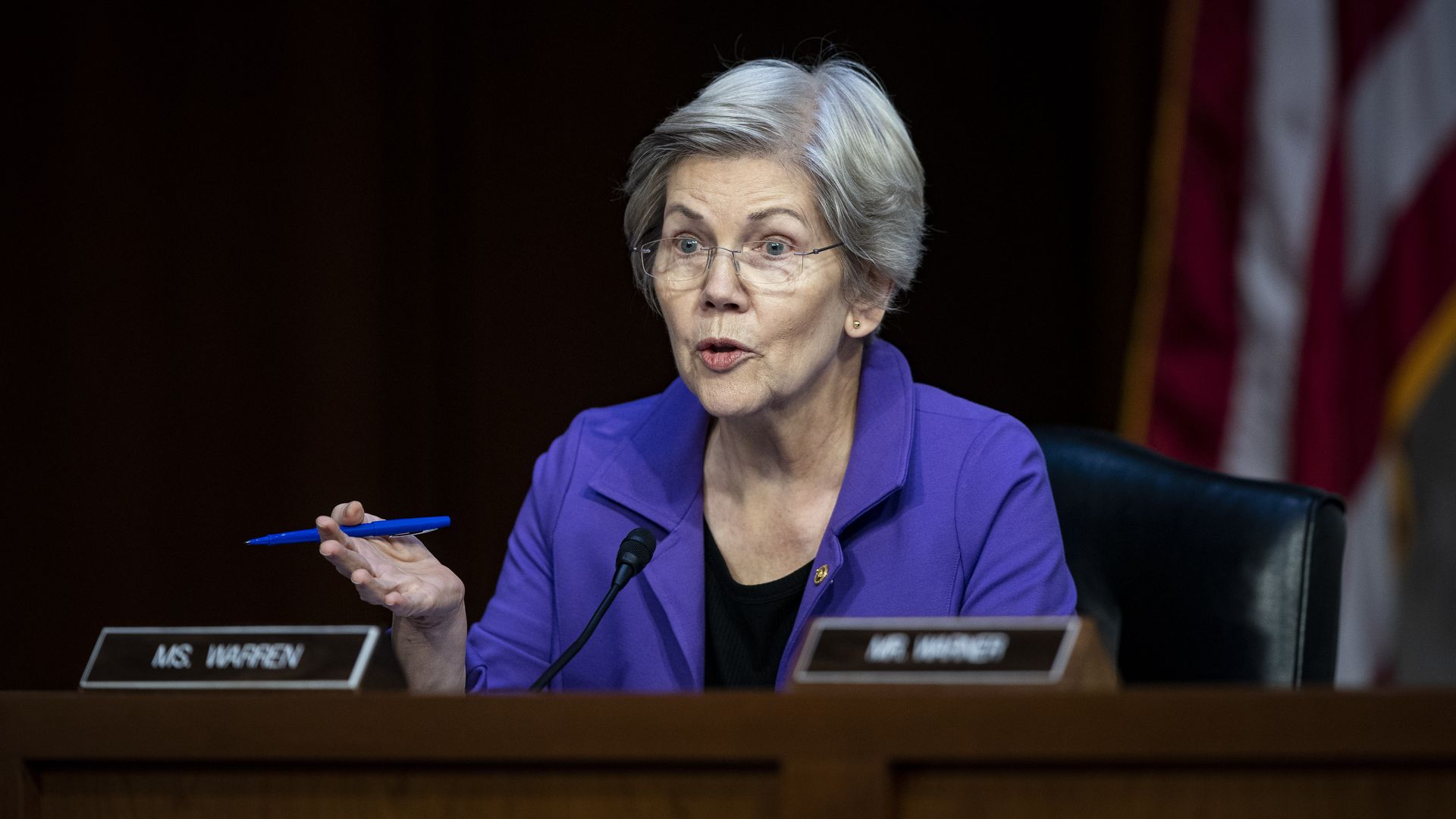 Sen. Elizabeth Warren (D-Mass.) in a letter Tuesday slammed Silicon Valley Bank CEO Greg Becker for his role in its collapse, homing in on his support for rollbacks of some Dodd-Frank banking rules.
The big picture: Warren has been outspoken in the aftermath of SVB's collapse, criticizing Trump-era rollbacks to parts of the Dodd-Frank Act, which provided regulatory relief for midsized banks like SVB.
On Monday, Warren wrote in a New York Times opinion piece urging Congress, the White House and banking regulators to reverse "the dangerous bank deregulation of the Trump era."
She said that repealing the 2018 legislation "must be an immediate priority for Congress."
Driving the news: Warren on Tuesday focused on Becker's role in the collapse. "You have nobody to blame for the failure at your bank but yourself and your fellow executives," she said.
"You lobbied for weaker rules, got what you wanted, and used this opportunity to abdicate your basic responsibilities to your clients and the public – facilitating a near-economic disaster," she wrote.
Warren in the letter also requested answers from Becker on several questions related to SVB's failure and his "role in the rollback of banking regulations that facilitated this failure."
Warren requested answers from Becker by March 28.
Zoom in: Warren, one of the key architects of post-2008 reforms, is not alone in calling for large-scale financial reforms in the aftermath of the fall of both SVB and Signature Bank, a key bank for the cryptocurrency industry.
Many Democrats are zeroing in on the rollback of Dodd-Frank banking rules in 2018.
"We need to put back in place protections Republicans and big banks gutted in 2018 once the immediate crisis is contained," Rep. Adam Schiff (D-Calif.) told Axios' Andrew Solender.
Warren in 2018 was a vocal critic of the rollbacks, saying it would bring unnecessary risk to the financial system and harm consumers.
Go deeper... Silicon Valley Bank's political blame game
Go deeper