Lawmakers target child labor laws to ease worker shortage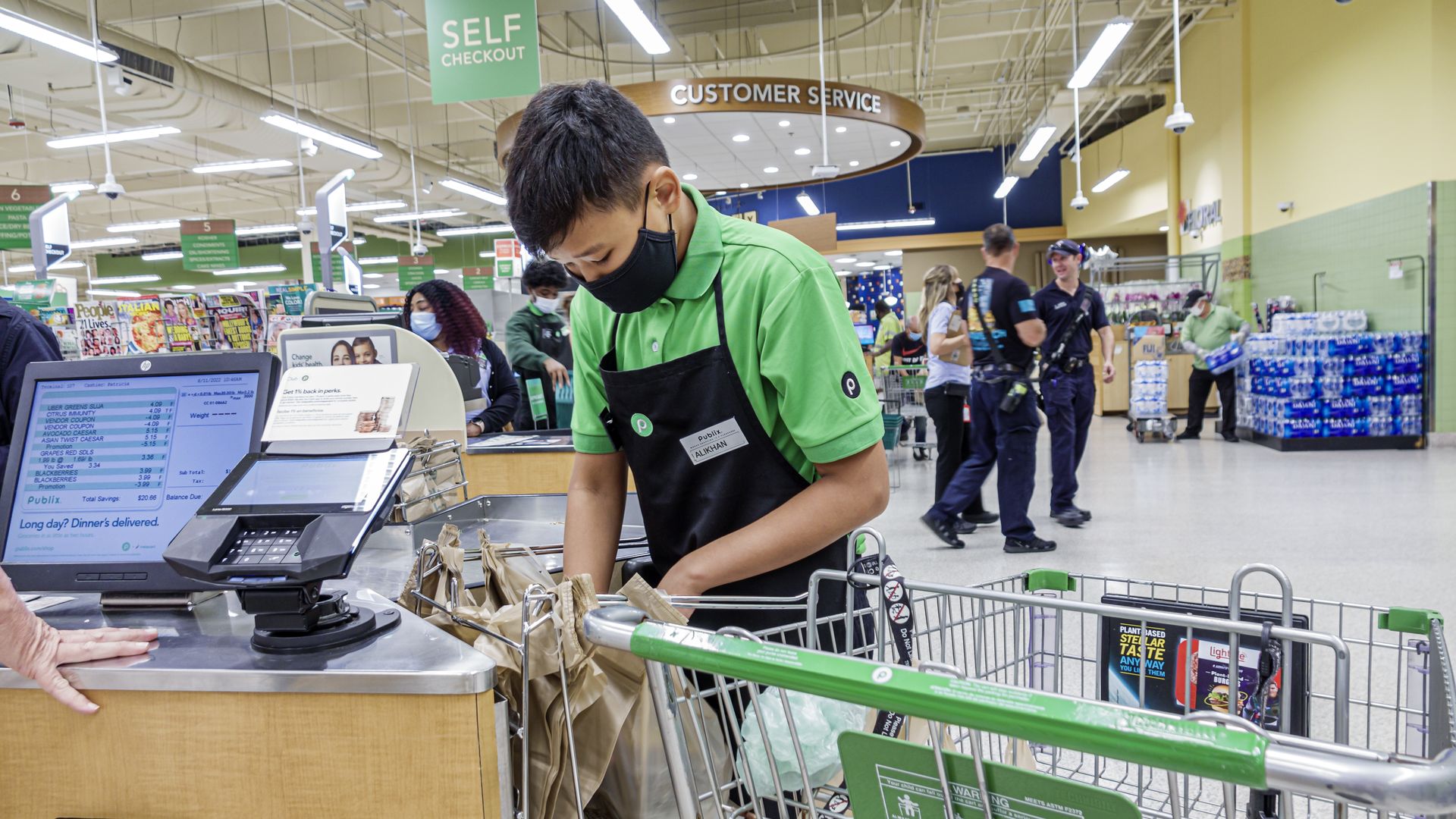 Legislators in multiple states are invoking a widespread labor shortage to push bills that would weaken long-standing child labor laws.
Why it matters: Some bills go beyond expanding eligibility or working hours for run-of-the-mill teen jobs. They'd make it easier for kids to fill physically demanding roles at potentially hazardous work sites.
Protections could be stripped for youth most at risk of being exploited by employers, like migrant children and kids from families facing financial problems.
Driving the news: A new Arkansas law signed by Gov. Sarah Huckabee Sanders (R) last week makes it easier for teens as young as 14 to work without obtaining a permit.
Between the lines: The laws and proposals have largely been introduced by Republicans but received support from some Democrats in Ohio and New Jersey.
Legislators say the bills are largely in response to the current hot jobs market, with employers posting an elevated number of openings but struggling to fill positions.
One Republican state senator in Ohio said allowing longer hours for teen workers would help understaffed businesses and build "leaders of the future," Axios' Tyler Buchanan reports.
Zoom in: Iowa lawmakers are considering Republican legislation that would allow 14- and 15-year-olds to work in industrial laundry services and freezers at meatpacking plants. It'd also prevent many of them from receiving worker's compensation if they are sickened, injured or killed on the job.
Democrats and Republicans in Ohio are considering removing a cap on the number of hours children as young as 14 can work during the school year as long as a parent or legal guardian approves.
In Minnesota, a GOP bill that missed a key deadline would have allowed 16- and 17-year-olds to work in construction or on building project sites.
New Jersey Gov. Phil Murphy (D) last year signed bipartisan legislation that allows people 16 and up to work 50 hours a week during summer break if they get permission from a parent or legal guardian.
Thought bubble, via Axios' Javier E. David: Employers in key sectors have been desperate for workers in the post-pandemic era.
It should come as no surprise that — deprived of able-bodied adults — companies are more willing than ever to hire youngsters to do the jobs their elders won't.
What they're saying: "The notion that you would put kids at risk in order to meet some claimed labor shortage is just preposterous," Michael Hancock, a civil rights and employment attorney and a former senior Department of Labor official, told Axios.
Hancock said younger workers risk falling behind in school and may be more likely to accept lower wages because they don't know the value of their labor.
Marcy Goldstein-Gelb, co-executive director of the National Council for Occupational Safety and Health, said the provision in the Iowa bill that shields businesses from some liabilities essentially acknowledges the legislation would create dangerous working environments.
"This one is so blatantly saying, 'We know that what we're doing is going to harm young people, so we may as well just call a spade a spade and exempt businesses from their responsibility for what we created,'" Goldstein-Gelb said.
The big picture: The federal government promised to crack down on illegal child labor last month after observing a 69% increase in companies employing underage workers since 2018.
One of the nation's largest food sanitation companies, Packing Sanitation Services, was fined $1.5 million for illegally employing more than 100 minors to carry out hazardous jobs at its facilities.
Hundreds of underage migrants work in factories and at construction sites across the country in violation of federal child labor laws, according to a New York Times investigation.
Reality check: States will still have to comply with federal regulations, which sets standards for the types of jobs minors can work.
"Amid a 69% increase in children employed in violation of the law, it is irresponsible for states to consider loosening child labor protections," Seema Nanda, solicitor for the U.S. Labor Department, said in a statement.
"Federal and state entities should be working together to increase accountability and ramp up enforcement — not make it easier to illegally hire children to do what are often dangerous jobs," Nanda's statement continued.
Go deeper: Company fined $1.5 million for hiring children to clean meatpacking plants
Go deeper