Economic security for women "more fragile" than realized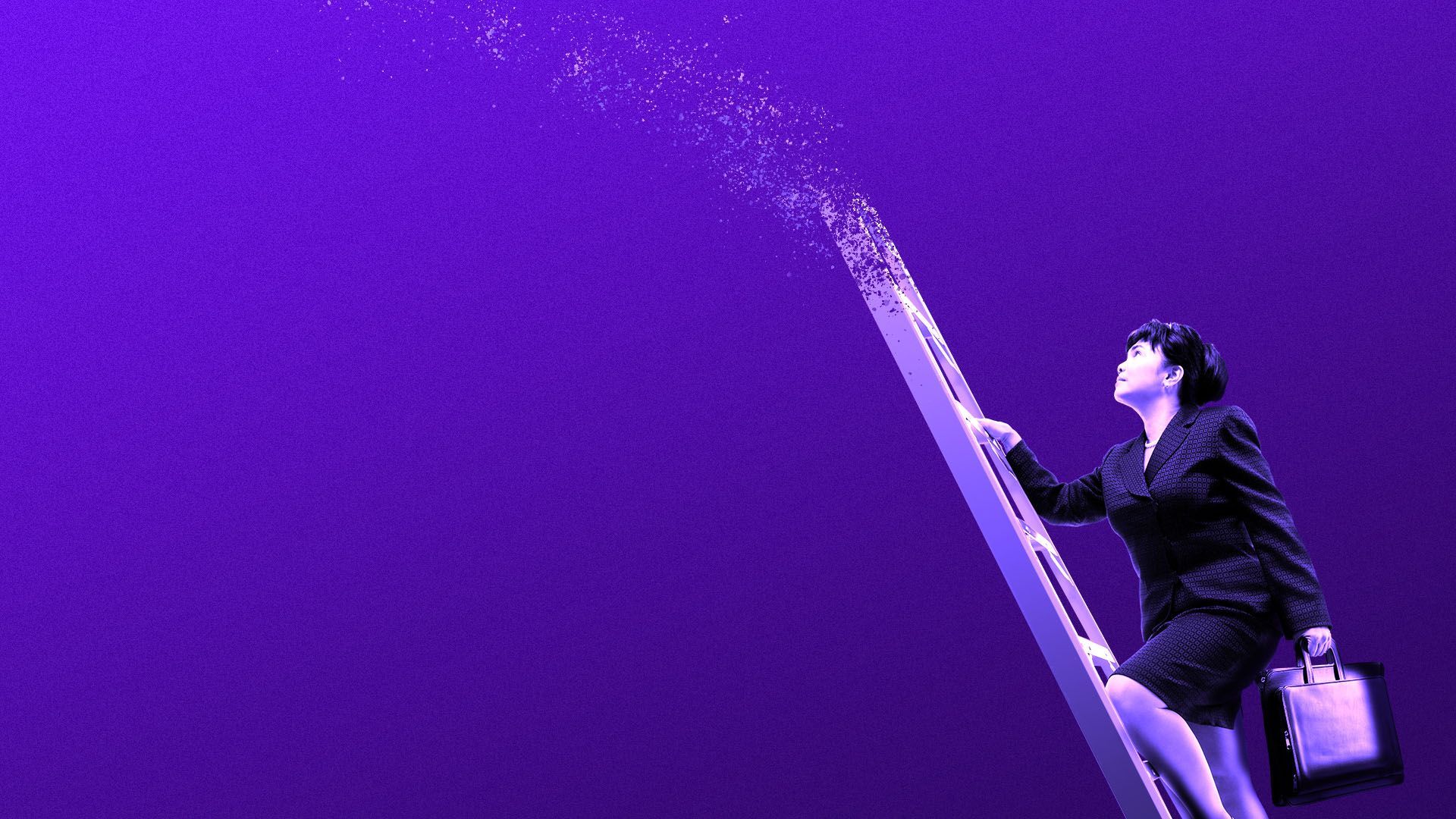 Many measures of economic progress for women are pointing in the right direction, but the pandemic has put the vitality of that progress under strain.
What they're saying: "What the pandemic really brought home was the realization that … economic and personal security for women is more fragile than we probably have expected previously," Emily Haber, German ambassador to the U.S., told Axios' Courtenay Brown.
"Even if we secure progress, progress seems to be standing on thin ice."
State of play: The share of women between the prime working ages of 25 and 54 working or looking for work has virtually rebounded to pre-pandemic levels, after nearly 20% of the entire U.S. female population lost their jobs.
There are more women leading Fortune 500 companies than ever before, and women's entrepreneurship has been on the rise — with women starting 49% of new businesses in 2021, up from 28% in 2019.
Yes, but: Women are much more likely to report burnout from the pandemic as they struggle with return-to-office policies and lack of child care options.
Caregiving penalty
Zoom in: Women continue to bear a disproportionate burden from caregiving throughout their lives — they are five to eight times more likely than men to report an impact on their careers as a result, a Center for American Progress study finds.
Having a child greatly reduces the employment rate of women, particularly for those with children under the age of 5, the Center for American Progress study also found.
The gender pay gap
The types of jobs that women and men hold play a role in the overall gender pay gap in the U.S., which has barely budged over the past 20 years.
The intrigue: Pay disparity within occupations can sometimes be wider and worse in fields like finance and insurance than in arts and recreation, blunting the effect of more women moving into higher-paying fields and attaining higher degrees.
When bonuses are discretionary, they may favor men who are more likely to work longer hours and to push for a raise, Ruth Thomas, a pay equity strategist at Payscale, told CNBC.
For example, the largest uncontrolled pay gap is for women with MBAs, who take home 76 cents for every dollar a man with an MBA makes, Payscale found.
What to watch: There's no single explanation for why progress on shrinking the pay gap has "all but stalled," according to Pew Research.
But differential treatment, including by race and ethnicity, contributes to the problem.
The bottom line: "Working against discrimination of women, of other groups, is not a woman's business. It's the business of society at large," said Haber.
Editor's note: This story was originally published on March 8, 2023 in Axios Closer.
Go deeper