Biden is back in hot water with Dem lawmakers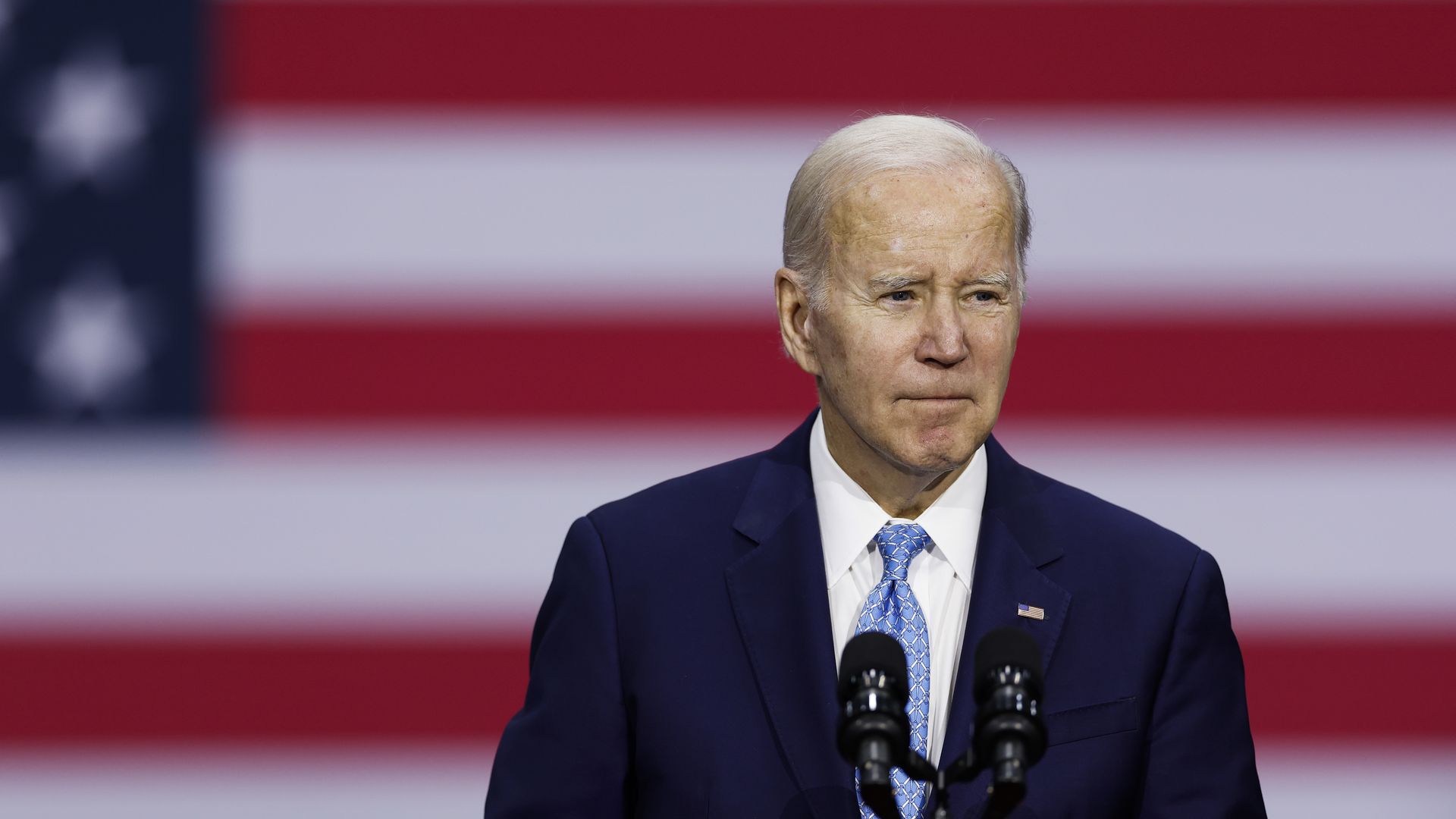 First it was crime, now immigration: For the second time in as many weeks President Biden has inflamed fellow Democrats, who are questioning his tactics and strategy.
Why it matters: In his first two years in office, Biden was remarkably united with congressional Democrats, which helped him pass four major pieces of legislation.
Now cracks in the coalition are emerging as vulnerable Democrats chart their paths to re-election — and the White House focuses on crime and immigration, sensitive issues that Republicans can't wait to run on.
Driving the news: The administration now is considering whether to revive detentions of migrant families who enter the U.S. illegally.
That has enraged some Democratic lawmakers, who on Tuesday called on Biden not to resume the detentions that many had blasted as inhumane when then-President Trump imposed them.
The flap over possible border detentions came a week after Biden decided to support a Republican resolution blocking a controversial D.C. crime law that many vulnerable House Democrats had voted for.
Some Democrats cast Biden's moves as a betrayal — and several were incensed that in both cases, they didn't get advance word of the White House's thinking before it became public.
What they're saying: "The lack of communication on immigration-related policy decisions is an insult," Sen. Bob Menendez (D-N.J.), who is deeply involved in immigration policy, told Axios. "It would be like making civil rights legislative ideas and thoughts without checking with the Congressional Black Caucus."
In the House, Rep. Raúl M. Grijalva (D-Ariz.) said a return to border detentions would be "callous and inhumane," while Rep. Maxwell Frost (D-Fla.) said he was "disgusted and disappointed" the White House would consider such a plan.
White House spokesperson Karine Jean-Pierre would not confirm or deny possible border detentions, but said Biden "wants to build an immigration system that is secure, orderly, and humane."
Homeland Security Secretary Alejandro Mayorkas held a call with members of the Congressional Hispanic Caucus on Tuesday to try to smooth things over, several members on the call said. But Rep. Jesus "Chuy" Garcia (D-Ill.) said afterward: "We haven't resolved anything."
Between the lines: The White House is adjusting to a new internal regime, with Jeff Zients serving as chief of staff instead of Ron Klain, who often made himself available to progressive lawmakers.
The legislative affairs team also is operating without Shuwanza Goff, a former top staffer to Rep. Steny Hoyer (D-Md.) who was the lead liaison to the House. She decamped to K Street earlier this year.
The big picture: The tension between Biden and congressional Democrats is a potential distraction for a president who wants to use his budget proposal this week to unite his party.
Biden is hoping to rally Democrats behind his plan to protect Social Security and Medicare while painting Republicans as extremists who risk crashing the economy by refusing to raise the debt ceiling.
Flashback: Congressional Democrats have doubted team Biden's strategy before.
During negotiations over what became the Inflation Reduction Act in 2021, they routinely questioned the White House's moves.
But Biden ultimately got a $740 billion tax, climate and spending bill through Congress.
Editor's note: This story was updated with more information about Mayorkas' phone call.
Go deeper