Flowers are popping up early all across America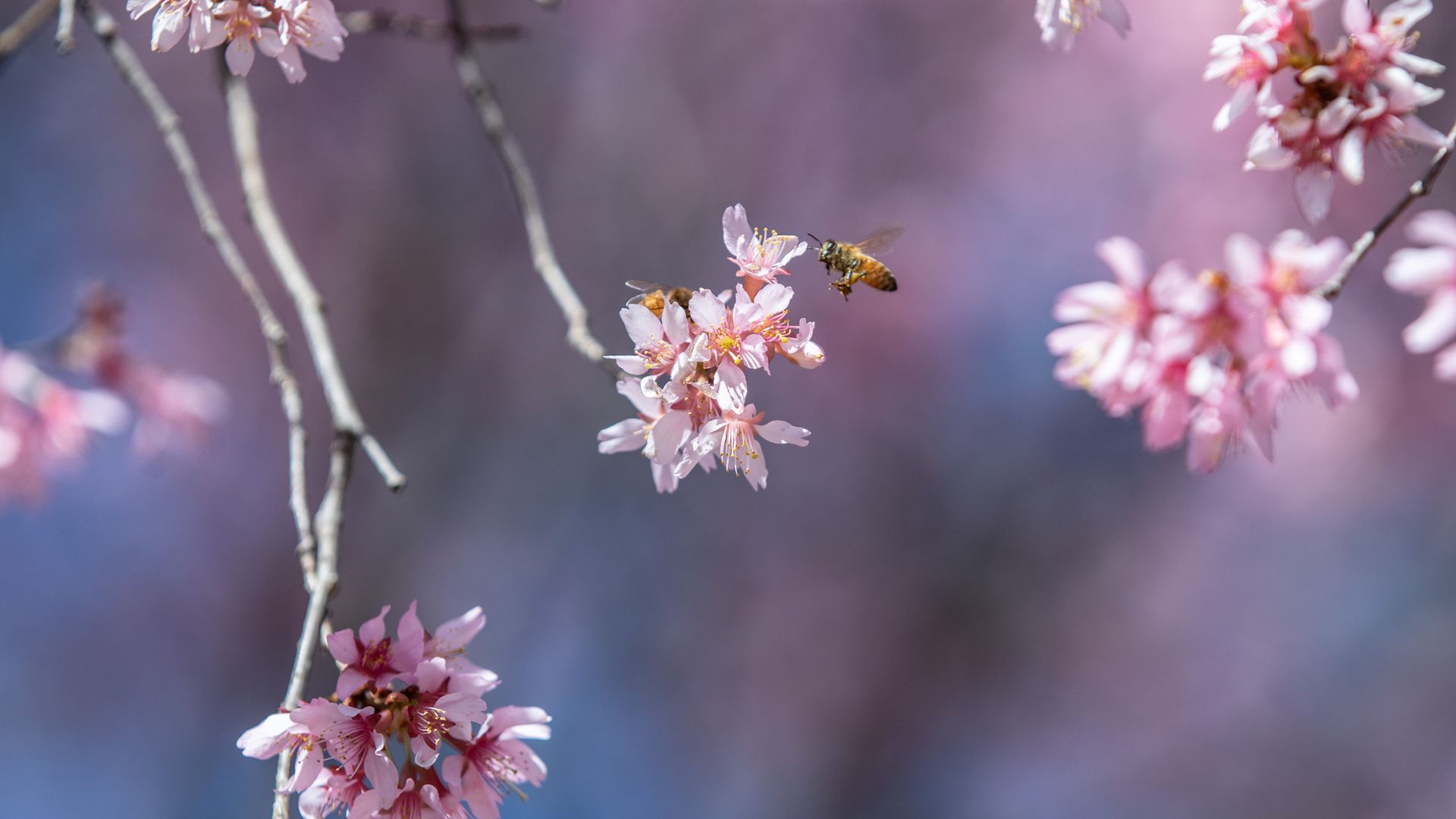 A historically warm winter across a wide swath of America has led to a surprising sight: plenty of flowers blooming in the early days of March.
Why it matters: Given the rising temperatures and changing precipitation patterns associated with climate change, we might be rethinking "April showers bring May flowers" for the generations ahead.
What's happening: The issue is perhaps most exemplified by Washington, D.C.'s famous cherry blossoms, whose longevity and predictability are under threat from climate change, Axios' Chelsea Cirruzzo reports.
With the weather becoming more variable, with sharp whiplash events from one extreme to another, the blossoms are acting differently, blooming earlier and more unexpectedly, according to National Park Service arborist Matthew Morrison.
This year's peak bloom is predicted to take place March 22-25, but the NPS' indicator tree is showing several different phases of blossoms due to varying temperatures.
A little farther north, Philadelphia's cherry blossoms face the same threats, Axios' Mike D'Onofrio reports.
"The beautiful cherry blossoms that we've been used to in the past, where everything's all in bloom at once, is going to be more and more of the exception than the rule," Vince Marrocco, director of horticulture at the Morris Arboretum, tells Axios.
The big picture: Weather events across the country can have a notable impact on native wildflowers and plant life.
Ohio's native wildflowers are blooming one to two weeks ahead of schedule after Columbus saw a February that was 9 degrees warmer than normal, Axios' Alissa Widman Neese reports.
Houston's spring and summer drought last year likely led to favorable conditions for Texas' famed bluebonnets to pop up around the city early this year, Axios' Shafaq Patel reports.
Worth noting: While many locations in the eastern half of the U.S. had Januarys and Februarys that ranked among their warmest on record, the forecast for March looks colder than average nationwide.
What's next: While climate change may cause some plants to appear early, it could also cause some to disappear from their traditional ranges in the decades ahead, Axios' Christine Clarridge reports.
A new map based on U.S. Forest Service data and climate predictions indicates that trees that have historically done so well in the Pacific Northwest may not survive the future, according to Pete Smith, the Arbor Day Foundation's urban forestry program manager.
Sign up for Axios Local, now publishing daily newsletters in 26 cities across the U.S. with 4 more coming in the weeks ahead.
Go deeper