D.C. cherry blossom trees face climate change threats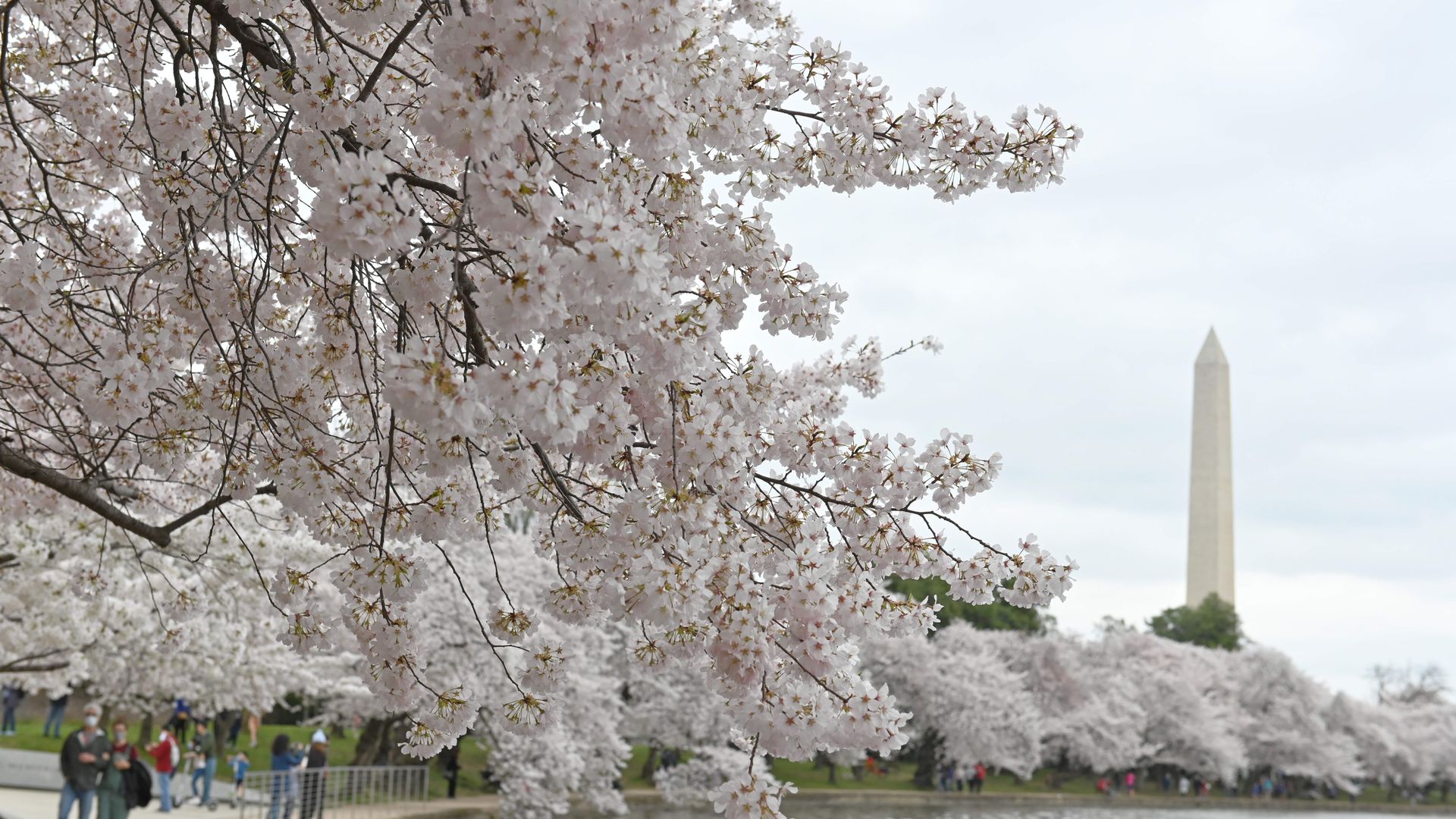 Cherry blossom season is on the way, but while the pink blossoms only last a few weeks, the changing climate is impacting them year round.
Why it matters: Climate change has led to rising sea levels, record heat, heavier rains, and more severe weather over the past few years in our region, all conditions that diminish the longevity of our beloved cherry blossoms.
Threat level: With the weather becoming more unpredictable, the blossoms are acting differently, blooming earlier and more unexpectedly, National Park Service arborist Matthew Morrison tells Axios.
While earlier blooms themselves aren't necessarily a bad thing, it's a sign of our warmer, wetter climate.
The trees face threats from rising sea levels that cause brackish water to flow into the Potomac and Tidal Basin, says Morrison, which could kill the trees.
Solar radiation, which isn't just detrimental to humans, can burn the bark on the trees if they're not protected by a thick canopy layer, he adds.
Yes, but: Cherry blossoms tend to be resilient, says Chris Walsh, professor emeritus of horticulture at the University of Maryland. Some of the trees along the Tidal Basin have been there since they were planted in the early 1900s, he tells Axios.
Zoom out: Cherry blossoms aren't the only trees in our region impacted by climate change. A wetter climate and saltier groundwater means apple trees, for example, are harder to grow, Walsh says.
As a result we might see tree migration as seeds carried from hotter, southern climates settle north. "Perhaps we will see more magnolias, more evergreen magnolias," he adds.
What we're watching: This year, the cherry blossoms are already in their first stage of blooming. NPS is expected to announce the peak bloom date on Wednesday.
Meanwhile: NPS is in the midst of a massive project to fix the Tidal Basin's aging seawalls to keep brackish water away from the cherry blossom trees.
NPS is also applying woodchips to the ground beneath the cherry trees to protect their roots.
Editor's note: This story has been corrected to state that peak bloom will be announced (not occur) on Wednesday.
More Washington D.C. stories
No stories could be found
Get a free daily digest of the most important news in your backyard with Axios Washington D.C..