U.S. report: Israel often did not prevent settler attacks against Palestinians in 2021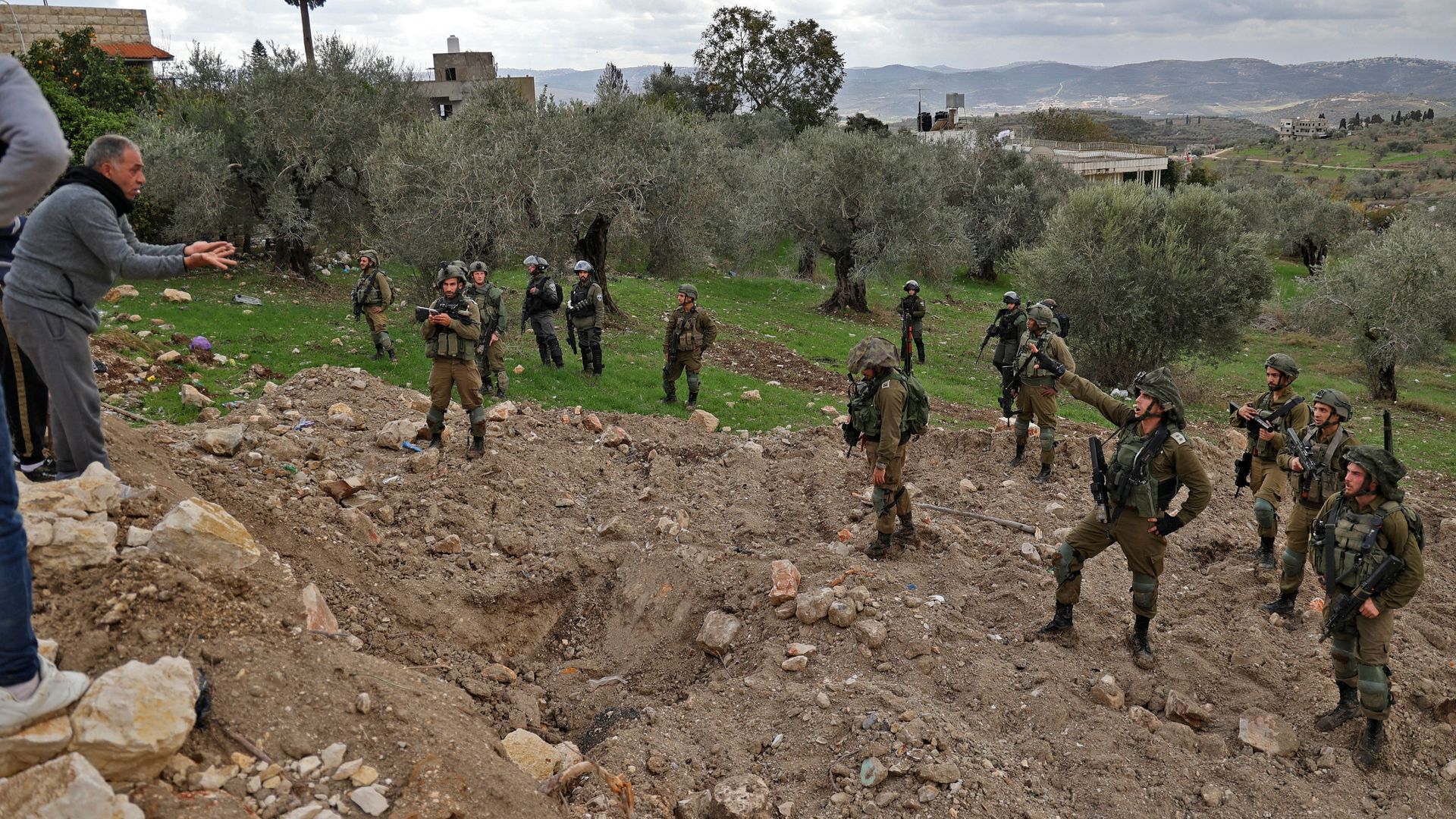 The State Department's 2021 report on terrorism, published on Monday, concludes that Israeli security forces often did not prevent violent attacks by settlers against Palestinians in the occupied West Bank and almost never held violent settlers accountable.
Why it matters: This is the most serious determination made in an official and public State Department report regarding the issue of settler violence against Palestinian civilians.
The publication date of the report was scheduled long in advance, but its timing — a day after the rampage by hundreds of settlers in the Palestinian village of Hawara — put it in a more relevant context.
Driving the news: The report says that according to UN monitoring data and also according to the Israeli Shin Bet intelligence agency, there was a significant increase in the number, scale, severity and geographical scope in 2021.
"UN monitors documented 496 Israeli settler attacks against Palestinians, including 370 attacks that resulted in property damage, and 126 attacks that resulted in casualties, three of which were fatal," the report says.
According to the report, the characteristics of the attacks also changed. In prior years, attacks were sporadic and conducted by individuals or small groups of four to five settlers, but attacks in 2021 were conducted by big groups of several dozen settlers "indicating that attacks were likely pre-planned."
The report stresses that regardless of some efforts by the Israeli Defense Ministry and the police, Israeli security personnel often did not prevent settler attacks and rarely detained or charged perpetrators of settler violence.
"Some Israeli NGOs allege IDF presence during some attacks and accuse the IDF of enabling a permissive environment by its lack of enforcement," the report says.
What they're saying: The conclusions in the report were echoed by State Department spokesperson Ned Price during the daily press briefing when he called on Israel to pursue with "equal rigor" the Israeli perpetrators of Sunday's rampage in the Palestinian town of Hawara as it does with Palestinians who carry out attacks against Israelis.
The Israeli government did not immediately comment on the conclusions of the report. The Israeli embassy in Washington did not respond to a request for comment.
The big picture: The report also details Palestinian attacks against Israelis in Israel and the West Bank in 2021.
Go deeper