U.S. calls on Israel to hold settlers responsible for Hawara rampage to account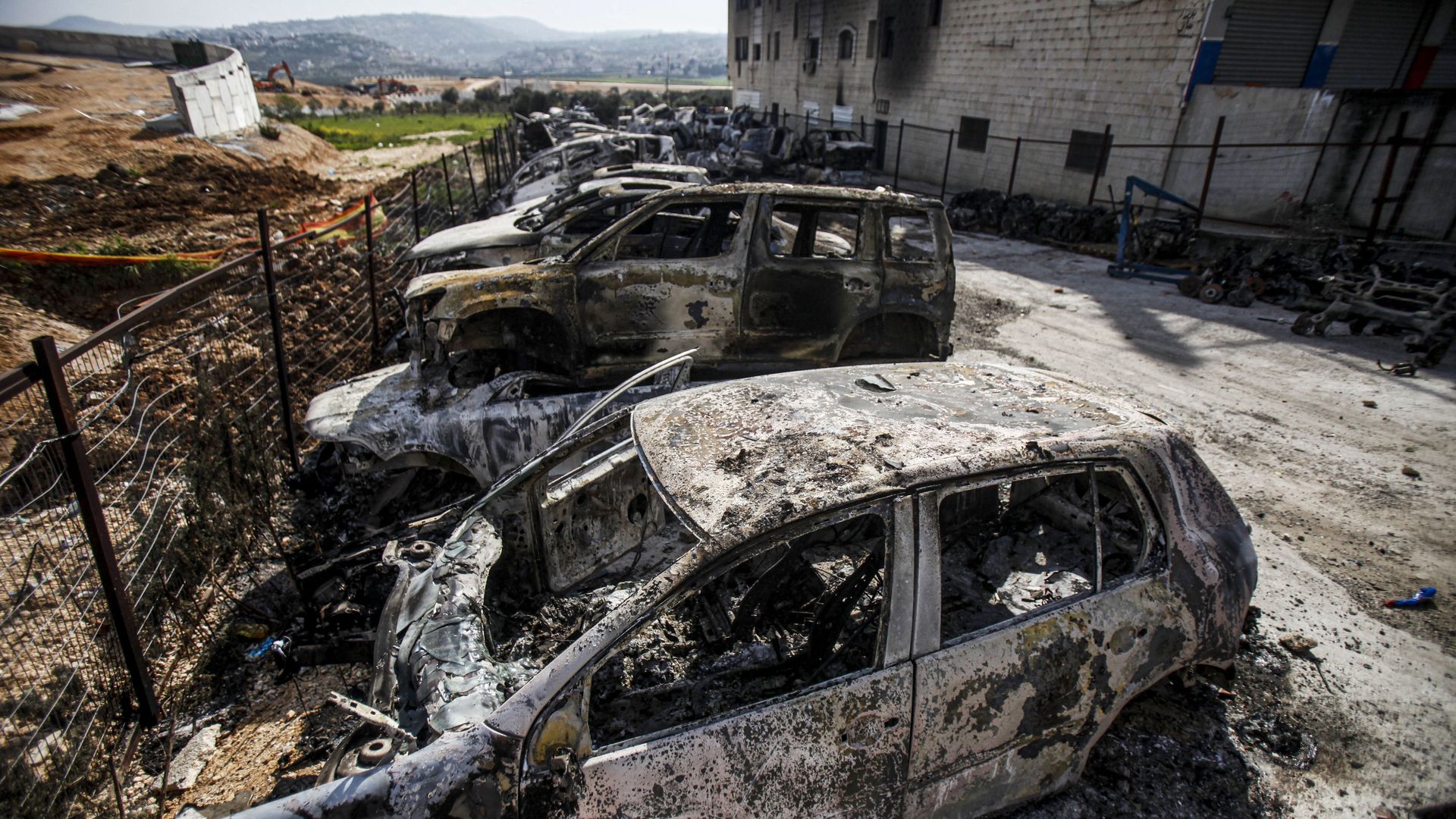 The Biden administration Monday called on Israel to pursue with "equal rigor" the Israeli perpetrators of Sunday's rampage in the Palestinian town of Hawara as it does with Palestinians who carry out attacks against Israelis.
The big picture: Israeli security officials say they see the attack on the town by hundreds of settlers, shortly after a Palestinian killed two Israelis in the same area, as one of the most significant hate crimes committed by Israelis against Palestinians in recent years.
Israeli military and the Shin Bet intelligence agency officials have expressed concerns that the attack will lead to further escalation in the West Bank and possibly to a third intifada.
In the latest sign of further escalation, an Israeli-American motorist was killed near the West Bank city of Jericho on Monday by a suspected Palestinian gunman, according to Israeli authorities.
What they're saying: State Department spokesperson Ned Price condemned recent attacks on Israelis, including Monday and Tuesday's shooting attacks against Israeli motorists.
Price also condemned the settler attack on the town of Hawara. One Palestinian was killed during the hours-long rampage and more than 100 Palestinians were wounded, according to Palestinian health officials.
"We condemn the wide scale and indiscriminate violence by settlers against Palestinians civilians…these actions are completely unacceptable," Price said.
He added that the Biden administration appreciates Prime Minister Benjamin Netanyahu and President Issac Herzog's statements condemning the settler attack in Hawara.
"We expect the Israeli government to ensure full accountability and prosecute those responsible for the attacks in addition to compensation for the property," Price said.
He stressed that Israel needs to act with the same rigor regarding any act of violence, whether it is against Israelis or Palestinians, and invest the same resources to prevent these kinds of attacks and prosecute the perpetrators.
State of play: Six Israeli settlers were arrested by the Israeli police for alleged involvement in the attack on Hawara, but all were released by the court.
The attack came not long after Israeli and Palestinian officials met on Sunday in a rare high-level meeting in Jordan — which also included Jordanian, U.S. and Egyptian officials — and agreed to take several steps to help de-escalate the situation in the West Bank.
Hussein al-Sheikh, the Palestinian minister for civilian affairs who led the Palestinian delegation to the Aqaba regional security summit, told Axios the attack on Hawara by Israeli settlers increased the criticism against the Palestinian Authority for participating at the summit the same day.
"What happened in Hawara isn't easy for us," al-Sheikh said, claiming that the Israeli military's response would have been much harsher if Palestinians had done something similar.
Al-Sheikh accused the Israeli military of giving "cover" to the settlers. "What did they do to those who burned [Hawara]?" he asked.
Go deeper