Scoop: Former S.C. mayor gets White House post as Bottoms leaves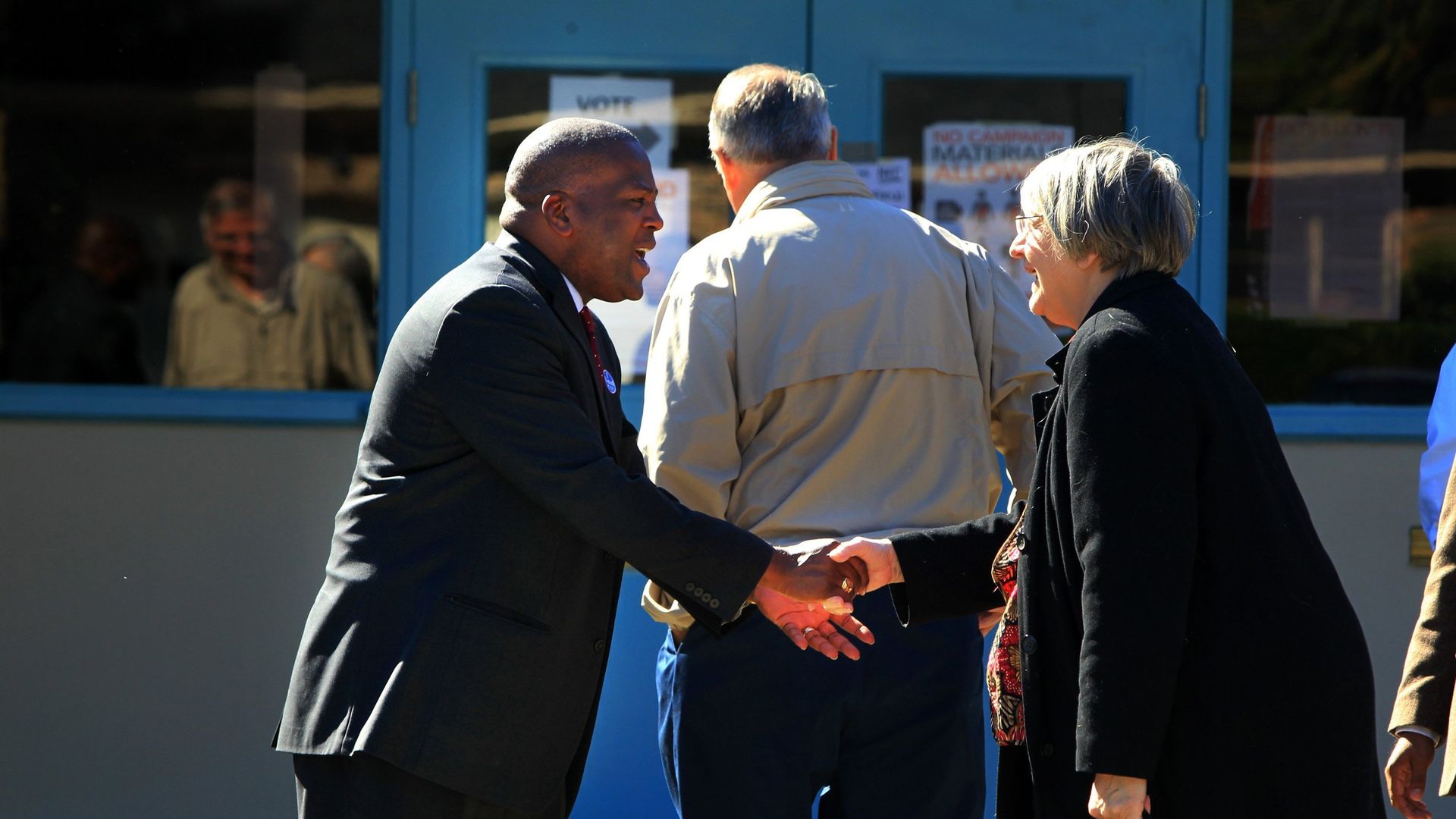 Former Atlanta Mayor Keisha Lance Bottoms is departing as head of a White House office that works with state, local and national officials on key issues — a position that will go to Steven Benjamin, a former mayor of Columbia, S.C.
Why it matters: As new director of the White House Office of Public Engagement beginning in April, Benjamin will be a liaison to officials across the nation as well as the business community. He'll be one of the most prominent African Americans to shape Biden's work and messaging in the run-up to the 2024 presidential election.
The role involves ensuring that diverse views are represented in the administration's efforts to implement nearly $2 trillion in spending and tax incentives approved during the past two years.
"Steve's deep relationships with communities across the country will serve our administration and the American public well," Biden said in a statement, noting Benjamin's previous roles leading the U.S. Conference of Mayors and the African-American Mayors Association.
Bottoms is leaving the White House at the end of March and returning to Atlanta to spend time with her family, officials said.
Driving the news: Benjamin told Axios in an interview that being a mayor and a "mayor of mayors" has positioned him well for the White House job.
"As my grandmother would say, 'God gives you two ears and one mouth for a reason: You're supposed to listen twice as much as you talk,' and you're so close to the people...it makes you that much more accountable."
"I'm excited about the possibility of engaging with citizens all across the country — including those who voted for President Biden and Vice President Harris, and those who did not."
Zoom in: Benjamin's tenure in Columbia spanned the fallout from the 2008 financial crisis and the deadly flooding in South Carolina in 2015, to the pandemic and recent protests against systematic racism.
Under his leadership, Columbia became one of the first U.S. cities to outlaw bump stocks, the attachments to semi-automatic rifles that dramatically increase the rate they can fire.
In 2018, Benjamin told "CBS This Morning" that "80% of all infrastructure is built by cities and state governments."
At that time, Benjamin tells Axios, "there was not a federal partner" for such large projects. "Now there is," he said, a reference to the Biden administration's success at getting a massive infrastructure package through Congress.
The intrigue: Benjamin will have Biden's ear as South Carolina becomes a focal point in the 2024 presidential election, after Democrats recently voted to make South Carolina's primary the nation's first contest next year, replacing Iowa.
What they're saying: "Mayors get things done," Miami Mayor Francis Suarez, a Republican, told Axios in praising Benjamin's appointment. "That's the nature of our job."
Go deeper