Democrats set South Carolina as first primary in '24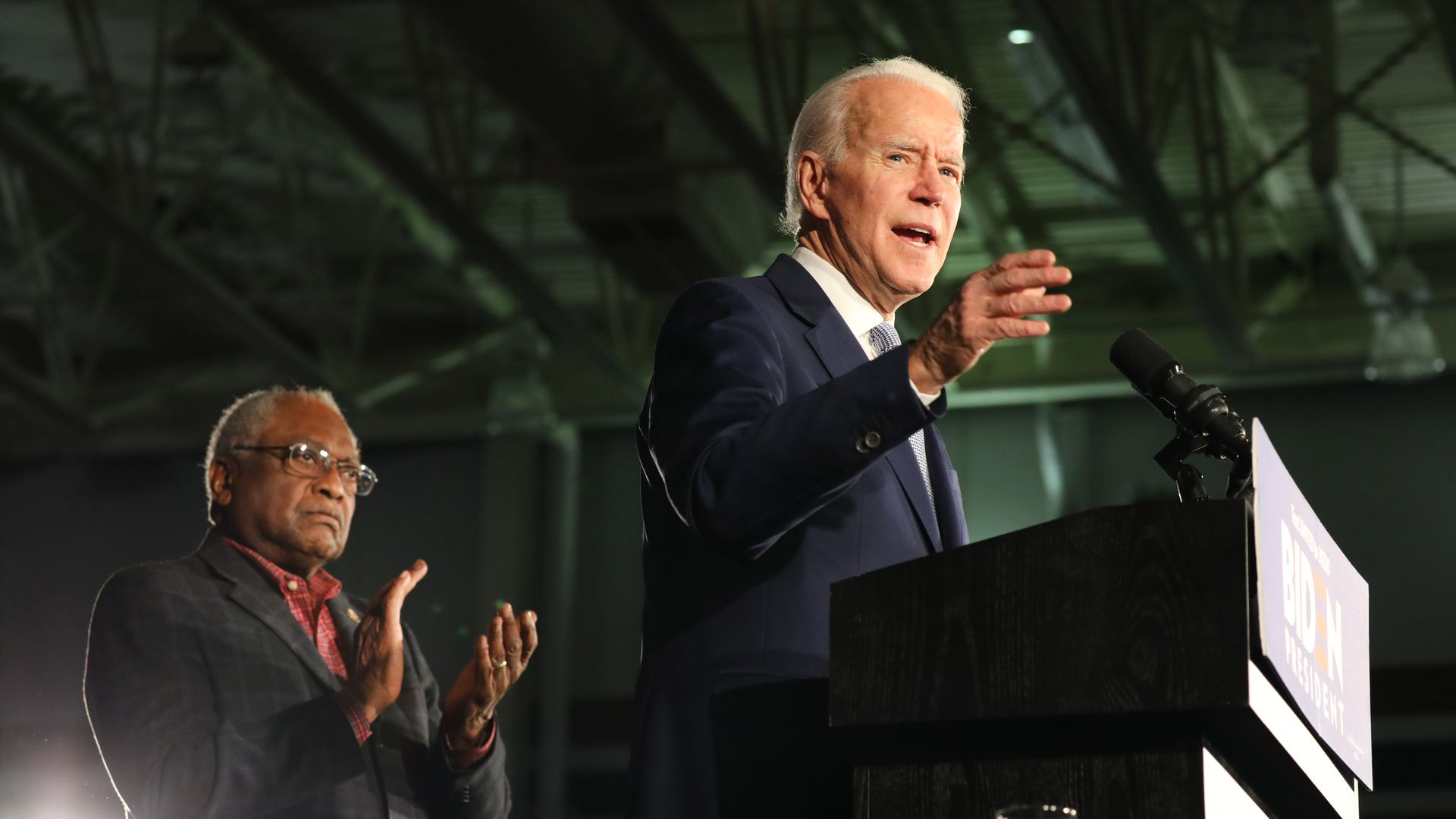 Democrats on Saturday approved a revised schedule for presidential primaries in 2024, a plan that elevates South Carolina as the nation's first primary and removes Iowa from the list of early contests.
Why it matters: If the states follow through on the plan adopted in Philadelphia by the Democratic National Committee, they would upend a half-century-old schedule that has had New Hampshire's primary and Iowa's caucuses as the first presidential nominating contests.
President Biden proposed the new calendar in December, saying the order of Democratic primaries should be adjusted to allow states with racially diverse populations to have more of a say in early presidential contests, which can set the tone for the rest of a campaign.
In 2020, voters in Iowa's caucuses and New Hampshire's primary were more than 90% white. Iowa's chaotic 2020 caucus was another factor in the change.
"Our early states must reflect the overall diversity of our party and our nation — economically, geographically, demographically," wrote Biden, whose 2020 campaign was flagging until a victory in South Carolina propelled him to the Democratic nomination and eventually the presidency.
Yes, but: The plan has gotten pushback — particularly in New Hampshire, where state law dictates that the state hold the nation's first presidential primary every four years.
Some critics have cast the plan as an effort by Biden to tilt the primary process in his favor by having states likely to be favorable to him hold early primaries.
Another problem: The Democrats' new schedule differs from the Republicans' primary calendar, placing some states in a difficult position.
The details: Under the new calendar for 2024, South Carolina Democrats will vote on Feb. 3, followed by New Hampshire and Nevada on Feb. 6, Georgia on Feb. 13 and Michigan on Feb. 27.
Iowa wouldn't be able to hold its caucus before March. It went first in 2020, followed by New Hampshire, Nevada and South Carolina.
What's next: New Hampshire Gov. Chris Sununu (R) has said, "Our primary will still be first and the nation will not be held to a substandard process dictated by Joe Biden and the Democrat Party."
That may lead to a game of chicken with the DNC, which could sanction any state that refuses to acquiesce to its rules. That could include devaluing the state's delegates.
Democratic Sens. Jacky Rosen and Catherine Cortez Masto of Nevada, whose presidential primary will move up under the new schedule, called on the DNC to "lay out a clear plan to protect this new calendar and ensure robust enforcement mechanisms are in place."
"After so much work has been done to improve and diversify the early window, these rules and penalties must be strong enough to stop rogue states that refuse to comply with the new calendar from jumping ahead of Nevada," they said in a statement.
The other side: The Republican National Committee already has set an early primary calendar that preserves the old order, meaning some states either would have to hold their primaries on separate dates or risk sanctions from one party or the other.
Michigan, where Democrats lead both chambers of the legislature and hold the governor's office, has moved up its primary to Feb. 27 to match the DNC's new schedule.
Other states are in more complicated situations: Georgia election officials, led by Republican Secretary of State Brad Raffensperger, have told Axios their primaries must be held on the same day, and that the state is unlikely to move up its primary to a date before March 2024.
"The DNC has decided to break a half-century precedent and cause chaos by altering their primary process, and ultimately abandoning millions of Americans in Iowa and New Hampshire," RNC Chair Ronna McDaniel said in a statement.
Go deeper