South Carolina shadowboxing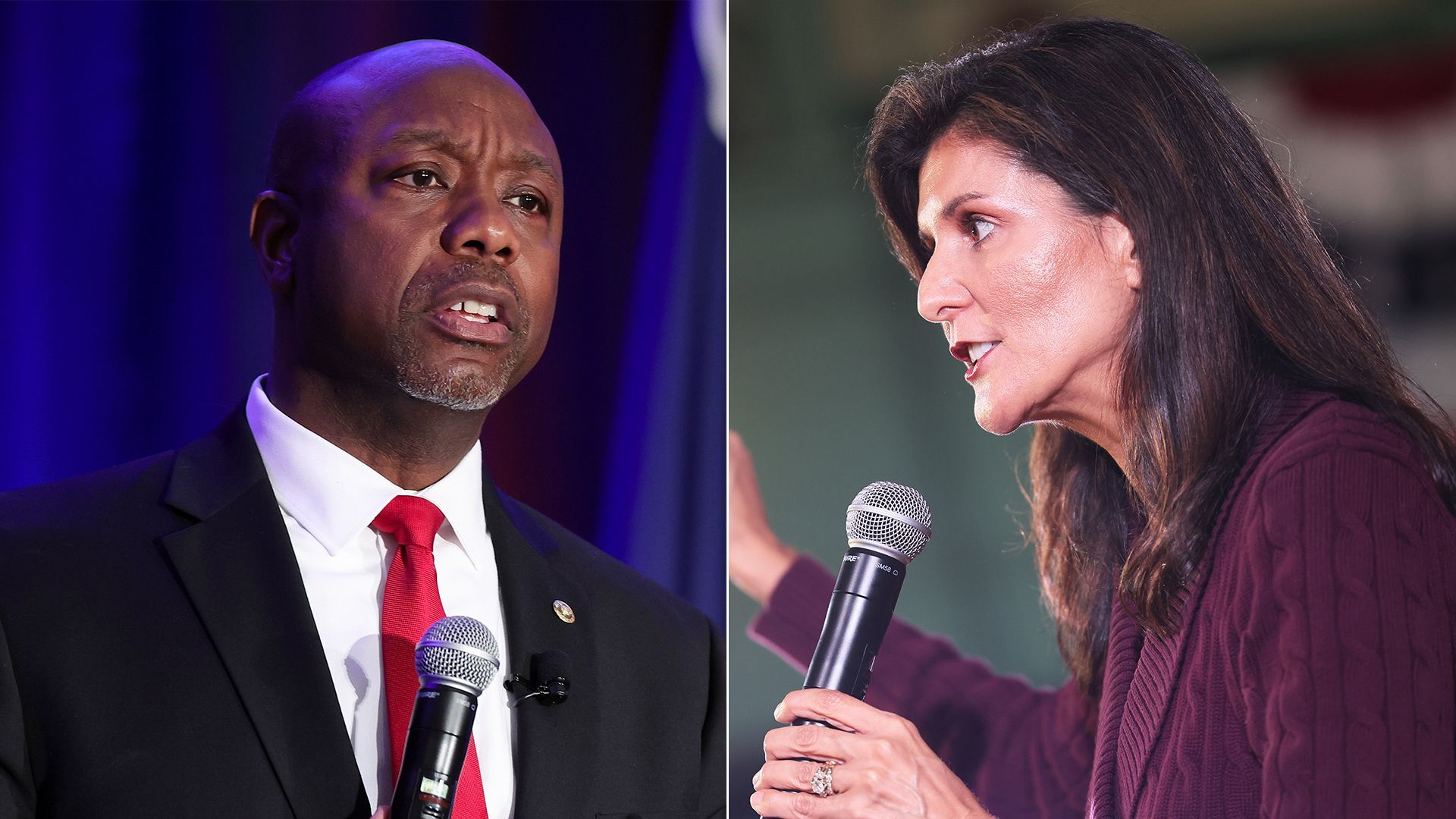 CHARLESTON, S.C. — Two of South Carolina's most popular Republicans —once viewed as the future of the GOP — are on a potential collision course in the 2024 presidential race.
Driving the news: Former South Carolina Gov. Nikki Haley formally kicked off her presidential campaign Wednesday, calling for generational change at a packed rally in downtown Charleston.
The next night, Sen. Tim Scott (R-S.C.) delivered the keynote address at the Charleston County GOP dinner commemorating Black History Month.
Why it matters: If Haley and Scott both run for president, they could stunt each other's momentum at a time when the traditional wing of the party can't afford to divide its votes.
Both Haley, in launching her presidential campaign, and Scott, in launching a national speaking tour, hit on remarkably similar themes in their speeches.
Both conveyed an optimistic message about America as a land of opportunity that rejected the notion of systemic racism.
Both relied on their inspirational personal stories, rising from hardship to achieving successes through grit and hard work.
What they're saying: "The story of America isn't the original sin, it's about redemption. We have to stop buying the lie that this is the worst time in American history," Scott said at the Charleston County GOP banquet.
"I understand being treated as a second-class citizen because of the color of my skin. I refuse, I refuse to be treated as a sec0nd-class citizen because of the color of my party," Scott added, in a new line to his stump speech.
Haley also leaned into her story as an outsider — an Indian American daughter of immigrants in a Black-and-white world — who overcame challenges because of the country's exceptionalism.
"Some look at our past as evidence that America's founding principles are bad. ... Some think our ideas are not just wrong, but racist and evil," Haley said in the video announcing her candidacy. "Nothing could be further from the truth."
Between the lines: Both Haley and Scott's speeches were designed to appeal to traditional conservatives — what New York Times reporter Nate Cohn dubbed "revitalized Reaganism" — with a focus on small-government conservatism and traditional values. (Haley's presidential kickoff also called for an assertive American foreign policy.)
Zoom in: Haley is the first announced challenger to former President Trump in the Republican primary and will have an early shot to build support as others mull their own campaigns. But Scott's potential candidacy is keeping some potential Haley supporters on the sidelines.
At both events, there were numerous supporters of both South Carolina Republicans who said they were torn on who to support — and wouldn't be taking sides this early.
Charleston County GOP chairman Maurice Washington, who introduced Scott, said he would be remaining neutral in a primary. "To possibly have two South Carolinians in a presidential race is something we all can be proud of. We grow them right in South Carolina," he said.
"Nikki Haley and Tim Scott would be the dream ticket if it was constitutional," said Dee Ann Kaufman of Charleston, who voted for Trump in 2016 but said she couldn't support him again after Jan. 6.
The intrigue: After his remarks at the banquet, Scott declined to endorse Haley's presidential campaign. He sidestepped questions from local reporters about whether he would get into the presidential race.
Haley appointed Scott to the state's vacant Senate seat in 2012. They campaigned together for Florida Sen. Marco Rubio's presidential campaign in 2016.
Scott will head to Iowa next week as part of a "Faith in America" listening tour. He hired former GOP Sen. Cory Gardner and veteran Republican operative Rob Collins to co-chair his cash-flush super PAC.
Reality check: Haley and Scott (if he runs) start out as underdogs in a presidential primary currently dominated by Trump and the likely candidacy of Florida Gov. Ron DeSantis.
Glenn Dill, a Republican precinct captain from Edisto Island, South Carolina, said he was looking for a Trump alternative and liked both Haley and Scott, but his wife was still a stalwart Trump supporter.
He said Republicans from his precinct recently held a straw poll featuring Trump, DeSantis and Scott. Trump and DeSantis were running neck-and-neck for the lead, while Scott lagged in third. (The group didn't test Haley on the ballot because they weren't sure if she would run.)
Go deeper