Updated Feb 27, 2023 -

World
Yellen makes surprise visit to Ukraine to reinforce U.S. support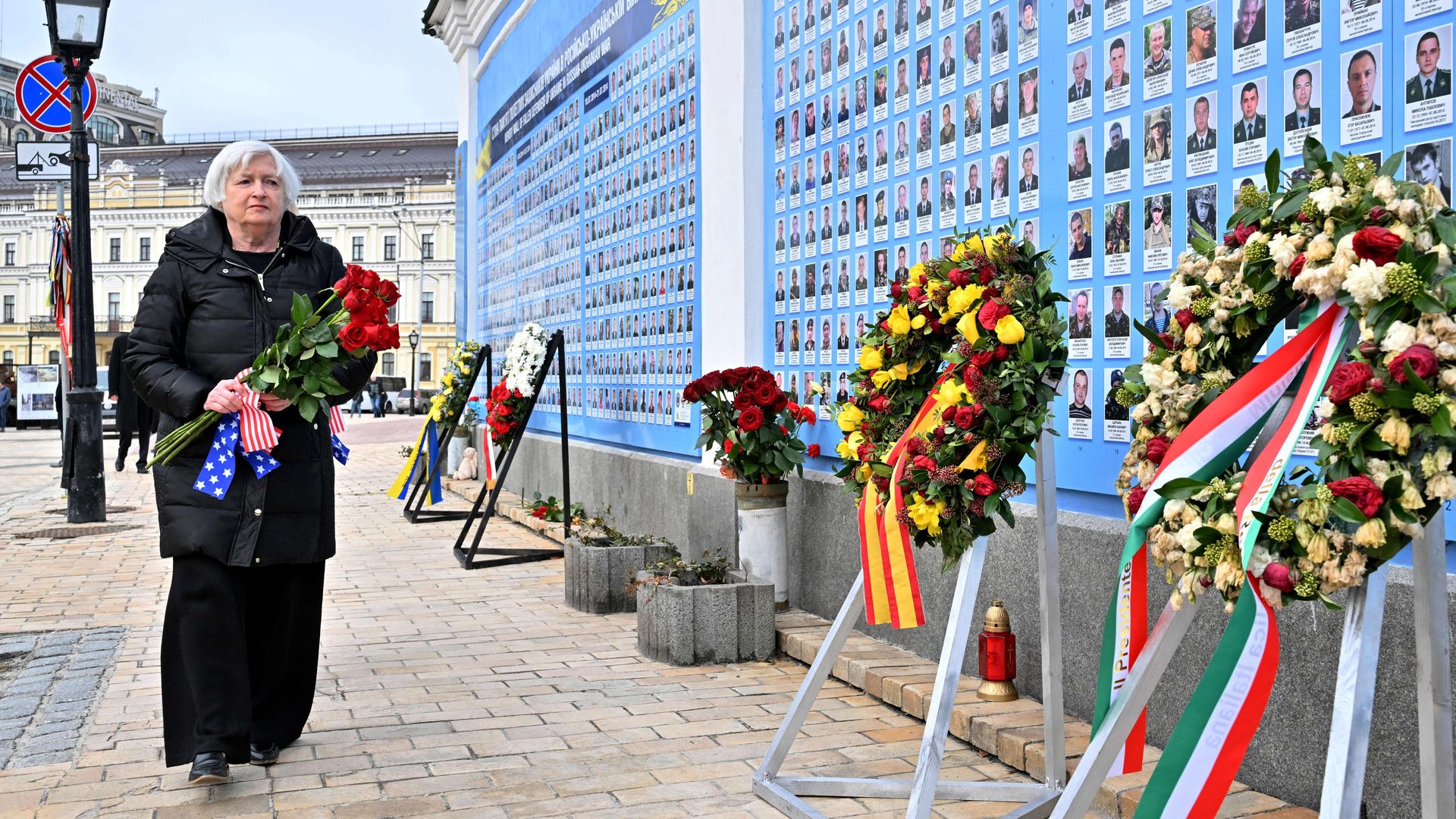 Treasury Secretary Janet Yellen made a previously unannounced visit to Kyiv on Monday intended to highlight the U.S.' enduring support for the country days after the one-year anniversary of Russia's invasion.
Driving the news: Yellen is expected to hold "meetings and engagements" and announce the transfer of $1.25 billion in economic and budget assistance to Ukraine, according to a Treasury official, as continued U.S. economic support has grown as a divisive political issue.
The funds are the first transfer of a sum of nearly $10 billion in budget support that the U.S. has pledged to provide Ukraine over the first three quarters of 2023, per a Treasury Department readout.
Yellen's visit comes after President Biden made a similar surprise trip last week.
State of play: Yellen will stress that the economic assistance from the U.S. and its allies helps the Ukrainian government continue providing critical services and ensures Ukraine's economic resilience, in turn "bolstering Ukraine's ability to succeed on the battlefield," the official said.
"We will stand with Ukraine for as long as it takes," Yellen said in remarks during a bilateral meeting with Ukrainian President Volodymyr Zelensky Monday, adding that, "the U.S. is proud to be Ukraine's largest bilateral donor."
Yellen laid a wreath in Kyiv's St. Michael's Square in honor of Ukrainians who have died during the war and visited a school that had U.S. budget assistance, the New York Times reported.
Zelenksy thanked the U.S. for "powerfully supporting us since the first days of this war not only with weapons, but also on the financial front," in a statement Monday.
Zoom out: Yellen will also highlight efforts by the U.S. and its allies to impose sanctions on Russia "to degrade its war machine" and limit the revenue it has to continue funding its war effort, per the Treasury readout.
In an interview with Axios last month, Yellen acknowledged the sanctions have not affected Russia's currency, but said "our objective with the sanctions is to impair their ability to conduct war."
"They are scavenging decent airplanes for parts because they can't buy parts to repair (them)," she told Axios. "They have got their two biggest tank factories that can't repair their tanks."
Editor's note: This story has been updated with additional background and reporting.
Go deeper