Axios interview: Yellen holds the line on Russia sanctions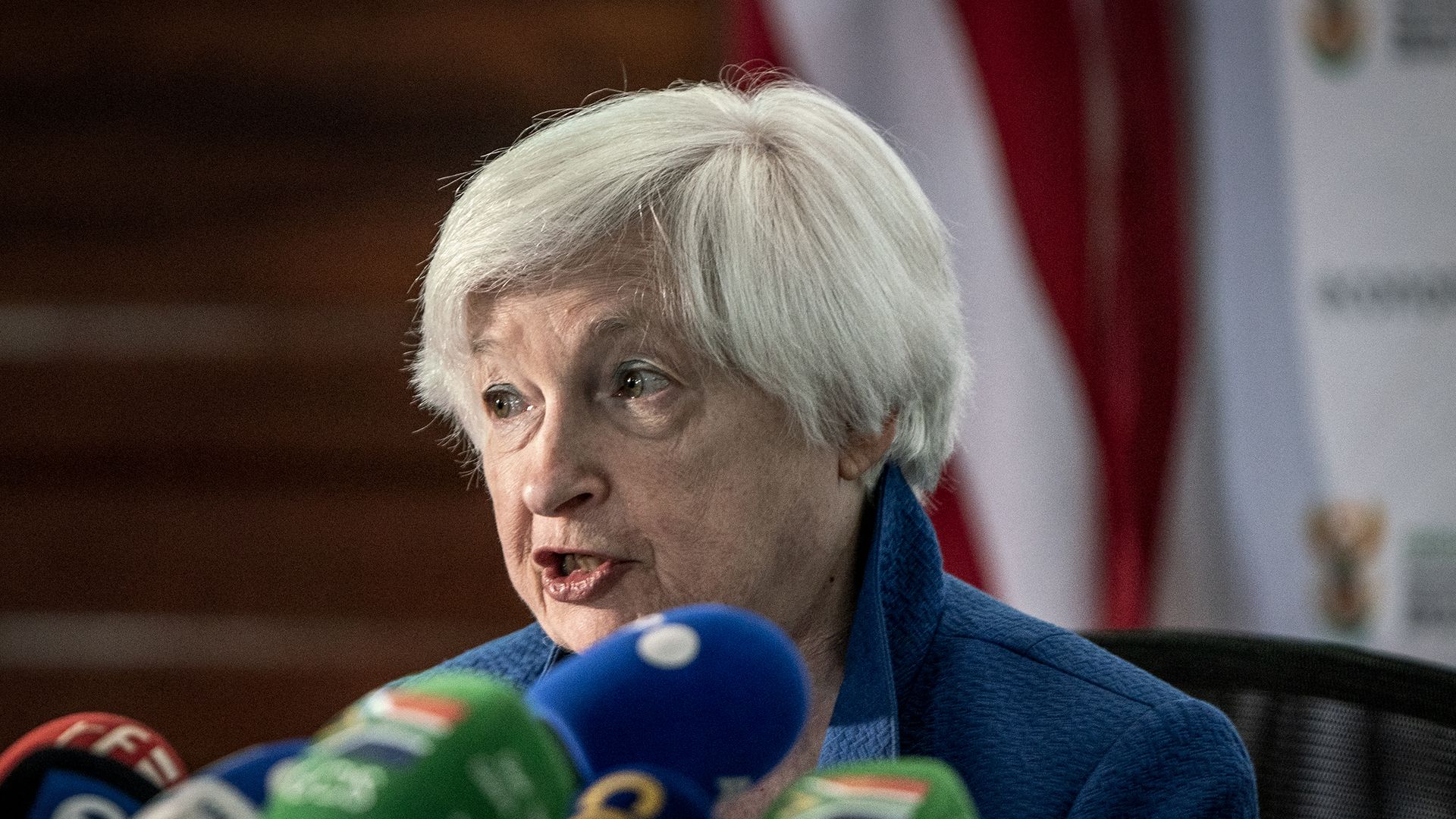 Treasury Secretary Janet Yellen taunted Moscow that U.S.-led sanctions have impaired Russia's "ability to conduct war" and claimed their military is now scavenging to find crucial replacement parts for battlefield equipment.
Why it matters: Yellen made her comments in an interview with Axios in Johannesburg, South Africa, after warning government officials in Pretoria they shouldn't violate U.S. sanctions.
Taking shots at Russia has been a recurring theme of Yellen's 10-day Africa tour, blaming Russian President Vladimir Putin and his invasion of Ukraine for driving up food and energy prices across the continent.
Yellen arrived in South Africa two days after Russia's foreign minister Sergei Lavrov met with some of the same officials, including President Cyril Ramaphosa, on her schedule, but Yellen and her team have insisted that the U.S. doesn't want to force African countries to choose between the U.S., Russia and China.
Driving the news: Russia's navy is scheduled to conduct training exercises with South Africa's defense forces next month on the one-year anniversary of their invasion of Ukraine.
What they are saying: Yellen acknowledged the sanctions have not affected Russia's currency, but said "our objective with the sanctions is to impair their ability to conduct war."
"They are scavenging decent airplanes for parts because they can't buy parts to repair (them)," she told Axios. "They have got their two biggest tank factories that can't repair their tanks."
In an earlier press conference with U.S. and South African reporters at a job training facility in Emalahleni, she was clear that she raised concerns about South Africa potentially evading Russian sanctions in her meetings with South African officials.
"My main message is that we take very seriously these sanctions that we've placed on Russia in response to its brutal invasion of Ukraine," she said.
The big picture: The U.S., China and Russia are competing for influence in Africa, a continent rich in minerals that will help power a green energy transformation.
Yellen's trip is the first mission from the Biden administration in 2023 to convince Africa that the U.S. wants to be a long-term partner to help residents electrify their countryside, climb out of poverty and help feed the world.
President Biden will visit later this year, along with Vice President Kamala Karris. 
Go deeper