The silent toll of war: Ukraine's growing mental health crisis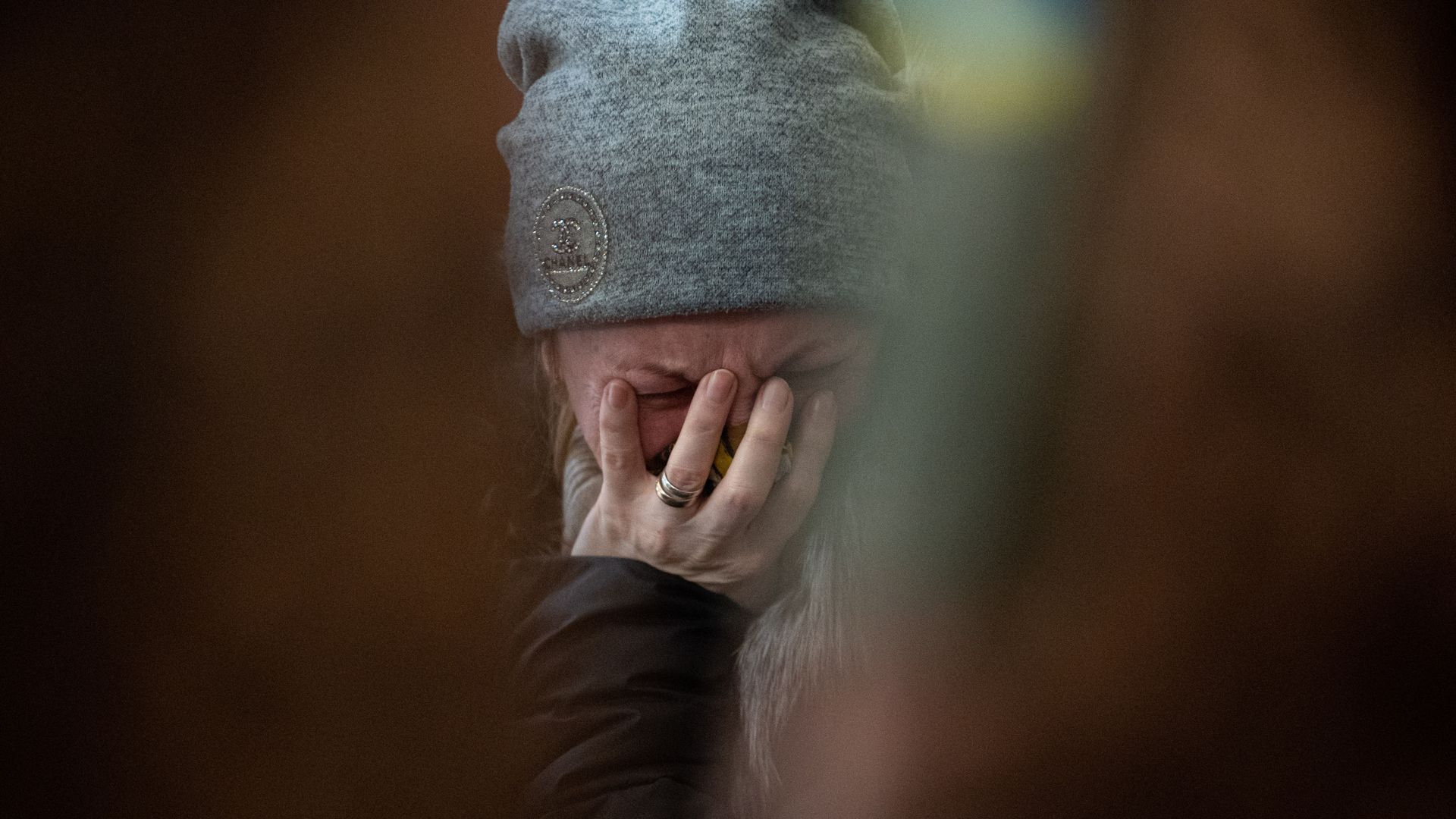 A year of relentless Russian bombing, air raid sirens and displacement is taking a heavy toll on Ukrainians' mental health.
The big picture: The World Health Organization estimates that nearly 10 million Ukrainians may be suffering from mental health conditions like depression or anxiety, of whom almost 4 million may have cases that are moderate or severe.
The scale of the crisis, however, is likely much bigger, says Alisa Ladyk-Bryzghalova, the mental health program lead at WHO Ukraine.
The estimates don't take into account the number of people who might not meet the criteria for a diagnosis but are still experiencing new daily stresses and distress that come with living in times of war, Ladyk-Bryzghalova tells Axios.
A survey published by Ukraine's Ministry of Health in October found that more than 70% of people polled said they were very stressed or nervous.
Zoom in: The impact of the invasion on Ukrainian children's mental health is especially acute.
The UN Children's Fund (UNICEF) estimates that 1.5 million children in Ukraine are at risk of depression, anxiety, post-traumatic stress disorder and other mental health conditions.
About 55% of 2,000 Ukrainian mothers surveyed between Jan. 27–Feb. 1 reported that their children were at least somewhat bothered by loud sounds in the previous month, according to the survey by the U.S.-based Ukraine Children's Action Project released Thursday. Around 41% reported their kids were irritable or apathetic.
Beyond the direct trauma of war, children are also experiencing the "additional trauma" of a disruption to their lives, including to their education and their daily routines, says Karen Redlener, co-founder of UCAP.
What's happening: The sheer scope of mental health needs makes responding to the crisis challenging, says Ladyk-Bryzghalova.
It's a challenge that government agencies, local groups, global aid organizations and Ukrainian health workers alike are attempting to address as the war grinds on.
With the support of the WHO, Ukrainian first lady Olena Zelenska and Ukraine's health ministry have spearheaded new initiatives to bolster mental health support during the war and well after it ends.
That includes working to integrate mental health services into the country's primary health care system to reach the most people.
BetterMe, a Kyiv-headquartered health app publisher, opened free access to BetterMe: Mental Health and BetterMe:Health Coaching for Ukrainians when the invasion began.
The "apps contain information that is relevant for wartime, such as advice about psychological assistance for children, diet in war conditions, etc.," BetterMe CEO and founder Victoria Repa told Axios in an email.
Repa says digital tools have become especially important as the hostilities make it hard for some to find specialists for help.
Meanwhile, Ukrainian health care workers like Oleksandra Besedina say they're finding a sense of purpose helping address mental health needs.
Besedina is a psychotherapist who fled to Romania in the initial days of the invasion but returned to her home city of Odesa in September. She now works with Project HOPE to provide mental health services to internally displaced children and adults.
Besedina tells Axios that during programming last Christmas, she got a feeling of optimism seeing smiles on the faces of children who had spent two months in a dark basement in Kherson as fighting took place outside.
At the same, however, the uncertainty that comes with a year of war has brought on new stresses, Besedina explains.
"For all of us, the hardest is not understanding when the war will be over," she says. "I'm sure that the impact the war might have on our lives — on [our] mental health — is going to last generations."
Go deeper: Ukraine's health care infrastructure withstands a year of destruction
Go deeper