5 ex-cops plead not guilty to murder charges in Tyre Nichols' fatal beating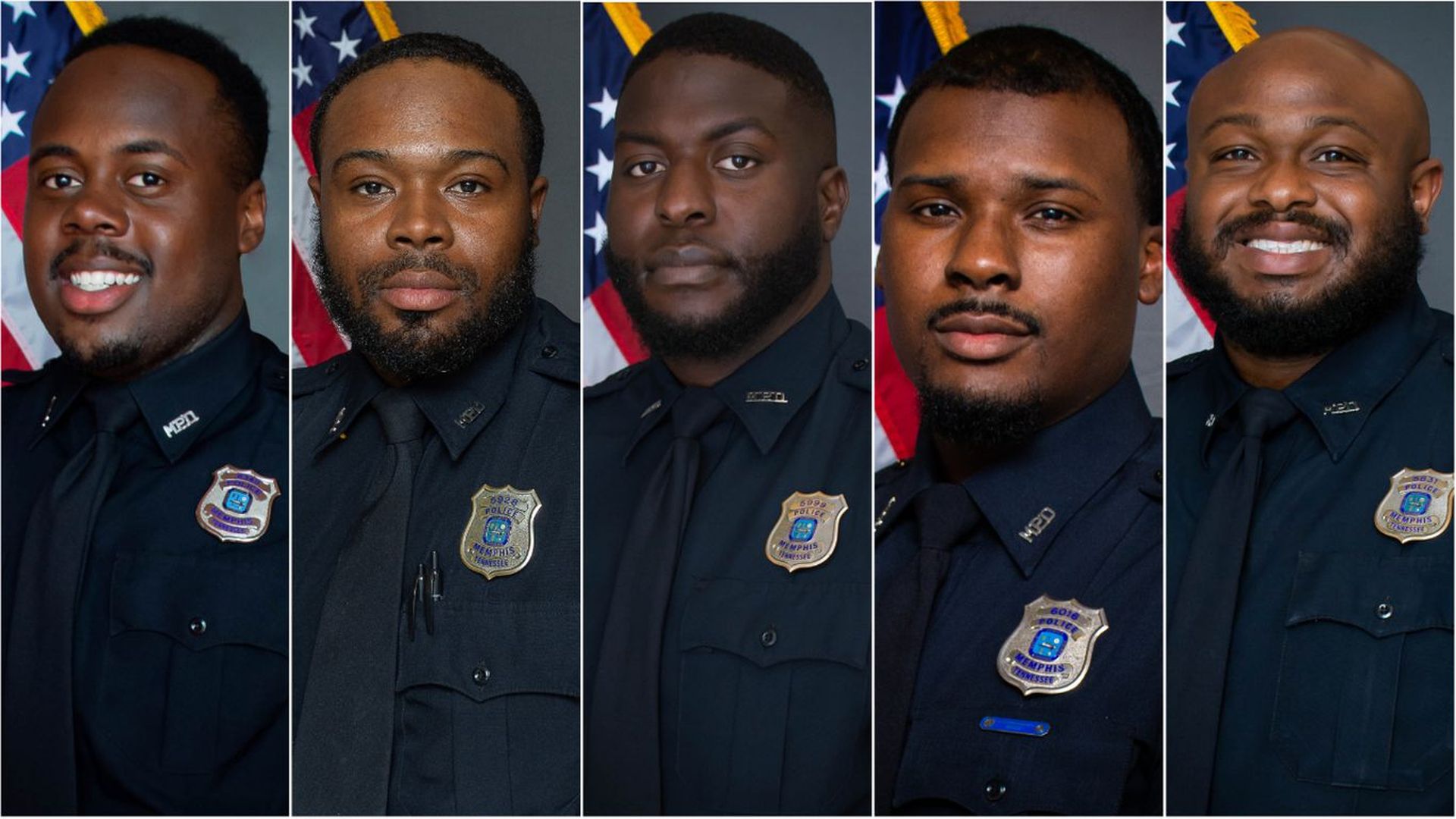 Five former Memphis Police Department officers charged in the death of Tyre Nichols, a 29-year-old Black man​ who died days after he was beaten by police in January, pleaded not guilty to second-degree murder and other charges on Friday.
Driving the news: The former officers Tadarrius Bean, Demetrius Haley, Emmitt Martin III, Desmond Mills, Jr. and Justin Smith also pleaded not guilty to charges of aggravated assault, aggravated kidnapping, official misconduct and official oppression in Shelby County Criminal Court.
Nichols' mother, RowVaughn Wells, and stepfather, Rodney Wells, were present during the arraignment hearing, as was their lawyer, civil rights attorney Ben Crump.
Judge James Jones Jr. at the opening of the hearing warned the case "may take some time."
"Be patient. Work with your attorneys." the Judge told the officers. "There may be some high emotions in this case."
The officers were fired by the department after an internal investigation found they violated departmental policies during the Jan. 7 stop.
The department has so far relieved a total of seven officers who were involved in the traffic stop as part of its ongoing investigation into Nichols' death and has formally fired six officers.
What they're saying: Paul Hagerman, Shelby County assistant district attorney, said after the hearing Friday that the investigation into Nichols' death is continuing and additional charges may be filed.
"My boss, [Shelby County District Attorney Steve Mulroy], has been extremely clear that this is step one," Hagerman said. "Today was just the start of the court process. The investigation goes on, and we'll see where that leads us."
"We believe it's important that everyone who took part in this criminality, everyone that did something criminal, is brought to justice in this case."
The big picture: Footage from the stop, which includes graphic, violent content, showed at least five officers kicking and punching Nichols or hitting him with a baton at the corner of a residential street and forcing him to the ground over at least three minutes.
The department initially said the officers, who were members of a now-dissolved special police unit, pulled Nichols over for reckless driving. However, the department later said it could not substantiate its earlier claim after a review of the footage.
Memphis Police Chief Cerelyn Davis said the footage did not contain any evidence of probable cause for the traffic stop.
Attorneys hired by Nichols family said he died in the hospital on Jan. 10, three days after the beating, and that preliminary findings from an independent autopsy revealed he "suffered extensive bleeding caused by a severe beating."
An official cause of death for Nichols has not been issued by the Shelby County medical examiner's office.
What's next: The defendants, who are out on bail, will have another hearing on May 1.
Editor's note: This story has been updated with additional background and context.
Go deeper