DeSantis calls Roberto Clemente book removal "a joke"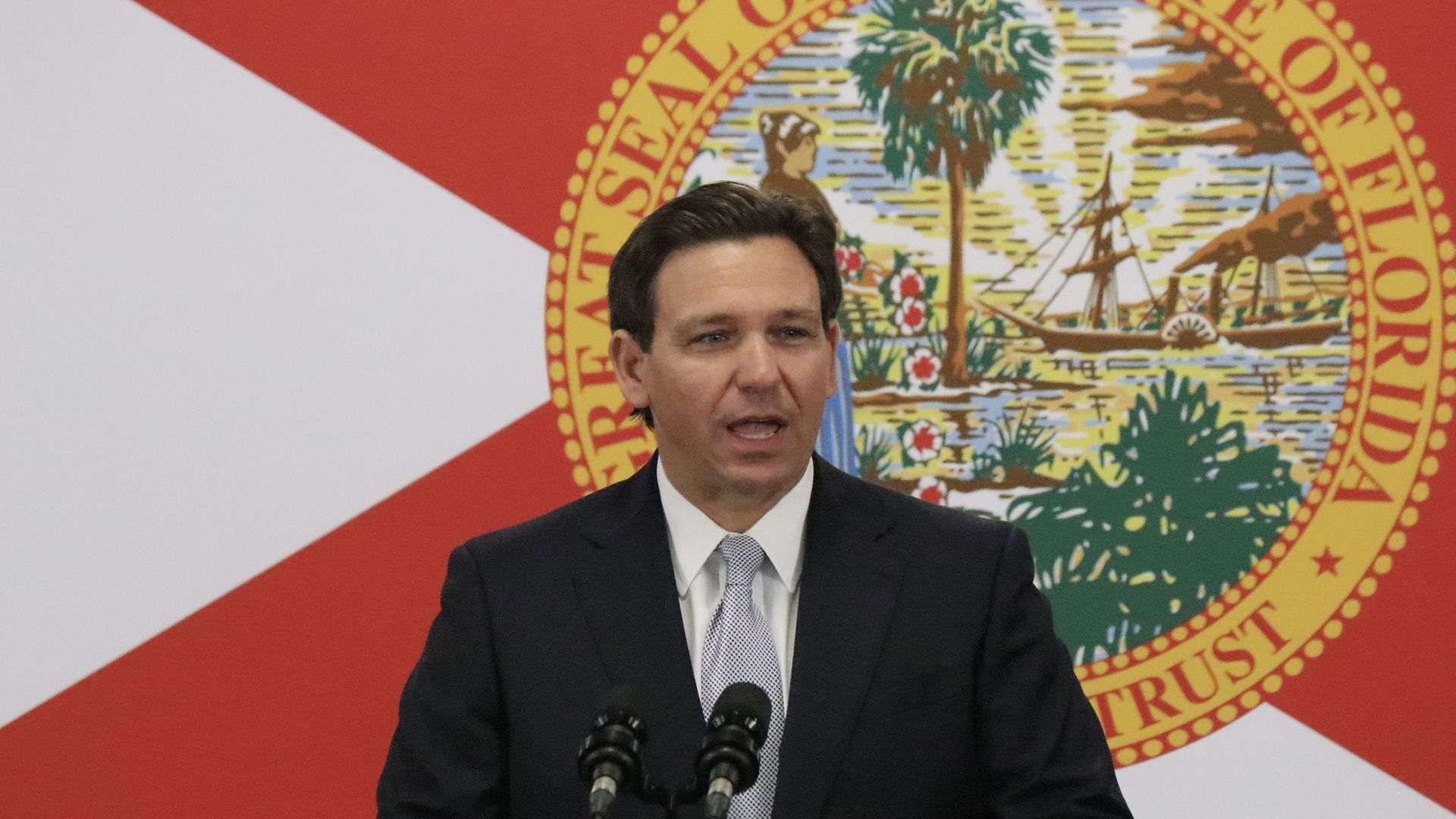 Republican Florida Gov. Ron DeSantis said a school district's months-long removal and review of a children's book about baseball Hall of Famer Roberto Clemente was "a joke" and an attempt to draw attention.
Why it matters: New laws, like those in Florida, limiting discussions on race and gender have led to book bans and educators scrambling to change lesson plans amid confusion and fear.
Details: DeSantis told reporters at a press conference Tuesday that the removal of the Clemente book by the Duval County Public Schools was "outlandish" and suggested the district was trying to grab headlines.
"They're manufacturing that to try to create a narrative."
"First of all, I don't think parents are challenging that. I think they're doing it unilaterally to try to create an issue, but that can be resolved in about two minutes."
DeSantis said new state laws limiting diversity discussions target "pornography" and books with sex acts, not figures like Clemente.
What they're saying: Manny Diaz Jr., Florida's Commissioner of Education, joined DeSantis in saying the Clemente book isn't banned in the state.
"This is fake news. Florida does not ban books, and this particular book on baseball legend Roberto Clemente is currently on school bookshelves across the state!" Diaz tweeted.
Yes, but: The Clemente book is just one of 1.6 million titles in classroom and media center libraries that need to be reviewed by a certified media specialist in Duval County Public Schools, a district spokeswoman told ABC News.
Catch up fast: Duval County Public Schools, which includes Jacksonville, Florida, announced late last month that it was "taking further steps to comply with Florida laws on library books."
Those steps include a "formal review of classroom libraries," the district said. The 2005 illustrated children's book on Clemente is one of those under review. It has been out of libraries for months.
The intrigue: The Clemente book references the racism the Black Puerto Rican player faced in the U.S. — something well documented in his interviews and biographies.
State of play: Florida is one of 19 states that have passed laws or used executive orders to limit the teaching of what it calls "divisive concepts" or critical race theory since 2021, according to data from the National Conference of State Legislatures, the American Instructional Resources Survey and an Axios analysis of recent stories.
The restrictions have forced schools to remove conventional books on civil rights, even if they have nothing to do with graduate-level critical race theory conceptions.
Reality check: Critical race theory — which holds that racism is baked into the formation of the nation and ingrained in our legal, financial, and education systems — was developed in law schools in the 1970s and 1980s and isn't really taught in grade school.
Zoom out: Nearly 30% of educators in red states that limit discussions of Black history say they've altered their curriculum, an American Instructional Resources Survey by the RAND Corporation found.
Go deeper