Black History Month arrives as teachers' fears mount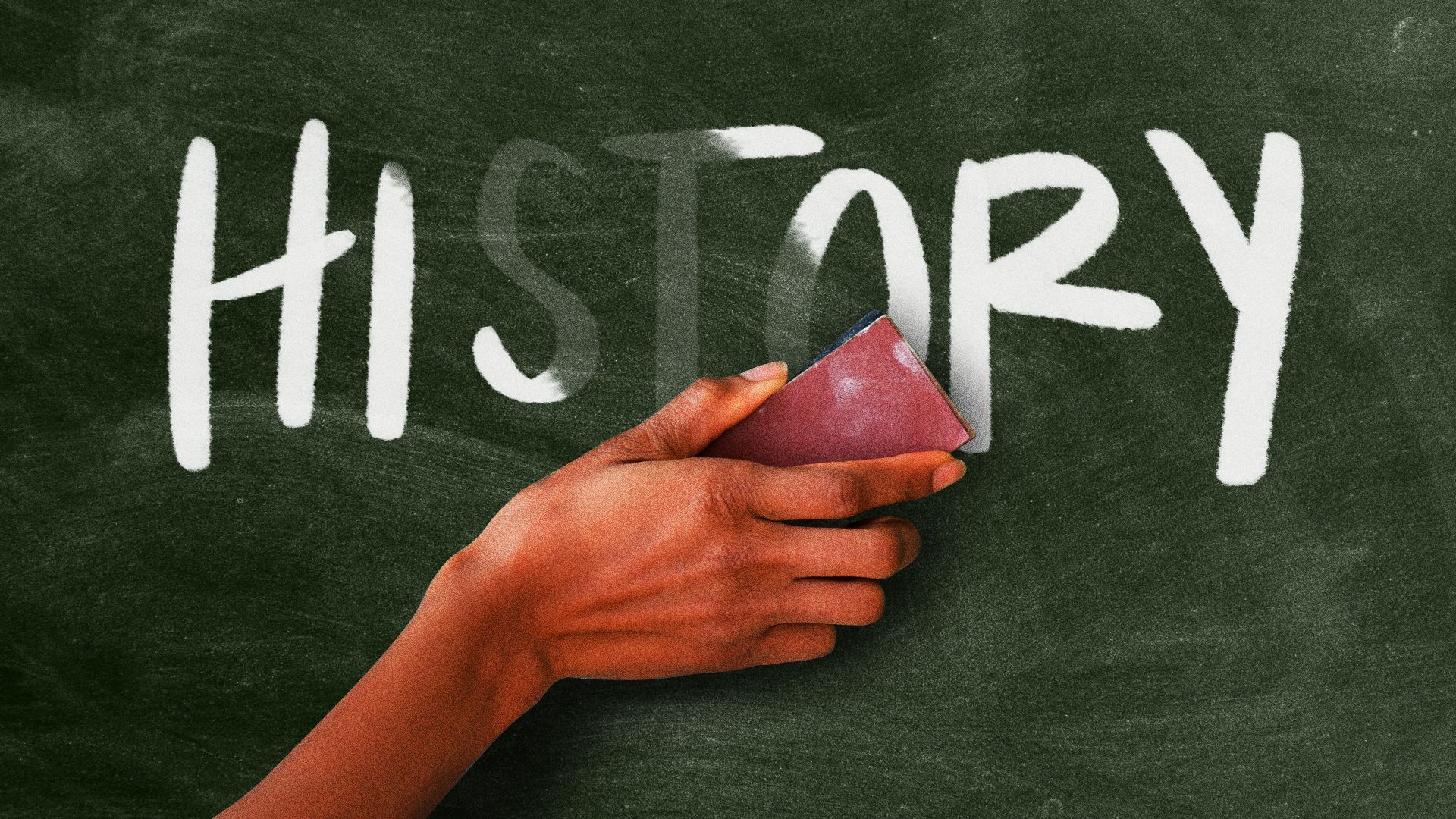 Nearly 30% of educators in red states that limit discussions of Black history say they've altered their curriculum, according to a new survey of teachers.
Why it matters: Conservative-led states' and school districts' bans on so-called critical race theory have led some teachers to scrap once-noncontroversial Black history lessons for fear of being fired or shamed on and social media.
By the numbers: A quarter of all teachers reported that limitations placed on how educators can address race or gender had influenced their choice of curriculum materials or instructional practices, an American Instructional Resources Survey by the RAND Corporation found.
That percentage includes teachers who live in red states where new restrictions have been imposed and in states where no limitations have been introduced -- highlighting the overall anxiety from teachers.
About 41% of Black teachers in states with limitations say they have changed lessons. Around 28% of white teachers in those same states say they altered their curriculum.
The intrigue: Teachers told researchers they didn't teach critical race theory, but changed their lessons over concerns they could still be accused of doing so, Ashley Woo, a RAND assistant policy researcher, told Axios.
"I think it's really important for all of these leaders to really take stock of what their teachers think about these restrictions, to really understand their experiences with how it's impacting their working conditions."
Woo said teachers told researchers that they worry new restrictions on diversity and gender lessons could affect critical thinking skills and students' development of empathy toward others.
Background: At least 18 states enacted legislation to limit the teaching of "divisive concepts" or CRT from 2022 to 2023, according to data from the National Conference of State Legislatures, the American Instructional Resources Survey, and an Axios analysis of recent stories.
Citizens for Renewing America, a group led by a White House budget director under President Trump, offers conservative activists model legislation to craft bans in their states.
It says that equity, intersectionality, social justice, and "woke" terms are racist ideas, and falsely claims that critical race theory teaches that "one race or sex is superior to another race or sex."
Reality check: Critical race theory — which holds that racism is baked into the formation of the nation and ingrained in our legal, financial and education systems — was developed in law schools in the 1970s and 1980s and isn't really taught in grade school.
Flashback: Pushes to limit lessons diversity in schools came in the aftermath of the 2020 death of George Floyd as teachers brought up systemic racism.
It also came after Trump lost the presidency, and conservative activists used critical race theory fights to organize right-leaning parents.
Beginning in 2021, school boards saw intense meetings where educators were threatened and harassed. College professors also received death threats.
Between the lines: Limitations and fears of repercussions have made it unclear for educators what they can teach during Black History Month.
New restrictions in Arkansas, for example, add doubt if teachers can even bring up '"The Little Rock Nine" -- the nine Black teens who integrated Central High School in Little Rock, Arkansas, in 1957 thanks to National Guard soldiers.
Lorraine Hansberry's play "A Raisin in the Sun" and works by Dr. Martin Luther King, Jr. also have become targets of scrutiny or removal in some schools.
What they're saying: Limiting the education of Black history has been consistent with the oppression of Black people in the U.S. for centuries, Sharif El-Mekki, founder and CEO of the Center for Black Educator Development, tells Axios.
Some policymakers are using white supremacy to limit and stop teaching Black history, and educators need to push back against this, El-Mekki said.
"We shouldn't think of ourselves as only limited as the educators that teach, while during our 8 a.m. to 4 p.m. jobs and roles."
What's next: Lawsuits over limiting diverse education are coming.
Go deeper