Assad agrees to open 2 new crossings for quake aid to northern Syria, UN says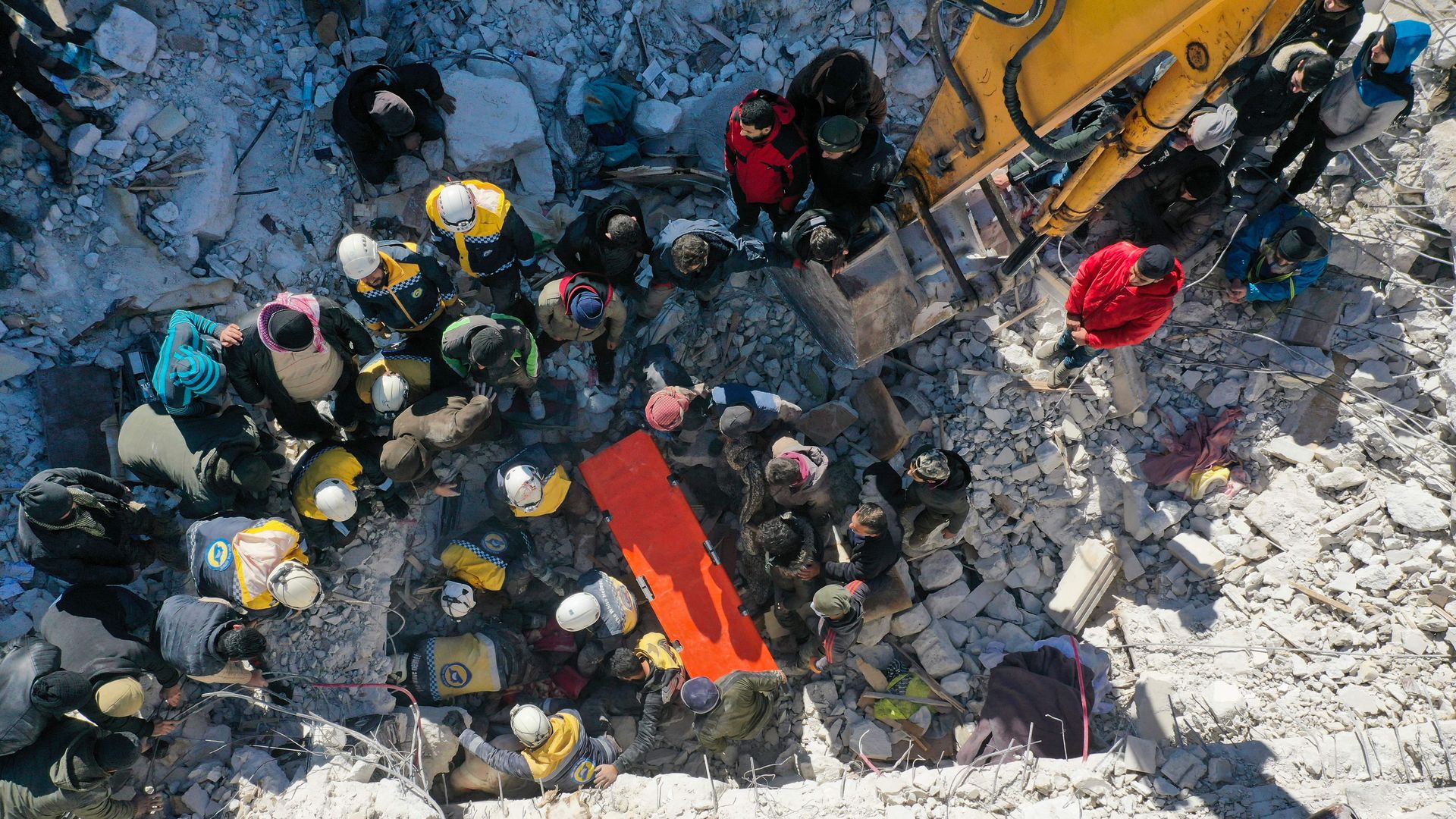 Syrian President Bashar al-Assad has agreed to temporarily allow earthquake aid to flow through two new border crossings from Turkey into rebel-held areas of northern Syria, UN Secretary-General António Guterres said on Monday.
Why it matters: First responders and activists have strongly criticized the UN and international community for their slow response in getting aid to the millions in northern Syria affected by this month's deadly 7.8 magnitude earthquake and dozens of aftershocks.
UN humanitarian chief Martin Griffiths, who visited Turkey and Syria to assess the needs, admitted this weekend that the international community has "so far failed the people" in northwest Syria.
"They rightly feel abandoned. Looking for international help that hasn't arrived," he tweeted on Sunday.
The death toll from the quake in Turkey and Syria stood at more than 36,000 as of Tuesday afternoon local time, with tens of thousands more injured and millions displaced. More than 4,400 deaths and 7,600 injuries have been reported in northwest Syria as of Saturday, per the UN humanitarian office. The number is feared to be much higher.
Background: Access to rebel-held areas in northern Syria is severely limited due to the country's 12-year civil war. Throughout the war, Assad has opposed the opening of any Turkey-Syria crossings for humanitarian aid, forcing the UN Security Council to repeatedly vote to keep one crossing — Bab al-Hawa — open for humanitarian aid.
It took several days before the first earthquake aid convoy passed through that crossing due to damaged roads. The UN Security Council met earlier Monday behind closed doors to discuss humanitarian aid for the region.
The two new crossings of Bab Al-Salam and Al Ra'ee will initially be opened for three months and will be limited to humanitarian aid, the UN said.
What they're saying: "As the toll of the 6 February earthquake continues to mount, delivering food, health, nutrition, protection, shelter, winter supplies and other life-saving supplies to all the millions of people affected is of the utmost urgency," Guterres said in a statement.
"Opening these crossing points — along with facilitating humanitarian access, accelerating visa approvals and easing travel between hubs — will allow more aid to go in, faster."
State Department spokesperson Ned Price said at a briefing Monday that if the Assad "regime is serious about this, and if the regime is willing to put those words into action, that would be a good thing."
The big picture: Even before the earthquake, more than 4 million people — the majority of whom are women and children — in northwest Syria depended on some kind of humanitarian assistance, according to the UN humanitarian office (OCHA).
More than half of the 4.6 million people living in the region had already been displaced by the war.
Since the earthquake, many people have had to contend with freezing conditions without shelter as they await more humanitarian aid. Hospitals and emergency teams have been overwhelmed, and health groups have expressed fear that the disaster will worsen an ongoing cholera outbreak.
Go deeper