Updated Feb 13, 2023 -

World
Turkey investigates building contractors as earthquake deaths top 35,000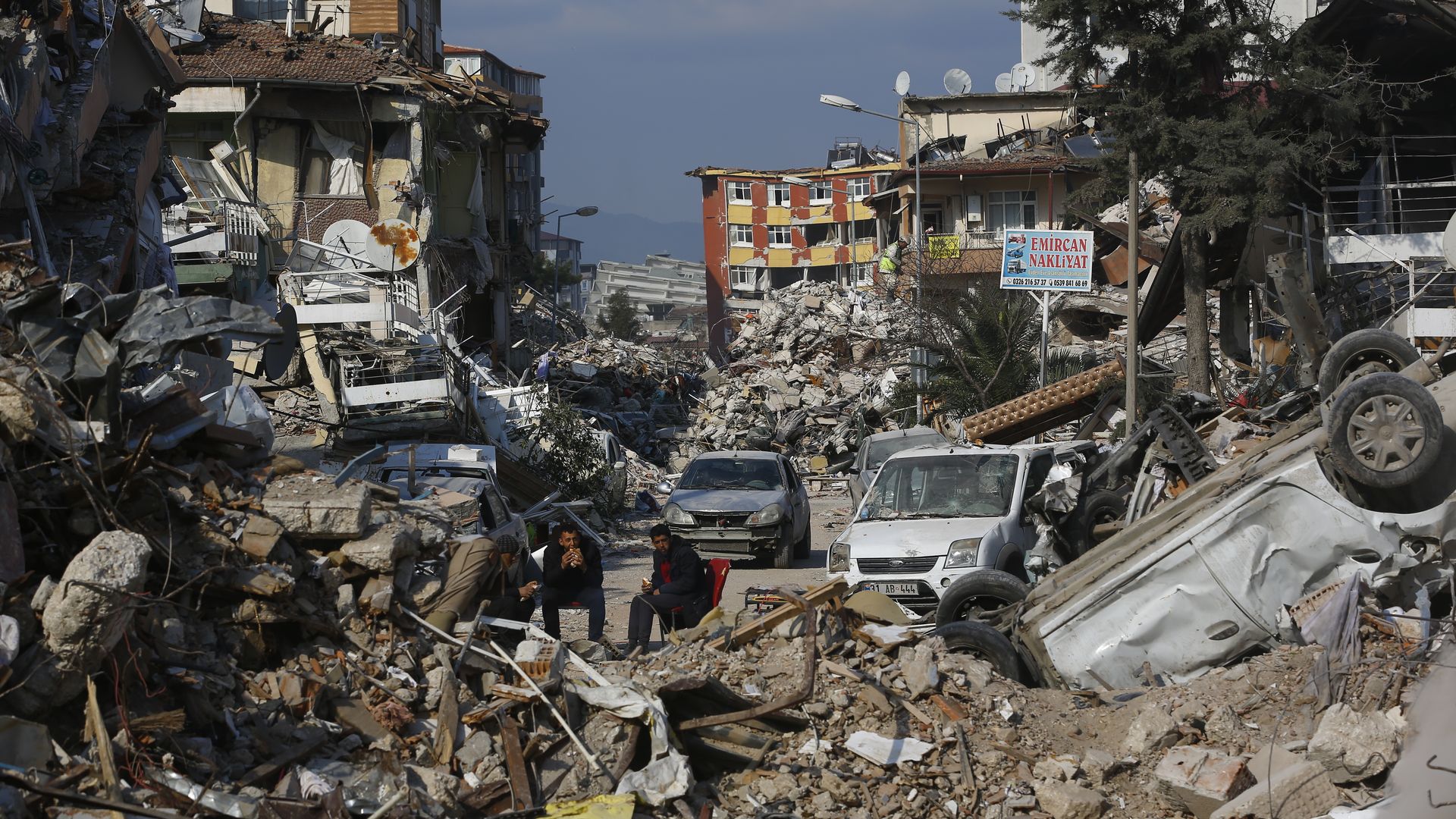 Turkish authorities have launched an investigation into contractors allegedly linked to deadly building collapses that occurred after a massive earthquake and aftershocks struck last Monday.
The latest: Turkish rescuers were still pulling survivors from building rubble alive on Monday. Among them was a 40-year-old woman, who was found among wreckage in Islahiye, Gaziantep province, some 170 hours after the quake, per AP.
The big picture: Thousands of buildings have collapsed across Turkey and Syria, with the sheer scale of the destruction and freezing temperatures hampering rescue efforts even as the total death toll surpassed 33,000 on Sunday.
State of play: "We will follow this up meticulously until the necessary judicial process is concluded, especially for buildings that suffered heavy damage and buildings that caused deaths and injuries," Turkish Vice President Fuat Oktay said Sunday, Reuters reported.
Authorities arrested two contractors believed to be responsible for the collapse of several buildings in the city of Adiyaman at Istanbul airport on Sunday, the New York Times reported, citing local media. The two men were carrying more than $17,000 in cash and reportedly planned to flee to Georgia.
Another contractor, who helped build a 12-story building in Hatay Province that collapsed, was detained at the Istanbul airport on Friday while attempting to board a flight to Montenegro, per the Times. He was formally arrested Saturday, per AP.
Two other builders of a destroyed 14-story building in Adana had fled Turkey immediately after the earthquake, before being detained in northern Cyprus, per the Times.
Turkey's Justice Ministry has established "earthquake crimes investigation" bureaus to help investigate and prosecute those responsible for the destruction, per AP.
By the numbers: Turkey's Disaster and Emergency Management Authority said Monday that 31,643 people had died as a result of the quake. That number is expected to rise as search and recovery efforts are ongoing.
Syrian state media said at least 1,414 people were killed and over 2,349 others injured in government-held areas.
The Syrian Civil Defense, first responders also known as the White Helmets, said Saturday more than 2,167 people had died and another 2,950 were injured in opposition-held areas — bringing the country's death toll from the quake to at least 3,581 people, and the overall death toll in both nations to more than 35,000.
Editor's note: This article has been updated with details of Monday's rescue of survivors in Turkey.
Go deeper