Rescuers in "race against time" to find survivors of deadly quake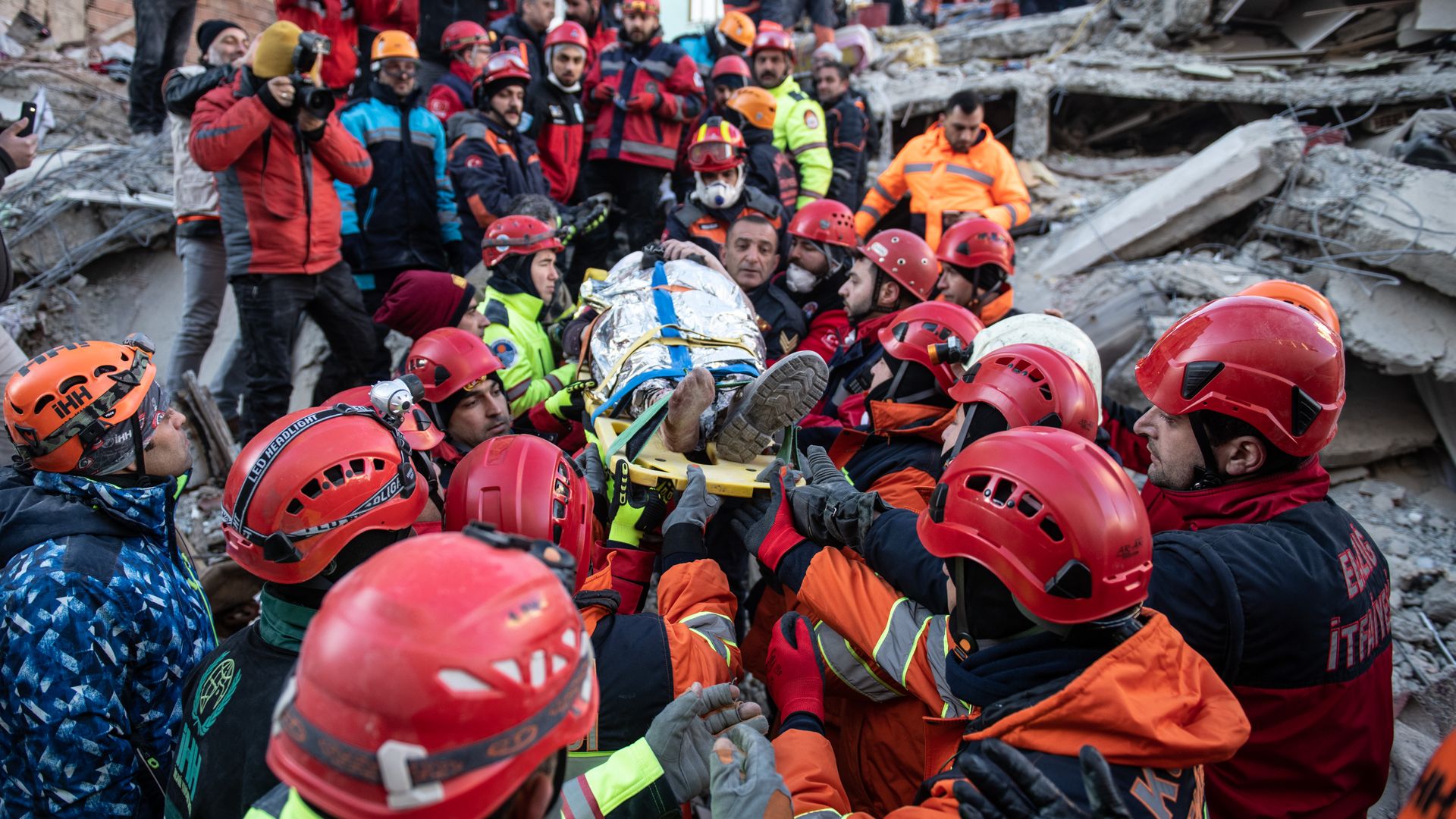 Rescue workers are in a "race against time" to find survivors trapped beneath the rubble of buildings that collapsed during Monday's deadly earthquake in Turkey and Syria.
The big picture: Survivors and first responders described scenes of horror and shock as they attempted to dig through the debris to try to rescue those heard calling out beneath the rubble.
Freezing winter weather, aftershocks and the sheer scale of the destruction were making rescue efforts even harder a day after the 7.8 magnitude quake killed thousands.
What they're saying: "Every minute, every hour that passes, the chances of finding survivors alive diminishes," World Health Organization Director-General Tedros Adhanom Ghebreyesus warned on Tuesday.
"Numbers do not tell us about the perilous situation that many families now face, having lost everything, forced to sleep outside in the middle of winter," he added, not long before the death toll climbed to more than 5,000.
Tedros noted how the damage to roads, power supplies, communications and other infrastructure was also hampering rescue efforts, especially in Syria, where a nearly 12-year civil war has destroyed large swaths of the country. "We are especially concerned about areas where we do not yet have information," he said.
Survivors and family members of those affected cried out for help from overwhelmed first responders, who were racing to try to rescue anyone they could.
Ali Silo, a Syrian man from Hama, told AP two of his family members in the Turkish town Nurdagi could not be saved. "We could hear their voices, they were calling for help," he said.
Deniz, a man in the Turkish border town of Hatay who was waiting for recuse workers said his mother and father were "calling out" but no help was there, per Reuters. "They're saying, 'Save us,' but we can't save them. How are we going to save them? "
Nurgul Atay told AP she could hear her elderly mother under the rubble of a toppled building. "If only we could lift the concrete slab we'd be able to reach her," she said. "My mother is 70 years old, she won't be able to withstand this for long."
Amid the destruction, there were signs of hope.
In northwest Syria, a young girl was pulled alive from the rubble of a toppled building on Monday, per AP.
Two young children were recused from the rubble in Kahramanmaras, Turkey, the New York Times reported.
A woman was recused from beneath the rubble after a recuse dog detected her in Gaziantep, AP reported, citing CNN Turk.
But as more time goes by, the number of dead is expected to grow significantly.
"The later people are found under the rubble, the worse the chances for survival get," Gerald Rockenschaub, a regional emergency director for the WHO's office in Europe, told the Times. He said the WHO expects the toll to rise by the thousands.
Go deeper