NewsNation reporter faces charges after arrest at Ohio governor's press conference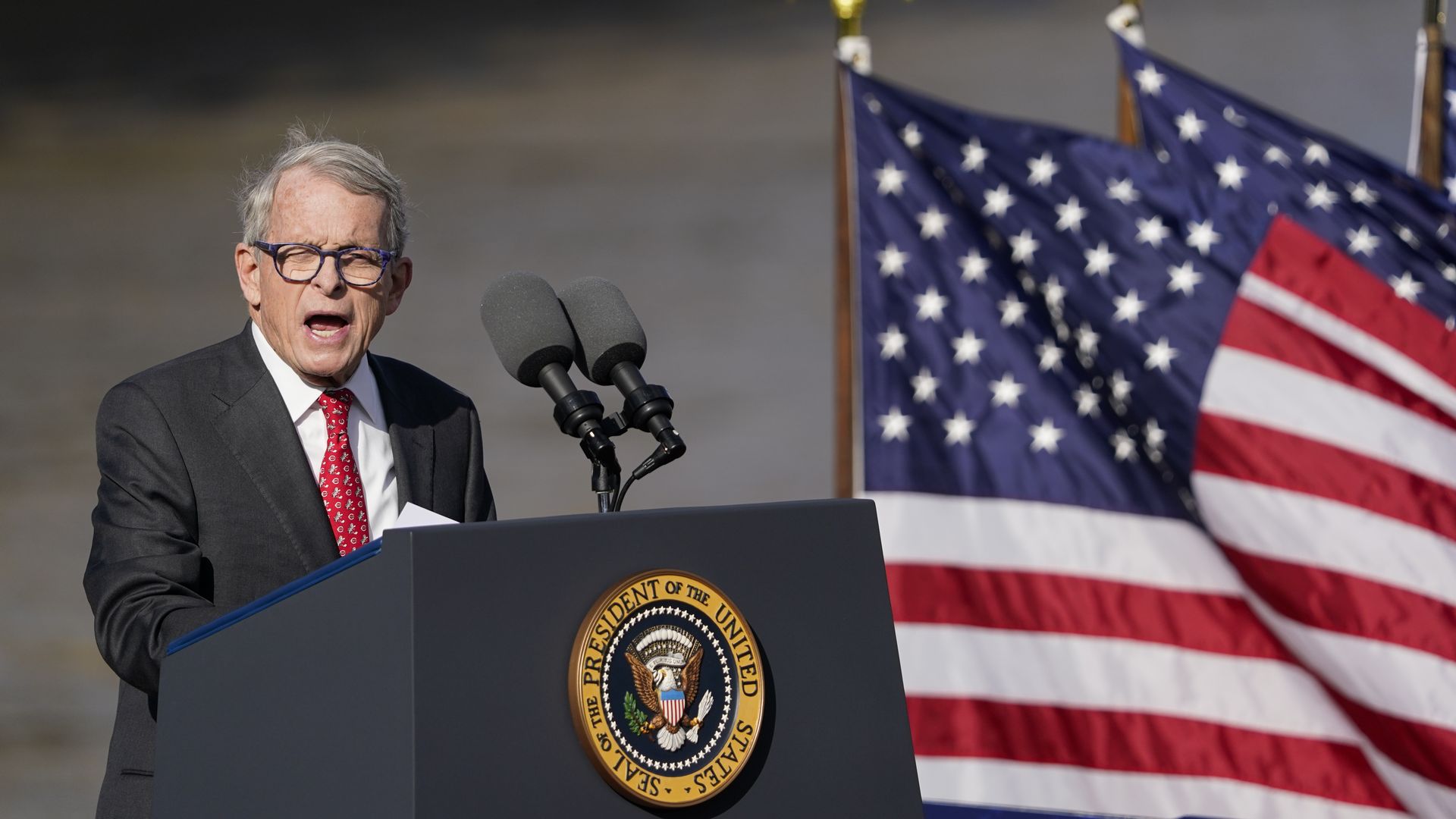 Police in Ohio arrested a NewsNation journalist on Wednesday as state Gov. Mike DeWine (R) was speaking at a news conference announcing that an evacuation order over last week's train derailment in East Palestine had been lifted.
The latest: NewsNation published video Thursday of its reporter Evan Lambert being pushed to the ground before being handcuffed during his arrest.
Police said Thursday Lambert was talking loudly while DeWine was speaking and allegedly got into an argument with the Ohio National Guard commander. Lambert's attorney strongly rejected the police account and called claims that he was aggressive "patently false," per NewsNation.
Police said Maj. Gen. John Harris Jr. asked Lambert to stop broadcasting and alleged that the D.C.-based correspondent of the Nexstar Media Group-owned cable channel responded aggressively.
Harris pushed Lambert away because he was "convinced" Lambert "was prepared to do harm to me," according to the police statement, which NewsNation published in full on Thursday.
Lambert then yelled he had been assaulted. He was asked to leave the news event several times but refused before being arrested, police said.
Catch up quick: Lambert was reporting live when police officers asked reporters to be quiet because DeWine was speaking, according to NewsNation.
Lambert stopped his live report and moments later, images showed him on the ground being handcuffed as he was taken into police custody.
He was released late Wednesday and faces misdemeanor charges of criminal trespass and resisting arrest, per NewsNation.
What they're saying: Michael Corn, NewsNation's president of news, said in response to the police allegations on Thursday that Lambert was "simply doing his job."
"The many videos of this incident taken by bystanders speak for themselves," Corn added. "We will let people draw their own conclusions about how this incident was handled by the officers involved."
Lambert's attorney, Frank Cassese, said the charges his client faces were "a futile attempt by law enforcement to justify their inexcusable interference with Mr. Lambert performing his duties as a journalist."
Lambert said after release from jail that he's "doing fine," but noted that no journalist "expects to be arrested when you're doing your job, and I think that's really important that that doesn't happen in our country."
DeWine told reporters on Wednesday that Lambert and other reporters had a right to be reporting during the press conference and "if they were in any way hampered from reporting, that certainly is wrong and it's not anything that I approve — in fact I vehemently disapprove of it."
The governor said in a statement to news outlets that he didn't see the incident, but emphasized that he "did not request that the reporter stop his live broadcast, nor did he know that the request was being made."
The big picture: The 50-car freight train was carrying hazardous materials when it derailed near Pennsylvania last Friday.
East Palestine residents near the train derailment site were ordered to evacuate so crews could conduct the controlled release of toxic chemicals on Monday and were told they could safely return home on Wednesday.
Editor's note: This article has been updated with additional details throughout.
Go deeper