Nancy Mace lights up Republicans at Press Club event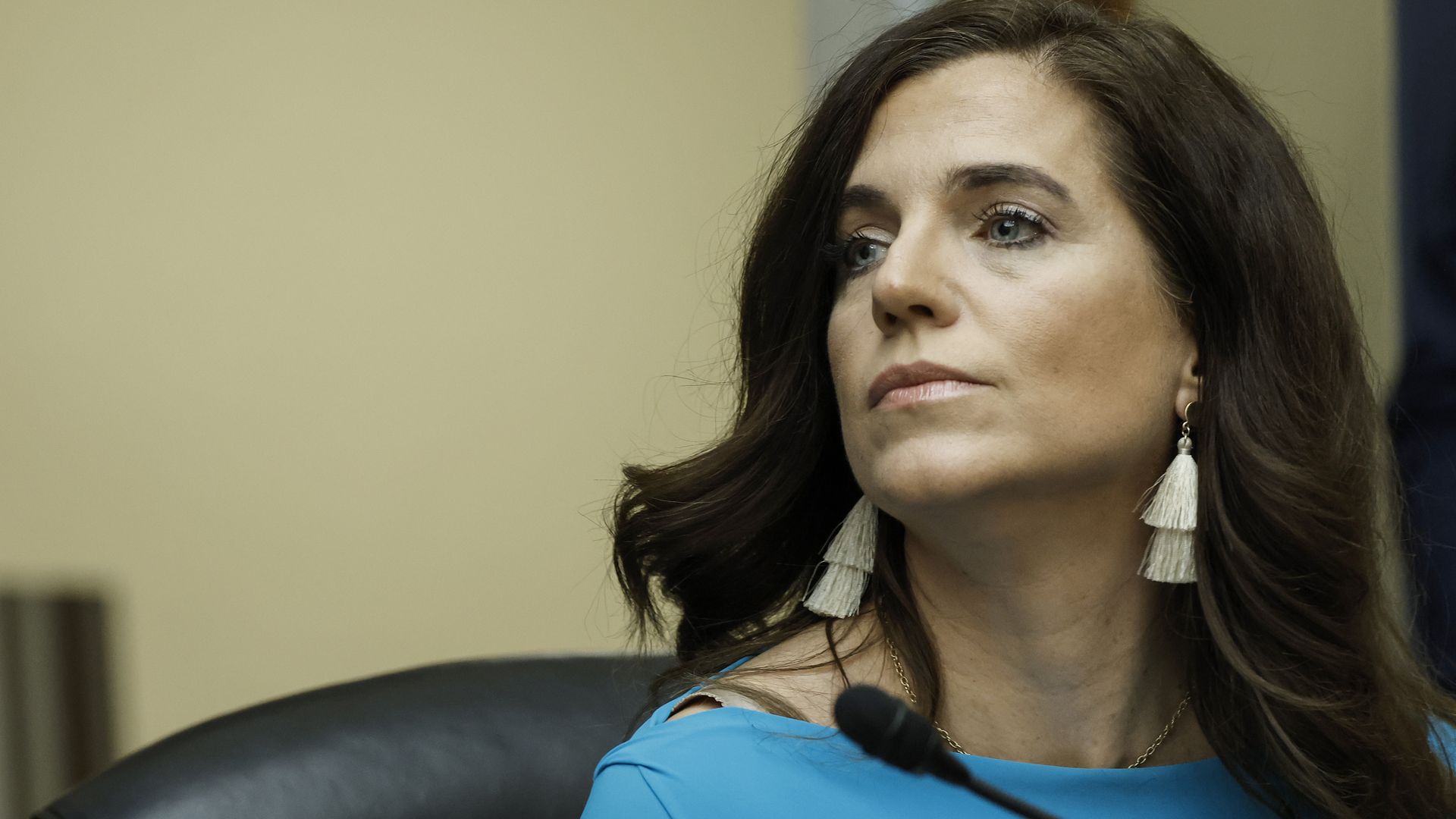 Rep. Nancy Mace (R-S.C.) delivered a number of shots to her fellow Republicans during a Wednesday roast that were so sick that it could put her in hot water (again).
Why it matters: It's a lighthearted dinner, but Mace's overwhelming focus on GOP friendly fire rather than barbs towards Democrats and the press is emblematic of a broader stylistic and tonal break between her and her party.
Lawmakers and the journalists who cover them filled a ballroom at the Waldorf Astoria (formerly the Trump Hotel) on Wednesday at the Washington Press Club Foundation 77th Annual Congressional Dinner to honor the free press.
"I know everyone thinks Republicans aren't funny. But if you get a bunch of us together, we can be a real riot," Mace said.
Mace had the crowd in stitches, including Rep. Marjorie Taylor Greene (R-Ga.), who occupied plenty of real estate in the speech.
Between the lines: Mace previously spoke at an Axios event about House Speaker Kevin McCarthy (R-Cal.) calling her into the "principal's office" for her public criticism of her fellow Republicans.
"There's one reason I was chosen to be the Republican speaker tonight, and it's because Kevin McCarthy couldn't get the votes."
"Did you watch McCarthy during the speaker vote? I haven't seen someone assume that many positions to appease crazy Republicans since Stormy Daniels," she said Wednesday.
Mace jabbed at former President Trump and Rep. George Santos (R-N.Y.), the latest Republican lawmaker to endorse him: "I mean who lies about playing college volleyball," she said of Santos, who repeatedly lied about his college experience.
"If you're going to lie make it about something big, like you actually won the 2020 presidential election."
"C'mon, George, you give Republicans a bad name. And that's Lauren Boebert's job."
Mace didn't shy away from any of the GOP controversies that many Republicans would like to avoid.
On Greene, who attended the event and has been criticized for antisemitic remarks: "Recently, there's been a lot of talk about antisemitism. But since Marjorie Taylor Greene started behaving, the rate of Jewish space laser attacks is now zero."
On Rep. Matt Gaetz (R-Fl.), who was reportedly the subject of an investigation involving a teenage girl: "We all knew Matt Gaetz wouldn't let the speaker vote get to 18. I do have a message from Matt — he really wanted to be here tonight, but he couldn't find a babysitter."
The bottom line: Mace is attempting to carve out a lane as an independent conservative not afraid to challenge leadership or pushback against the GOP base.
But that strategy could impact her ability to work with key Republicans in passing bills that will improve the party's standing with voters.
Mace has stayed loyal on major votes thus far this Congress.
Go deeper: See the C-SPAN footage
Editor's note: This article has been corrected to show the proper name of the event.
Go deeper