Ex-Twitter execs face GOP grilling on Hunter Biden laptop story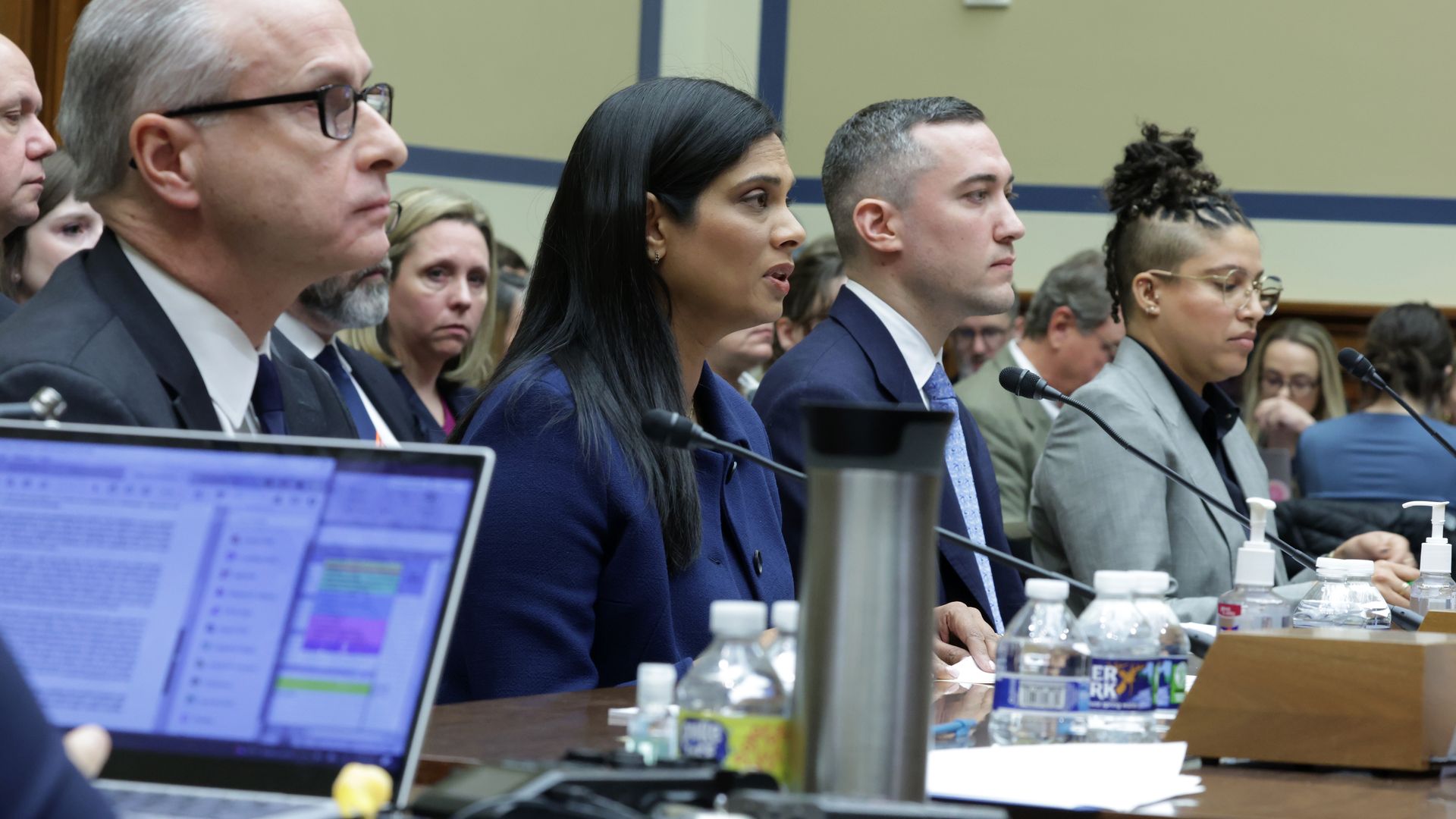 Republicans used a Wednesday hearing they said was designed to highlight Twitter's role in limiting access to 2020 reporting on President Biden's son to air the party's grievances about tech — while Democrats continuously questioned the point of the session.
Driving the news: Three former Twitter executives testified Wednesday before a GOP-led House committee about the company's role in limiting distribution of a story about President Biden's son Hunter's laptop in 2020.
Vijaya Gadde, Twitter's former chief legal officer; James Baker, its former deputy general counsel; and Yoel Roth, its former global head of trust and safety, appeared before the House Oversight Committee.
The big picture: The hearing was an opportunity for House Republicans to make an argument that tech companies have historically favored Democrats and been unfair to the GOP.
Republicans on the panel attempted to use Twitter's handling of a New York Post article about Hunter Biden as a central example, along with examples of alleged censorship about COVID-19 vaccines.
Democrats aimed to shift the conversation to foreign misinformation campaigns and the Capitol riot, suggested GOP panel members were intimidating and threatening witnesses and asked why the committee was wasting time on a "conspiracy theory."
They called upon a former Twitter employee and whistleblower, Anika Collier Navaroli, who testified that Twitter's decision not to take down tweets by former President Donald Trump helped spur violence that day.
What they're saying: "In the runup to the 2020 presidential election, Big Tech and the Swamp colluded to censor reporting about the Biden family's shady business schemes," Rep. James Comer (R-Ky.) said. "Americans deserve answers about this attack on the First Amendment .... Accountability is coming."
Other Republicans questioned Roth and Gadde about past meetings with the FBI during their time at Twitter, suggesting the agency had undue influence on the company; while other members complained about their accounts being banned or praised Musk for allowing previously-banned GOP accounts back on the platform.
Rep. Jim Jordan (R-Ohio) told the Twitter employees they were "played" by the FBI, which Republicans have accused of directing Twitter to take down the New York Post story. Jordan said Twitter clearly wanted to take down the New York Post story and were looking for reasons to do so.
The other side: "I am aware of no unlawful collusion with, or direction from, any government agency or political campaign on how Twitter should have handled the Hunter Biden laptop situation," said Jim Baker, Twitter's former deputy general counsel and a former FBI lawyer, during his testimony Wednesday.
"Twitter is a private media company. In America, private media companies can decide what to publish or how to curate content however they want," said Rep. Jamie Raskin (D-Md.) at the outset of Wednesday's hearing.
"The professional conspiracy theorists heckling and haranguing this private company have already gotten their precious apology. What more do they want? And why does the United States Congress have to be involved in this nonsense?"
In a statement ahead of Wednesday's hearing, the White House called it "the latest effort by the House Republican majority's most extreme MAGA members to question and relitigate the outcome of the 2020 election."
"This is not what the American people want their leaders to work on," spokesperson Ian Sams said in a statement. "As the President has said and made his focus, the American people expect their leaders to work together in a bipartisan way on the issues that most impact their lives and their families, not attack his family with long-debunked conspiracy theories."
The intrigue: Republicans have repeatedly accused Twitter of colluding with the federal government. But during questioning, Navaroli said the Trump White House asked the company to take down a tweet by model Chrissy Teigen that was critical of the former president.
Be smart: Gadde said Twitter originally erred by suppressing the story out of fear it was from hacked materials stolen by a foreign entity. Later, it reversed the decision, and the New York Post was free to post and share the article.
Twitter's handling of the Hunter Biden laptop story was one of the topics of the Twitter Files series based on internal company communications that Musk shared with selected journalists.
Our thought bubble: Throughout the hearing, Republicans and Democrats aired the same issues with social media they've voiced for years: Republicans think social media has censored too much information, and Democrats think social media has not taken down enough dangerous information.
Editor's note: This story has been corrected to note that Yoel Roth resigned from Twitter (instead of being fired). The story has also been updated with new information and additional context.
Go deeper