Biden says he and McCarthy will "treat each other with respect"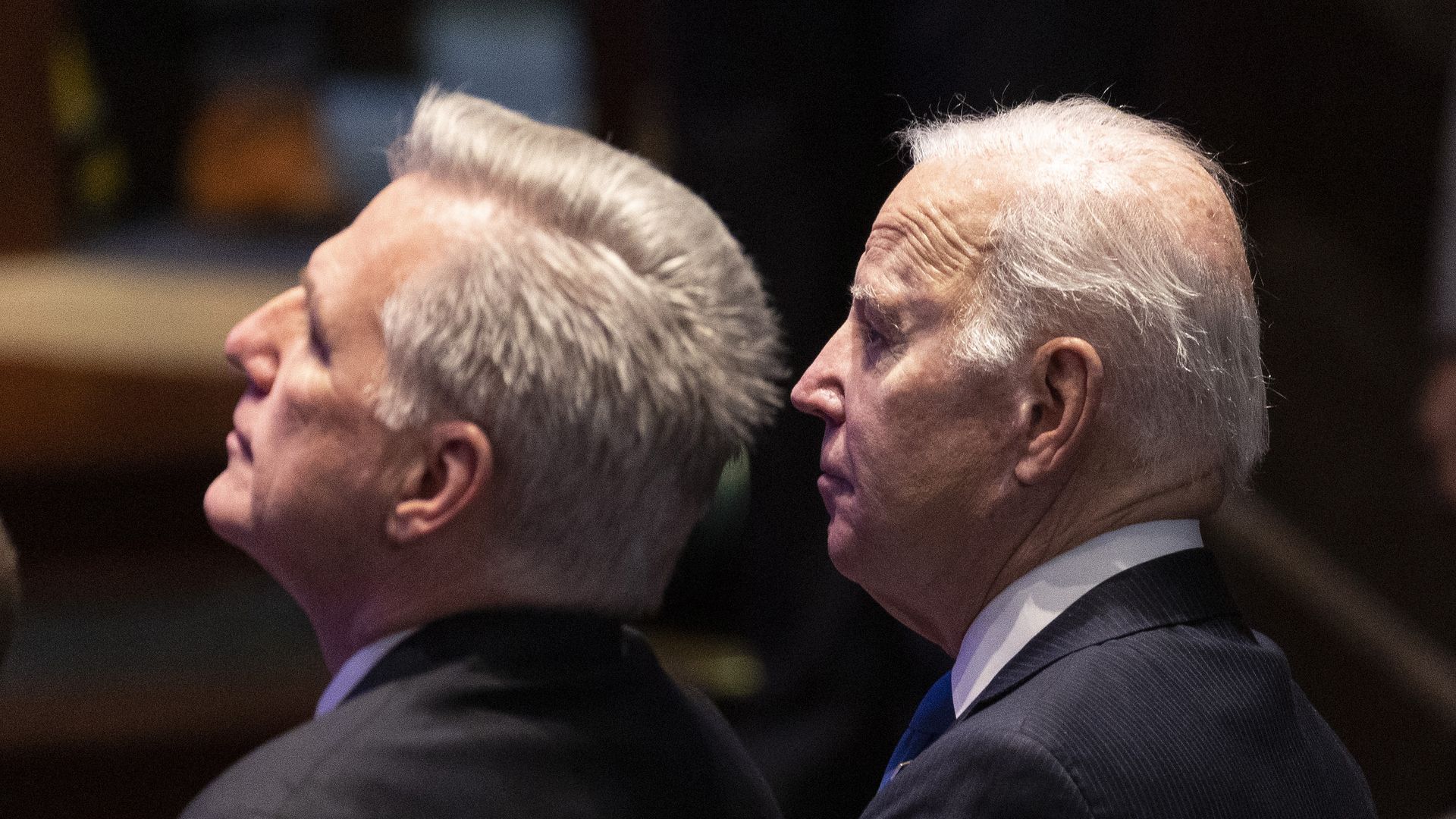 President Biden on Thursday said he and House Speaker Kevin McCarthy (R-Calif.) would treat each other with respect, after both elected officials agreed yesterday to continue discussions about the debt ceiling.
The big picture: Biden has previously made clear he thinks McCarthy needs to prove he can get House Republicans to back a deal — and show he can pass a budget — before serious talks on any spending cuts Republicans want.
Driving the news: Biden's remarks came during the National Prayer Breakfast in Washington, D.C., where he was seated beside McCarthy. The president reiterated he and the California Republican had a "good meeting" Wednesday.
McCarthy told reporters after Wednesday's meeting that the House would not pass a "clean" debt ceiling with no strings attached, but added, "I think that at the end of the day, we can find common ground." The House speaker during a news conference Thursday also confirmed the two will have another meeting.
Biden emphasized his middle-of-the-road tone during his comments Thursday, saying, "doesn't mean we've got to agree." He added: "Fight like hell. But let's treat each other with respect."
Between the lines: Treasury Secretary Janet Yellen has warned of a "catastrophe" and a financial crisis if the U.S. doesn't raise the $31.4 trillion debt ceiling by early June.
Flashback: Democrats are scarred by their 2011 debt ceiling brinkmanship, when credit agencies downgraded the U.S. rating and financial markets stared into a potential abyss.
Then-Vice President Biden was among the lead White House negotiators, leading to a deal that raised the debt ceiling while imposing spending cuts.
Democrats felt burned by the experience. In subsequent showdowns, then-President Obama refused to negotiate over raising the debt ceiling. Biden now has adopted a similar position.
Of note: The National Prayer Breakfast was held at the Capitol Visitor Center, where the auditorium was packed with hundreds of members of Congress and other guests.
Editor's note: Axios' Hans Nichols contributed to this report.
Go deeper