House Republicans launch investigations of Biden and COVID relief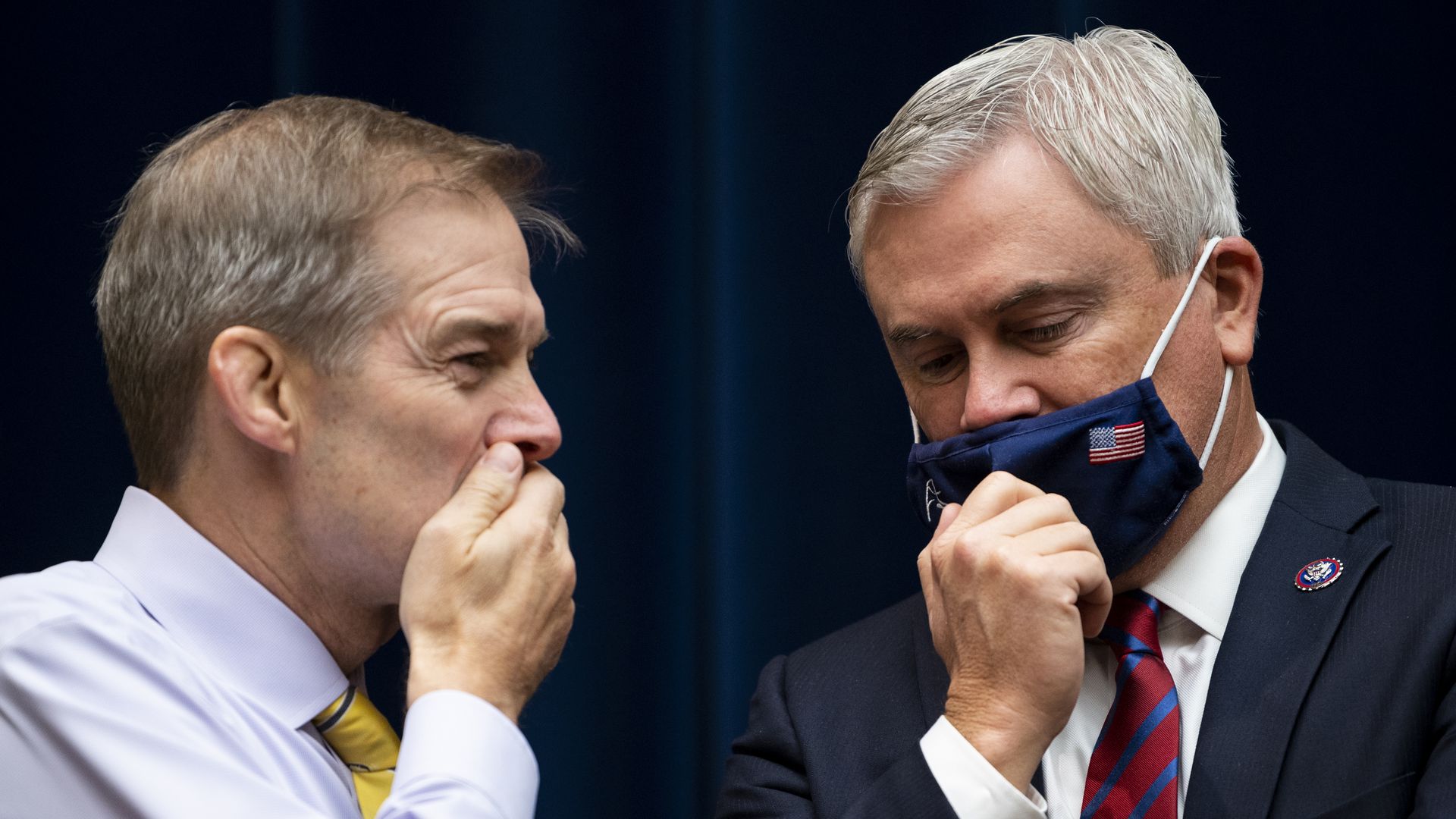 The first wave of House Republicans' politically hot investigations of the Biden administration starts today.
Driving the news: The Oversight Committee will question officials on alleged fraud and abuse in pandemic assistance, while the Judiciary Committee will hear from local officials about Biden's handling of issues on the Southwest border.
Why it matters: The hearings launch what's likely to be months of investigating issues ranging from COVID's origins to Hunter Biden's business dealings to GOP claims that the FBI has been biased against conservatives.
The investigations come after years of Democrats' use of oversight and subpoena power to investigate former President Trump on a range of subjects, including his role in the Jan. 6 insurrection.
The Jan. 6 panel's hearings were notable in part for their slick production, aimed at viewers across the nation. It's unclear whether Republicans will use similar tactics, but the hearings will give the GOP opportunities to score political points—and Democrats a chance to counter them.
The hearings are likely to be contentious because they will involve some of biggest personalities and aggressive debaters in Congress: Reps. Jim Jordan and Marjorie Taylor Greene for the Republicans, and Jamie Raskin and Alexandria Ocasio-Cortez for the Democrats.
Between the lines: The Oversight Committee first will look into waste, fraud, and abuse in COVID pandemic spending — a rare issue with potential bipartisan interest.
A December report by the GAO estimated that more than $60 billion might have been lost to fraud in COVID unemployment programs.
On Wednesday the panel will question the Justice Department inspector general, a Secret Service investigations expert and the U.S. comptroller general about problems they've identified.
Wednesday's hearing is expected to propel future hearings into specific pandemic programs that involve education funds, state and local funds, and PPP loans.
What they're saying: "I'm going to give them the benefit of the doubt. This is their first hearing," Rep Jared Moskowitz (D-Fla.), who helped direct Florida's COVID response, told Axios after casting doubt on Comer's ability to keep the committee "to its true purpose."
"I have meaningful questions on waste, fraud and abuse that I believe occurred over the totality of the three years," he added, including periods during the Trump presidency.
Meanwhile, Judiciary Republicans plan to hammer Biden over border problems — a favored GOP talking point and a political headache for an administration dealing with record border crossings.
"Our first hearing will examine the disastrous impact that the 'Biden Border Crisis' has on local communities," Judiciary Chairman Jordan (R-Ohio) told Axios in a statement, calling the hearing "just the beginning of our work."
Witnesses planned for the panel include a man whose stepson died of a fentanyl overdose, a judge who switched to the Republican Party over concern about the border, and a sheriff from a border county in Arizona.  
Members hope to show how border problems are affecting communities across the U.S., a GOP aide told Axios.
The House Oversight and Homeland Security committees also will examine Biden's border policy, and Speaker Kevin McCarthy (R-Calif.) plans to hold hearings at the border.
Go deeper