Empty office buildings may sap city tax revenues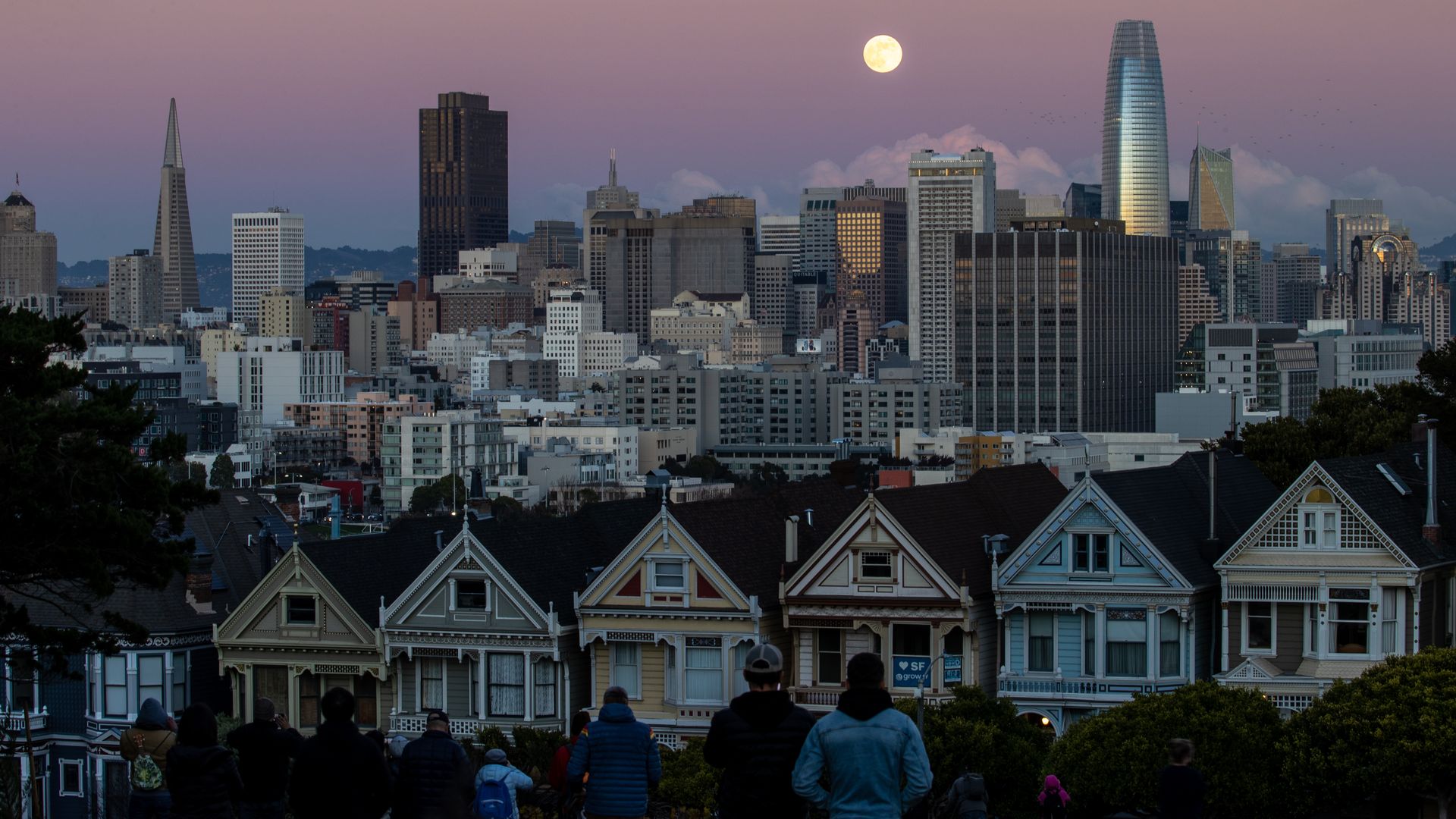 Bond investors may be underestimating the financial challenges facing San Francisco, the wealthy West Coast tech citadel, in a work-from-home world.
Why it matters: The persistence of remote work in San Francisco shows how the COVID-driven restructuring of the American office can have broad and unexpected implications throughout the economy — even in the normally sleepy market for U.S. municipal bonds.
Driving the news: Vacancy rates in San Francisco's office sector soared to a record high 27% percent at the end of last year — and the city's downtown area has had the worst pandemic recovery in the country, according to the San Francisco Chronicle.
Be smart: Like New York, San Francisco derives a considerable part of its revenue — somewhere in the neighborhood of 20% — from taxes tied to the value of office buildings.
San Francisco officials have estimated that the hollowed-out office sector could cut city tax revenues by as much as $200 million annually in coming years.
The intrigue: While municipal bond markets seem to have priced in pressure on New York City's real estate-related tax revenues, they seem to have given San Francisco something of a pass, Barclays analysts wrote in a recent note.
The analysts pointed to a rally since the start of the year in some San Francisco municipal bonds, versus bonds issued by New York that had similar characteristics.
They argue that the rally didn't seem to take into account the impact of remote work on San Francisco's tech sector, compared with New York's finance-dominated economy where workers have been slowly nudged back to the office.
What they're saying: "The big difference with San Francisco is the more permanent remote work or the layoffs," Clare Pickering, municipal bond strategist at Barclays, tells Axios. "When you look at the tagging — going into offices — it hasn't come back as strongly."
What to watch: As Pickering points out, San Francisco's situation hasn't been helped by the recent run of tech layoffs.
Yes, but: For all the job cuts, the San Francisco-area's unemployment rate remains remarkably low, at under 3%.
That suggests that for now the layoffs might be less a problem for tech workers — who can often easily find new, even remote jobs — than for the landlords who once rented their employers' spaces.
The bottom line: We're still in the very early innings of the remote work revolution — but it's already touching a broad range of investors.
Go deeper