Biden, McCarthy eye talks after U.S. reaches debt ceiling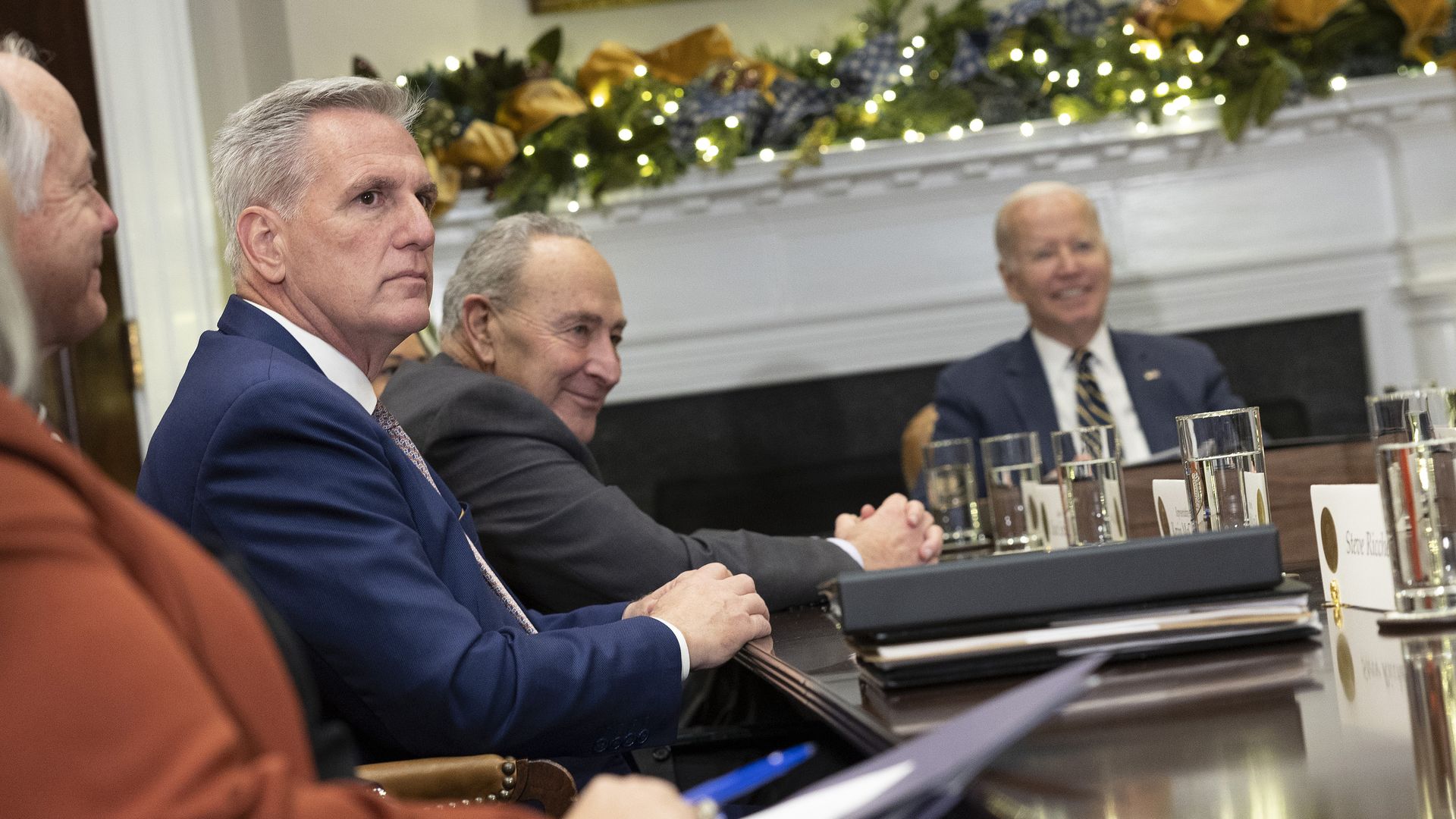 President Biden and House Speaker Kevin McCarthy (R-Calif.) plan to meet to discuss raising the debt ceiling after the U.S. Treasury reached its borrowing limit on Thursday, their offices said Friday.
Why it matters: McCarthy is taking a hard line on slashing government spending in exchange for raising the debt limit amid pressure from his right flank — cuts that the White House maintains are non-negotiable.
Driving the news: Asked at a Friday briefing about whether the two would sit down to negotiate the debt limit, White House press secretary Karine Jean-Pierre said Biden is "looking forward to meeting with Speaker McCarthy … about a range of issues," but that no date had been set.
McCarthy responded in a tweet: "President Biden: I accept your invitation to sit down and discuss a responsible debt ceiling increase to address irresponsible government spending. I look forward to our meeting."
Jean-Pierre reiterated in a statement later on Friday that Biden "looks forward" to their meeting but said the debt limit "is not a negotiation … Congress has always done it, and the President expects them to do their duty once again."
What caught our eye: Jean-Pierre, in her statement Friday evening, took aim at Republican initiatives to cut entitlement spending and overhaul federal taxation by replacing income and other taxes with a 30% national sales tax.
Biden, she said, "looks forward to learning more about those plans, as well as to telling them about his plan to cut the deficit ... strengthen retirement programs, invest in key priorities, and fund it all by making the wealthy and big corporations pay their fair share."
"We are going to have a clear debate on two different visions for the country ... and the President is happy to discuss that with the Speaker."
What we're hearing: The GOP hardliners who denied McCarthy the speaker's gavel for nearly a week — and now have a nuclear button in their back pocket in the form of a motion to vacate the chair — told Axios last week they expect him to hold firm on his commitments to force spending cuts.
"We expect the agreement to be performed. We sure do ... I think he's going to perform," said Rep. Dan Bishop (R-N.C.)
Rep. Ralph Norman (R-S.C.) said he believes McCarthy will follow through because a 10-year plan to balance the budget was key to flipping his vote for speaker.
"I think he will, because that was the whole thing that I got involved with. We had to have that," Norman said.
Yes, but: None of the right-wingers were willing to entertain the notion of a default on U.S. debt — or forcing a vote on ousting McCarthy if he falls short or cuts a deal with Democrats.
"Some of the people on Wall Street are going to start squawking about default. We're not going to default. We're not," said Rep. Chip Roy (R-Texas), "But we need to have an honest conversation ... [about] spending money we don't have."
"We will get the cuts. We will get the cuts," said Norman, who added about the motion to vacate: "I don't think it will come to that."
"I don't think we're going to have to" use the motion to vacate, said Rep. Anna Paulina Luna (R-Fla.), "I think that we're going to trust [McCarthy] at his word."
The bottom line: "Everybody is a fiscal conservative until the cuts come and affect the different states," Norman said of his fellow Republican lawmakers. "That's where we've got to hold tight."
Go deeper