McCarthy's risky weapon in the 118th Congress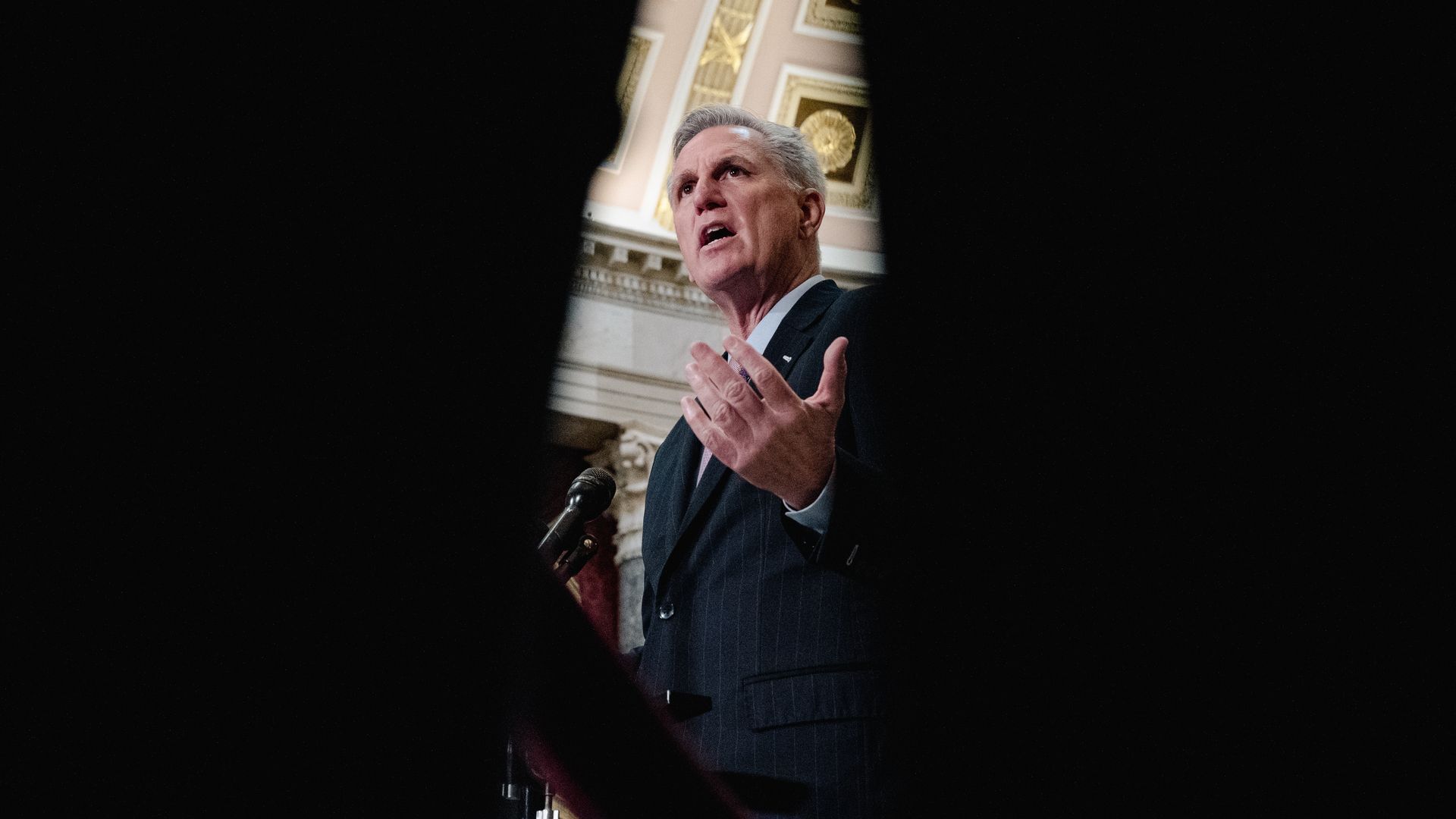 House Republicans hope a strict, new voting schedule will help juice their slim majority — as only a handful of missed votes could change the game.
Why it matters: Sickness, surgeries, funerals and other events calling House members away from D.C. will have higher stakes than ever with historically tight margins and no more proxy voting.
The significance of empty seats in the chamber was on full display during the speakership vote.
Between the lines: While Speaker Nancy Pelosi (D-Calif.) also presided over perilously thin margins, members have been able to cast votes from home due to the pandemic. Republicans ended that option upon taking the majority.
"Attendance will be critical with a 4 seat majority," one Republican leadership aide told Axios, adding it will be "especially tough" for Democrats to "get in the consistent habit of showing up in person after many of them proxy voted the majority of time over the last two years."
The aide said Republicans "will stick to a strict floor schedule and not leave vote times open for hours like Democrats did, which will require timely attendance."
What they're saying: Several top House Republicans, in statements to Axios, acknowledged attendance will be a challenge but defended ending proxy voting.
"Of course, attendance will again be crucially important in such a closely divided body," said GOP Conference Vice Chair Mike Johnson (R-La.), "But ultimately this was the right decision for the institution and the country."
Majority Whip Tom Emmer (R-Minn.) said it "may come as a shock to the DC bubble that we expect members to show up to work" given that "proxy voting and poor attendance were the status quo during the Democrat majority."
The other side: When asked about the importance of attendance and any concerns about the way Republicans would run the floor, Democratic Whip Katherine Clark (D-Mass.) told Axios in a statement:
"As House Democrats demonstrated during the Republicans' historically dysfunctional Speaker fight, we are united, organized, and ready to stand up for working families."
What to watch: Whether House members' ambitions for higher office override their loyalty to their respective caucuses by calling them away from Washington.
Just two weeks into the session, three House members have already announced Senate bids. Another is running for Chicago mayor.
At least a half dozen other House members have expressed interest in, or are reportedly weighing, bids for Senate and governor.
By the numbers: Republicans currently hold their second-narrowest House majority since at least the early 1960s — beat only by the 107th Congress where the majority held just 220 seats, according to data from the Pew Research Center.
On average, House Republicans in the 117th Congress voted by proxy 29 times, compared to an average of 54 times for Democrats, according to Brookings Institution.
In 2020, the first year proxy voting was in place, Republicans on average missed 8.3% of votes due to large-scale boycotting of proxy voting, compared to 2.5% of votes for Democrats, according to data from Quorum.
Go deeper