White House picks fight with McCarthy over speaker deal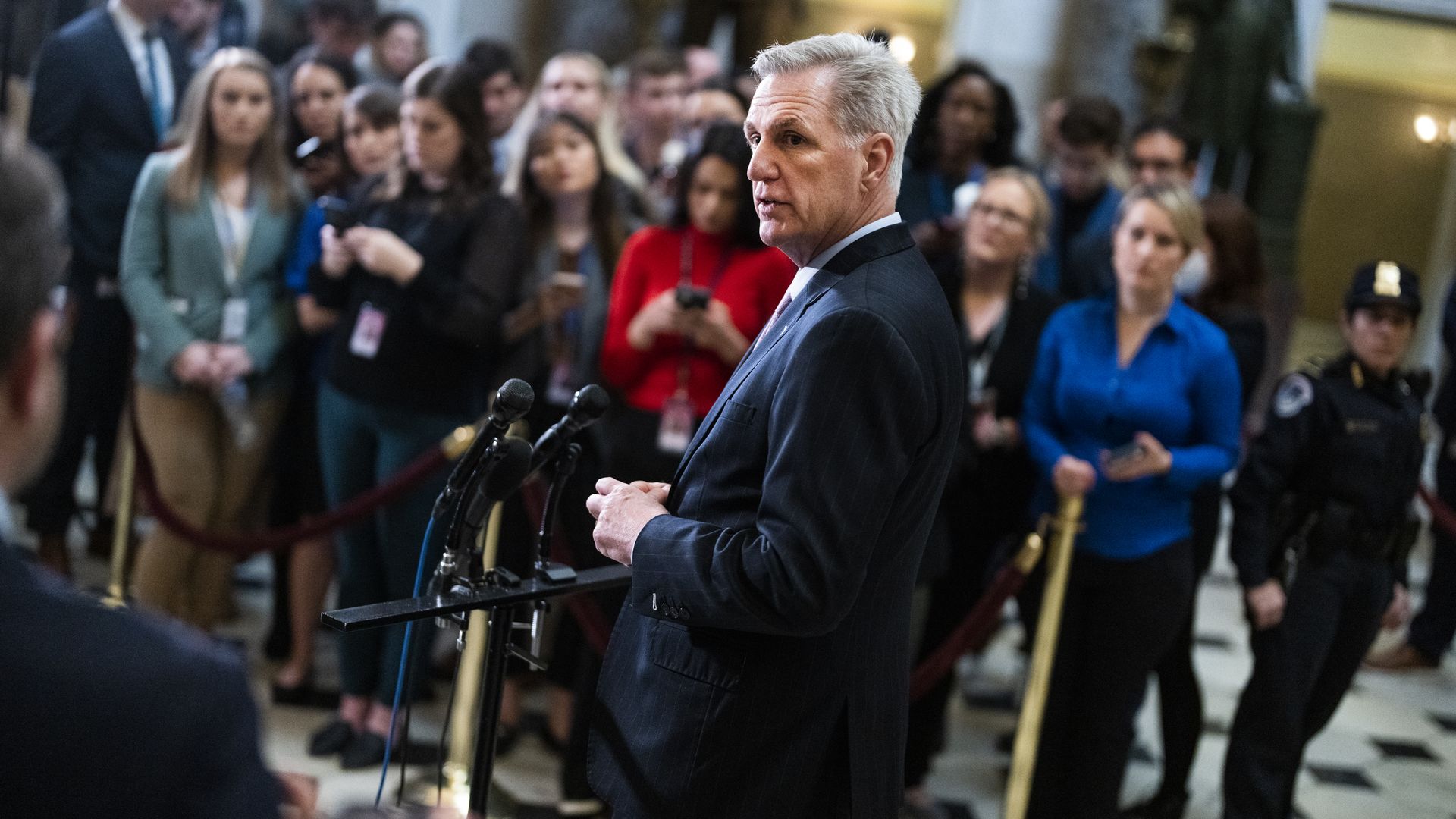 The White House is pressing House Speaker Kevin McCarthy (R-Calif.) to publicize the terms of the deal with right-wing lawmakers that secured him the speaker's gavel.
Why it matters: It's a new front in the emerging but heated conflict between the Biden administration and the new House GOP majority that includes a battery of investigations and fights over the budget.
What they're saying: "House Republicans have yet to come clean with the American people about the secret agreements Kevin McCarthy made with the most MAGA members of their conference," said White House spokesperson Andrew Bates in a statement.
The statement, first reported by Politico and shared with Axios, makes the case that the details of the deal "could impact the lives of every American" with ramifications on tax policy, abortion, entitlements and the national debt.
"What other hidden bargains did Speaker McCarthy make behind closed doors? … The American people have a right to know – now – which is why we are calling on him to make every single one of them public immediately."
The backdrop: The statement comes after even some House Republicans raised objections to being denied an exhaustive list of everything McCarthy agreed to.
At the center of the controversy is an elusive 3-page document, first reported by Punchbowl News, laying out the agreements.
Some top Republicans have denied such physical material even exists, despite others telling Axios they have seen or accessed it.
Yes, but: Some Republicans insist that, regardless of what may or may not be floating around on paper, there is little outstanding mystery to the deal. The vast majority of it, they say, has already been widely reported.
"The contours of the conversations that the speaker had with members last week … I don't think there is anything groundbreaking in there. I think it's been talked about a lot," Rep. Dusty Johnson (R-S.D.) told Axios last week.
Elements of the deal include conservative representation on key committees, a plan to balance the budget in 10 years and a commitment to vote on term limits and other right-wing initiatives.
Go deeper