House Republicans in the dark on McCarthy's shadow document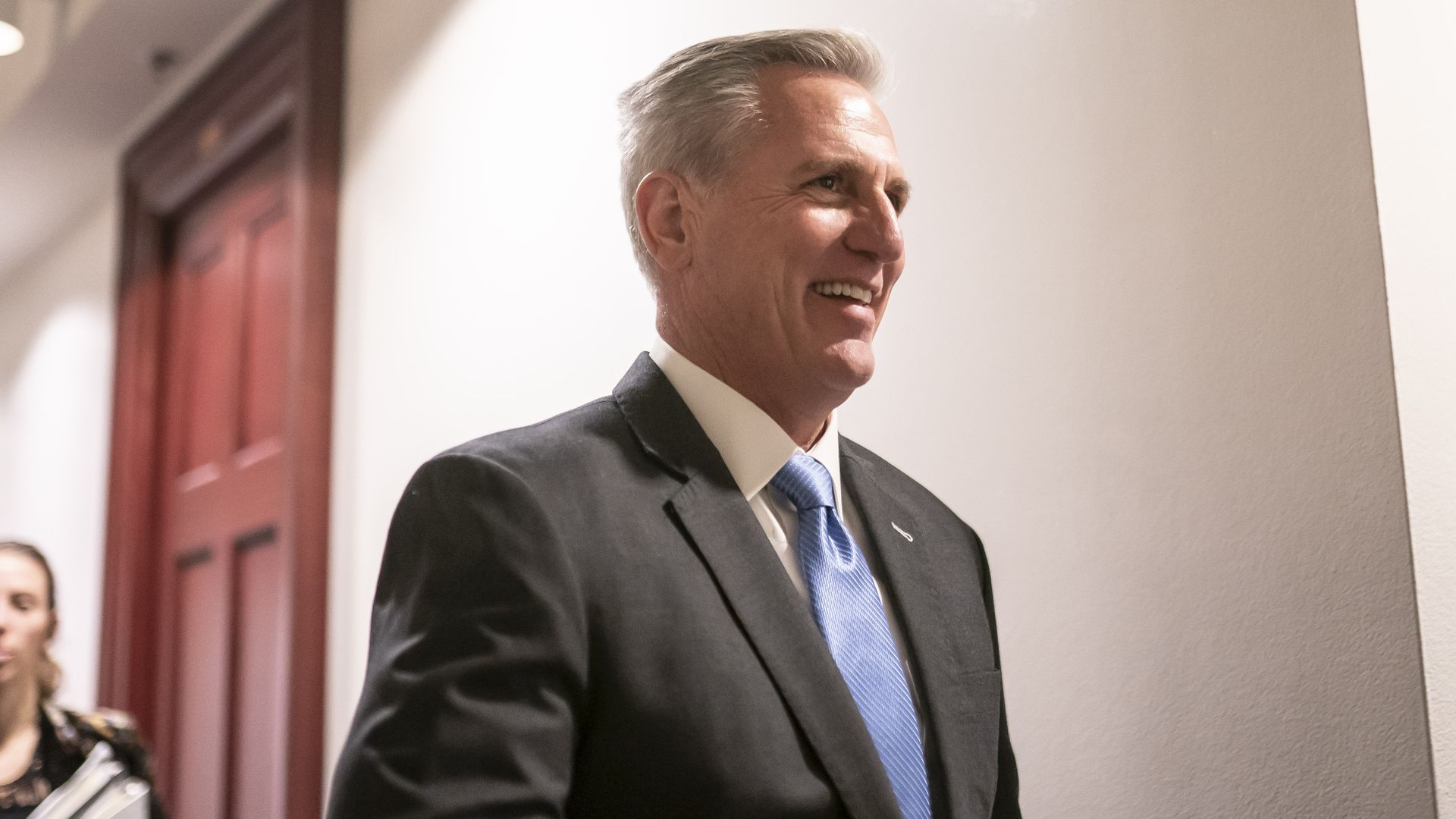 A private document that only some House Republicans have seen and others refuse to talk about could play an outsized role in the governance of the chamber over the next two years.
Why it matters: The document contains concessions — not included in the rules package passed on Monday night — that House Speaker Kevin McCarthy (R-Calif.) made to rebellious Freedom Caucus members to secure the speaker's gavel.
Those members have threatened to kill McCarthy's speakership as swiftly as they acquiesced to it if he reneges on their handshake agreements.
Driving the news: The existence of a "secret three-page addendum" containing "the most controversial concessions" that McCarthy made in order to get elected was first reported by Punchbowl News on Monday and confirmed to Axios by multiple GOP aides and members.
One of those concessions is three seats set aside for conservatives on the Rules Committee, as well as representation for them on the powerful Appropriations Committee.
Other McCarthy giveaways include votes on congressional term limits and a select committee on the weaponization of the federal government, a debt limit strategy and a more open amendment process on appropriations bills.
One thing the document doesn't contain, according to NRCC Chair Richard Hudson (R-N.C.), who said he's seen it, is promised committee chairmanships for specific members: "No names, just representation [on panels]."
The intrigue: Many of the GOP members Axios spoke to about the private document said they hadn't seen it, while others who hold leadership positions were notably circumspect about any knowledge they might have of it.
"I'm not at liberty to discuss whether I've seen it or not," said Rep. Dusty Johnson (R-S.D.), chair of the Main Street Caucus.
Asked if the document exists, Rep. Tom Cole (R-Okla.), chair of the Rules Committee, told Axios, "I'm sure it exists, because I read about it from you guys [in the press] all the time. It has to be out there."
Both Cole and Rep. Ken Calvert (R-Calif.) suggested it hasn't been disseminated to all GOP members. "I don't know if everybody has [received a copy]," said Calvert, who said he personally is reviewing it.
What they're saying: Rep. Nancy Mace (R-S.C.), who briefly threatened to vote against the rules package on Monday before backing down, told Axios, "What I am raising hell about is whatever potential backroom deals may have been done."
"I have more questions than I do answers," added Mace, who said she plans to stand up and speak about the issue at the GOP conference meeting on Tuesday.
Other members, too, said they would like to see the text. "If it's related to the rules, I'd think that would be distributed," said Rep. Ken Buck (R-Colo.).
What we're watching: Some members speculated that details of the document could be revealed at the GOP conference meeting on Tuesday morning.
The bottom line: Rep. Carlos Gimenez (R-Fla.), expressing ambivalence about wanting to see the text of the agreement, told Axios: "Do you really want to see how the sausage is made? I'm not sure."
Go deeper