New Biden student loan proposal could cut some borrowers' payments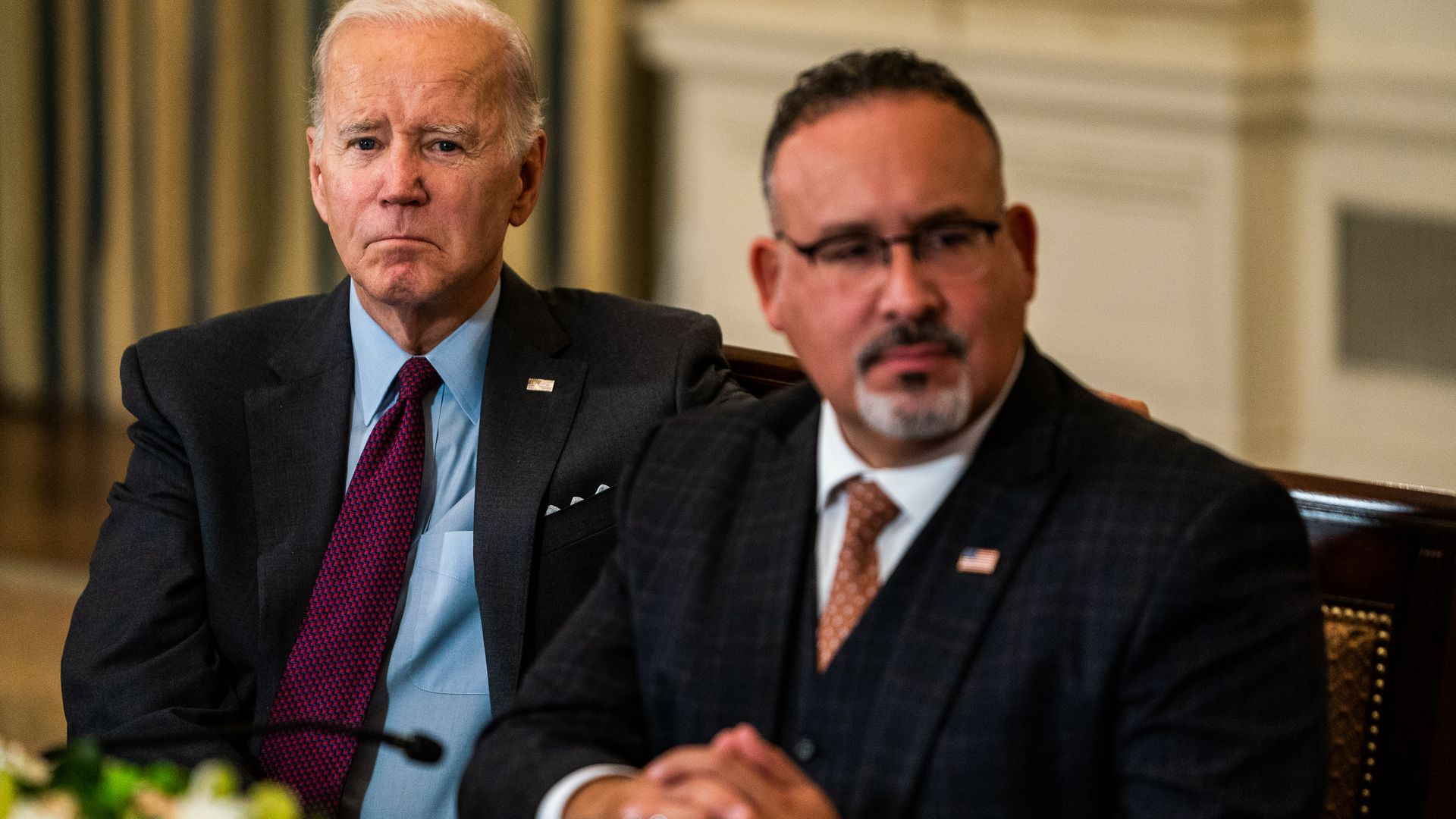 A new student loan payment proposal unveiled by the Department of Education on Tuesday would lower monthly payment amounts for some Americans while completely pausing payments for others.
Why it matters: The regulatory changes to the Education Department's existing income-driven loan repayment plan could provide student loan relief after the total pause on repayments, which was extended to the end of June 2023, is lifted.
How it works: The proposed regulations would allow borrowers who make less than roughly $30,600 annually to make $0 monthly payments on their federal student loans, effectively pausing them.
The same effective pause would be applied to families of four who make less than about $62,400 annually.
The changes would also cut in half monthly payments on undergraduate loans for borrowers who make more than those annual amounts.
By the numbers: The department estimates the changes would reduce future borrowers' payments on loans by 40%, while payments by low-income borrowers could be reduced by 83% less.
Under the new income-driven repayment plan, a typical graduate of a four-year public university would save nearly $2,000 a year relative to the current income-driven repayment plan.
State of play: The new proposal comes as the Biden administration's student debt forgiveness plan has been paused as courts weigh legal challenges against it.
The Supreme Court agreed in December 2022 to hear an appeal from the Biden administration on the plan after it was declared illegal and struck down by a federal judge in Texas.
The forgiveness plan, if upheld by courts, would cancel $20,000 in student debt for Pell Grant recipients and up to $10,000 for individual borrowers who make under $125,000 per year.
The new proposed changes and the paused forgiveness plan come as the Office of Federal Student Aid, which oversees student financial aid, is facing an unexpected funding crisis, according to NPR.
What they're saying: "Today the Biden-Harris administration is proposing historic changes that would make student loan repayment more affordable and manageable than ever before," Secretary of Education Miguel Cardona said in a statement.
"We cannot return to the same broken system we had before the pandemic, when a million borrowers defaulted on their loans a year and snowballing interest left millions owing more than they initially borrowed."
"These proposed regulations will cut monthly payments for undergraduate borrowers in half and create faster pathways to forgiveness, so borrowers can better manage repayment, avoid delinquency and default, and focus on building brighter futures for themselves and their families."
The big picture: It's unclear when the changes will be implemented, though they will be subject to public comment for 30 days after being published in the Federal Register on Wednesday.
The department said it expects to finalize the rules and begin applying the provisions "later this year."
Go deeper: Higher education's sea change
Editor's note: This story has been updated with additional background.
Go deeper