Bed Bath & Beyond closing 62 stores, holding liquidation sales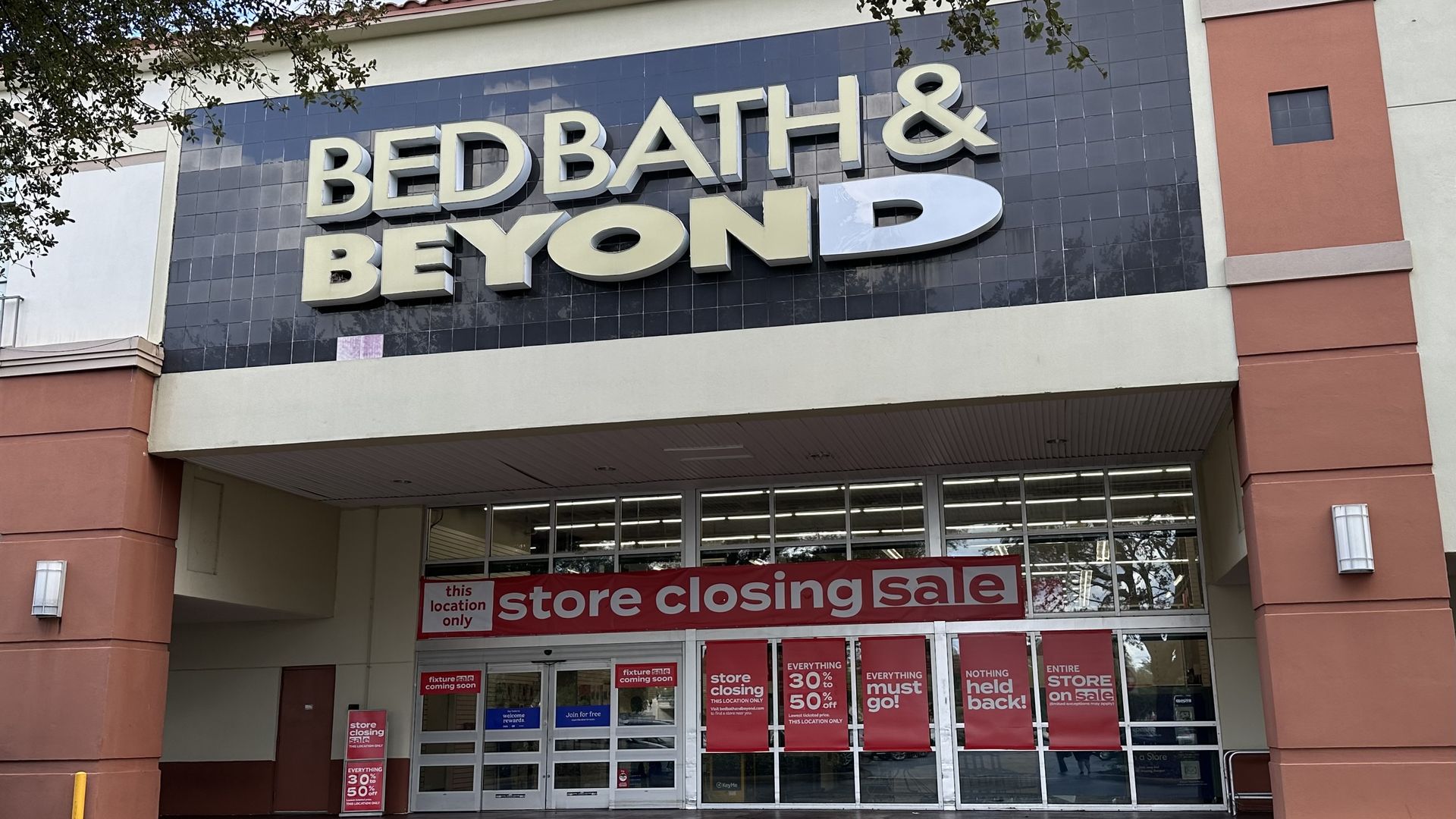 Bed Bath & Beyond confirmed Tuesday that it is closing more stores as it considers filing for bankruptcy protection.
Driving the news: The retailer, which also operates buybuy Baby stores and Harmon, released a list of 120-plus closing stores, which includes 62 new Bed Bath & Beyond closings and the 56 closing stores announced in September.
Six buybuy Baby and two Harmon stores were also included on the company's list and liquidation sales are underway.
The latest: Bed Bath & Beyond shares jumped about 20% Tuesday morning after the company's earnings call, Axios' Kimberly Chin and Richard Collings report, noting the company said it was on track to cut $500 million in costs.
Third-quarter net sales declined 33% to $1.26 billion over the prior year on $393 million in losses.
Threat level: Bed Bath & Beyond has been distressed for years, having failed to reinvent itself in the digital age despite efforts to declutter its stores and remake its coupon strategy, Axios' Nathan Bomey explains.
The beleaguered retailer said in a public filing last week that it faces "substantial doubt" about its ability to continue operating on its own.
Meanwhile, Placer.ai, a foot traffic analytics firm, found shopping visits were down 26.5% in December compared to December 2021.
The firm's data found store visits were down every month over 2021 visits last year with March 2022 having the biggest drop with 32.2% fewer visits.
Flashback: In August 2022, the retailer, which also operates buybuy Baby stores and Harmon, announced it would close 150 Bed Bath & Beyond stores.
When will Bed Bath & Beyond stores close
Between the lines: Axios called select closing stores and many locations said they expected to close in March. Most stores no longer accept coupons or returns of merchandise.
Some stores from the September list are still open but expected to close by late January at the latest.
Be smart: When shopping liquidation sales, compare prices to competitor stores to make sure you are getting a good deal.
How long the liquidation sales are expected to last was not immediately available and can vary by location.
Remember, when sales are final, items can't be returned so check products closely.
Bed Bath & Beyond store closings 2023
By the numbers: As of late November, the company had 949 stores, including 762 Bed Bath & Beyond stores, 137 buybuy Baby stores and 50 stores under the names Harmon, Harmon Face Values or Face Values.
30 states will each lose at least one Bed Bath & Beyond store in the new round of closings.
California will lose the most with eight stores, Florida will lose six and Michigan will lose five more stores.
The company included 56 stores that were announced in September on the new closing list.
Yes, but: Some of the locations may already be closed. Check the store locator on the company website or call ahead.
Editor's note: This story was updated with additional information.
More from Axios:
Go deeper