Ron DeSantis activates National Guard as migrants arrive in Florida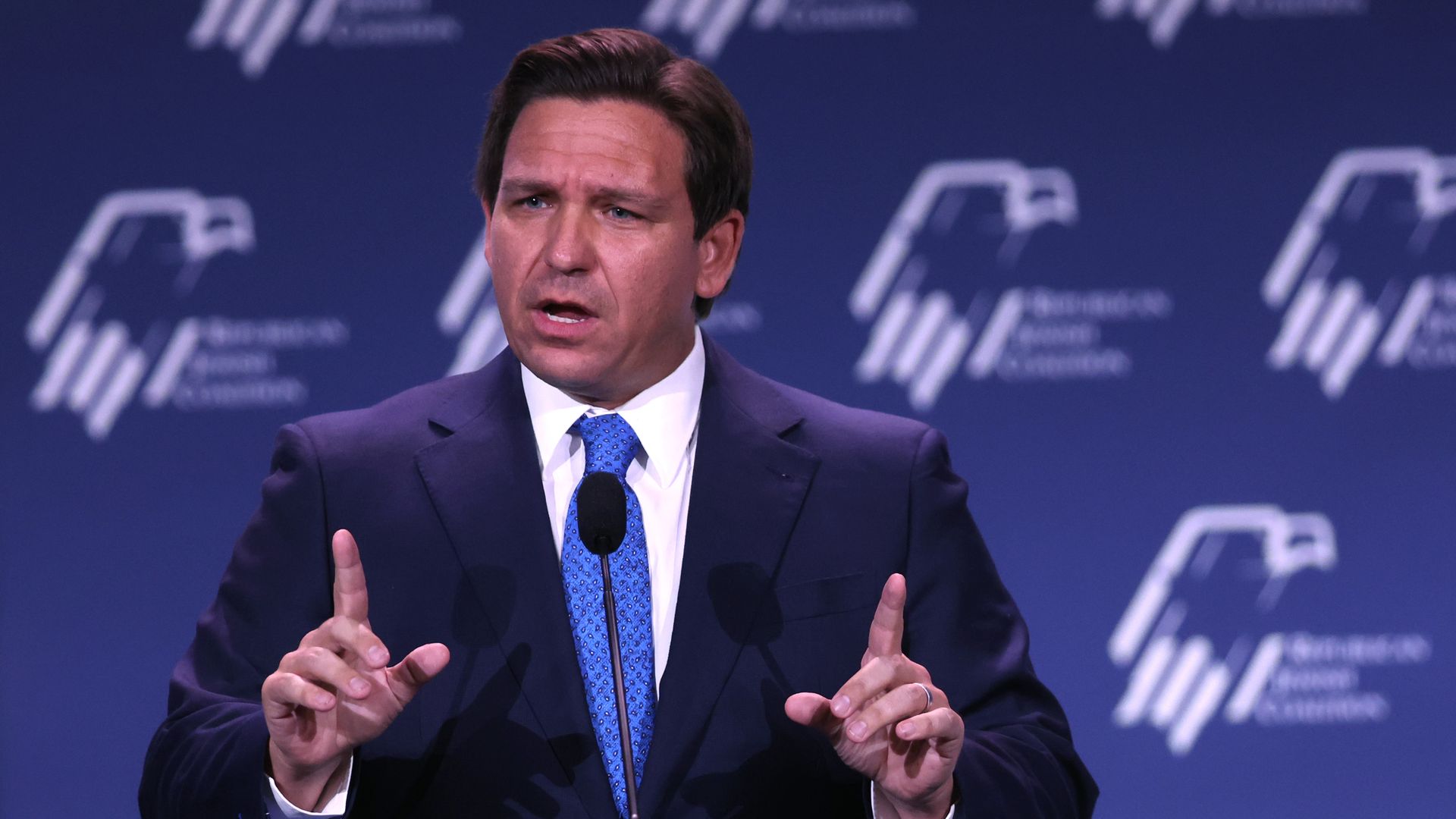 Florida Gov. Ron DeSantis activated the Florida National Guard Friday as hundreds of migrants have arrived in the Sunshine State.
Why it matters: The decision to deploy troops comes as DeSantis and other Republicans have waged battle after battle against the Biden administration over the president's immigration policy.
Details: DeSantis, a potential 2024 presidential candidate, directed state law enforcement and state agencies to provide resources for local governments in response to the migrants arriving in the Florida Keys, his office said in a press release.
He also called on state agencies to provide "additional support toward efforts to prevent further migrant landings on Florida's shores."
The state will share airplanes and helicopters from the National Guard, as well as increase the marine patrol for the Florida Fish and Wildlife Conservation Commission, the governor said.
Context: About 300 illegal migrants entered Florida on Jan. 1, DeSantis said. This is on top of the nearly 8,000 that authorities "encountered" at sea off Florida's coast since August 2022, DeSantis said.
Hundreds of Cuban migrants have reached the Florida Keys over the last week and thousands have been detained by authorities since October, Politico reports.
What he said: "As the negative impacts of Biden's lawless immigration policies continue unabated, the burden of the Biden administration's failure falls on local law enforcement who lack the resources to deal with the crisis," DeSantis said in a statement Friday.
"That is why I am activating the National Guard and directing state resources to help alleviate the strain on local resources. When Biden continues to ignore his legal responsibilities, we will step in to support our communities."
Flashback: Texas Gov. Greg Abbott (R) and former Arizona Gov. Doug Ducey (R) have taken similar steps in recent years, sending thousands of troops to the U.S.-Mexico border to deal with the ongoing crisis.
Zoom out: President Biden is expected to visit the border for the first time since taking office on Sunday. He will do so as the country anticipates potentially 14,000 migrant crossings a day, Axios reports, which may push the administration to limit migrants' ability to qualify for asylum at the southern border.
Ahead of his trip to Mexico, Biden announced a new policy that looks to accept up to 30,000 migrants per month from Cuba, Haiti, Nicaragua and Venezula.
The plan offers legal entry to those countries under humanitarian parole and asylum for one month, senior administration officials told reporters. But those who enter illegally could be expelled to Mexico.
Biden told migrants from those countries to ​​"not just show up at the border."
More from Axios:
Biden braces for potentially 14,000 migrants a day
U.S. sets record with more than 2 million encounters at Mexico border
Go deeper