Potent atmospheric river storm threatens California with flooding, heavy snow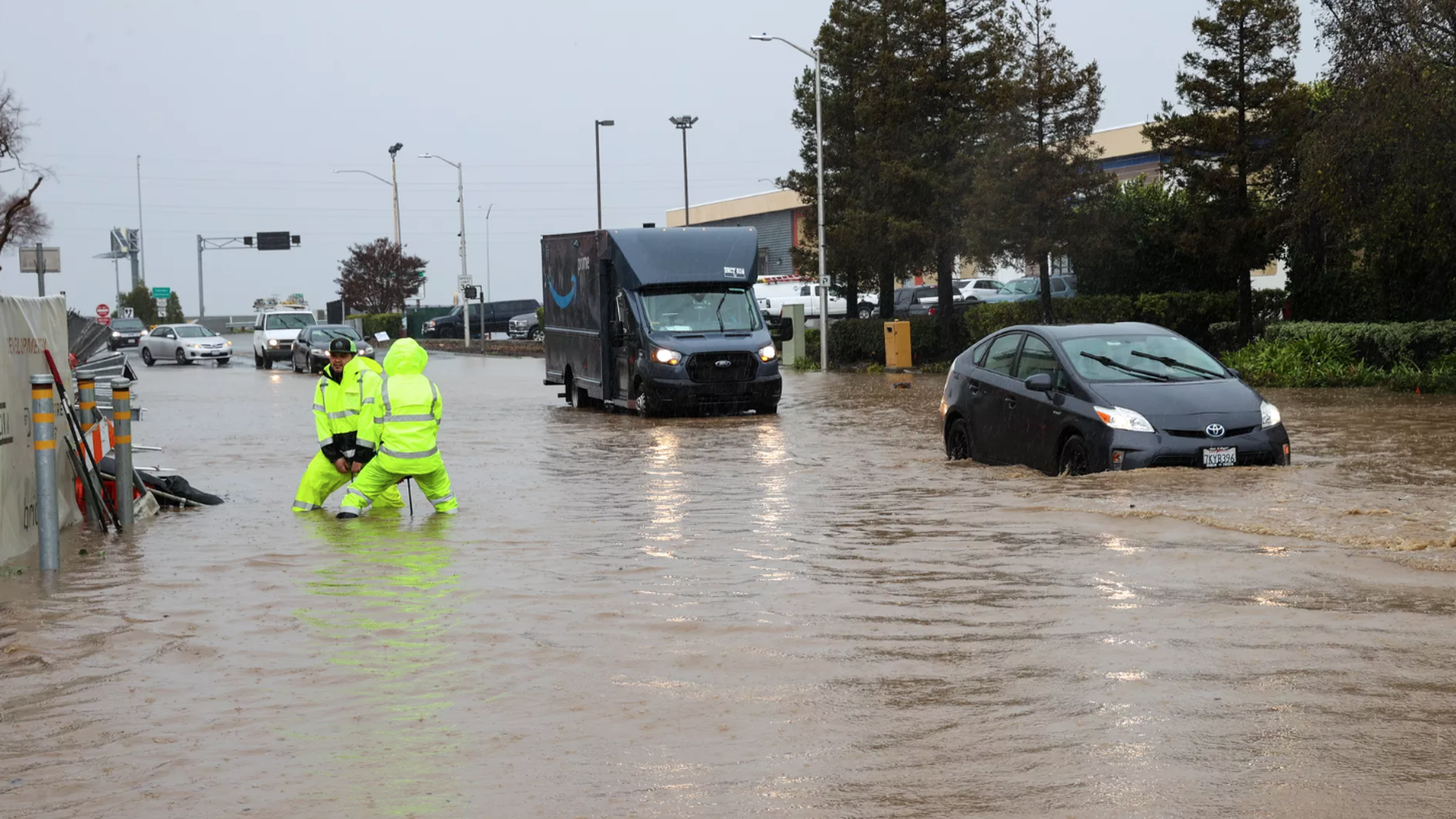 Californians reeling from a deadly major storm over the weekend are bracing for an even more dangerous atmospheric river event that's set to bring widespread flooding and powerful winds across the state Wednesday and Thursday.
Threat level: "To put it simply, this will likely be one of the most impactful systems on a widespread scale that this meteorologist has seen in a long while," the National Weather Service Bay Area office said in a forecast discussion Monday.
"The impacts will include widespread flooding, roads washing out, hillside collapsing, trees down (potentially full groves), widespread power outages, immediate disruption to commerce, and the worst of all, likely loss of human life. This is truly a brutal system that we are looking at and needs to be taken seriously."
— Excerpt from NWS Bay Area office forecast discussion
The latest: City of San José officials declared a state of emergency and signed an evacuation order ahead of the ferocious storm's expected arrival in the Bay Area Wednesday.
Evacuation and shelter-in-place orders and advisories were in effect Tuesday in parts of Monterey, San Mateo and Santa Cruz counties in anticipation of the forecast heavy rains.
The NWS issued a flood watch across the Bay Area and Central Coast and for most of Northern California to be in effect Wednesday morning until Thursday afternoon, with possible mud and landslides.
Of note: The incoming rain comes after a weekend storm hit Northern and Central California, causing widespread power outages and the deaths of at least two people, per the Sacramento Bee.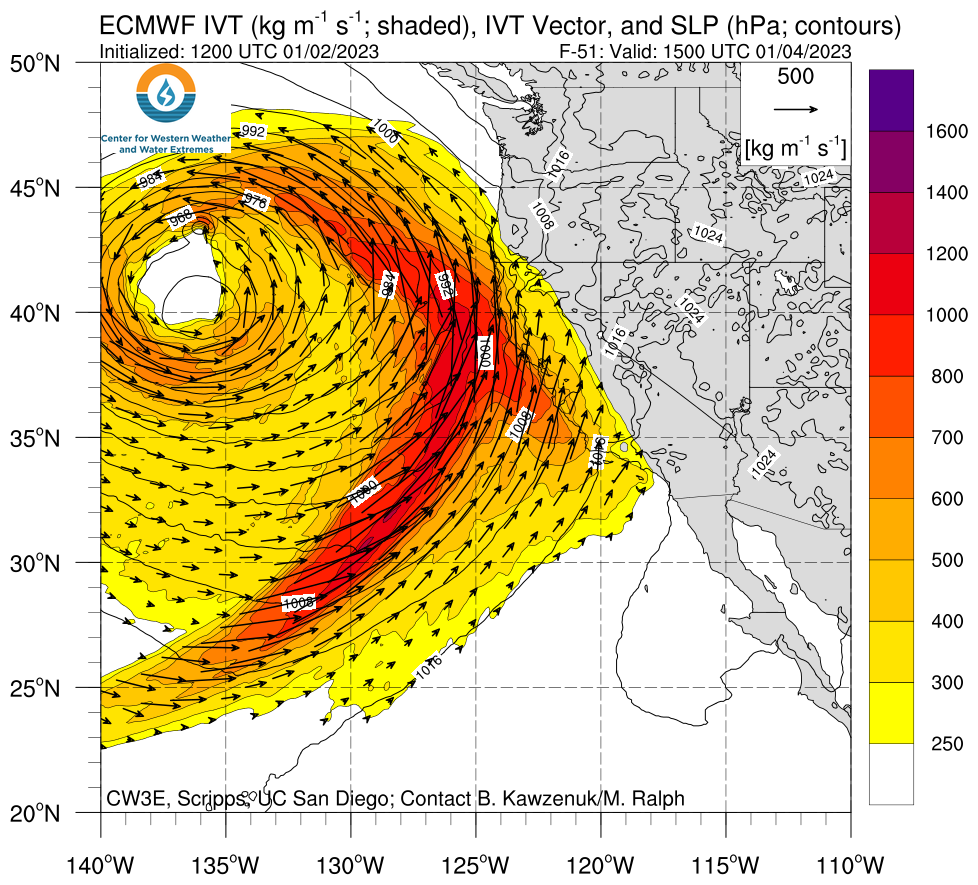 What to expect: Winter storm warnings, flood watches and high wind warnings were in effect for much of central and northern California, including San Francisco, San Jose and Sacramento.
Wind advisories extended all the way south to San Diego and north into Oregon. The L.A. metro area was also under a flood watch as the storm approached.
A "strong atmospheric river" was arriving Wednesday "with extremely heavy mountain snow rates; heavy rain, flooding, and mud and rock slides likely at lower elevations; and widespread gusty winds," the NWS Weather Prediction Center warned.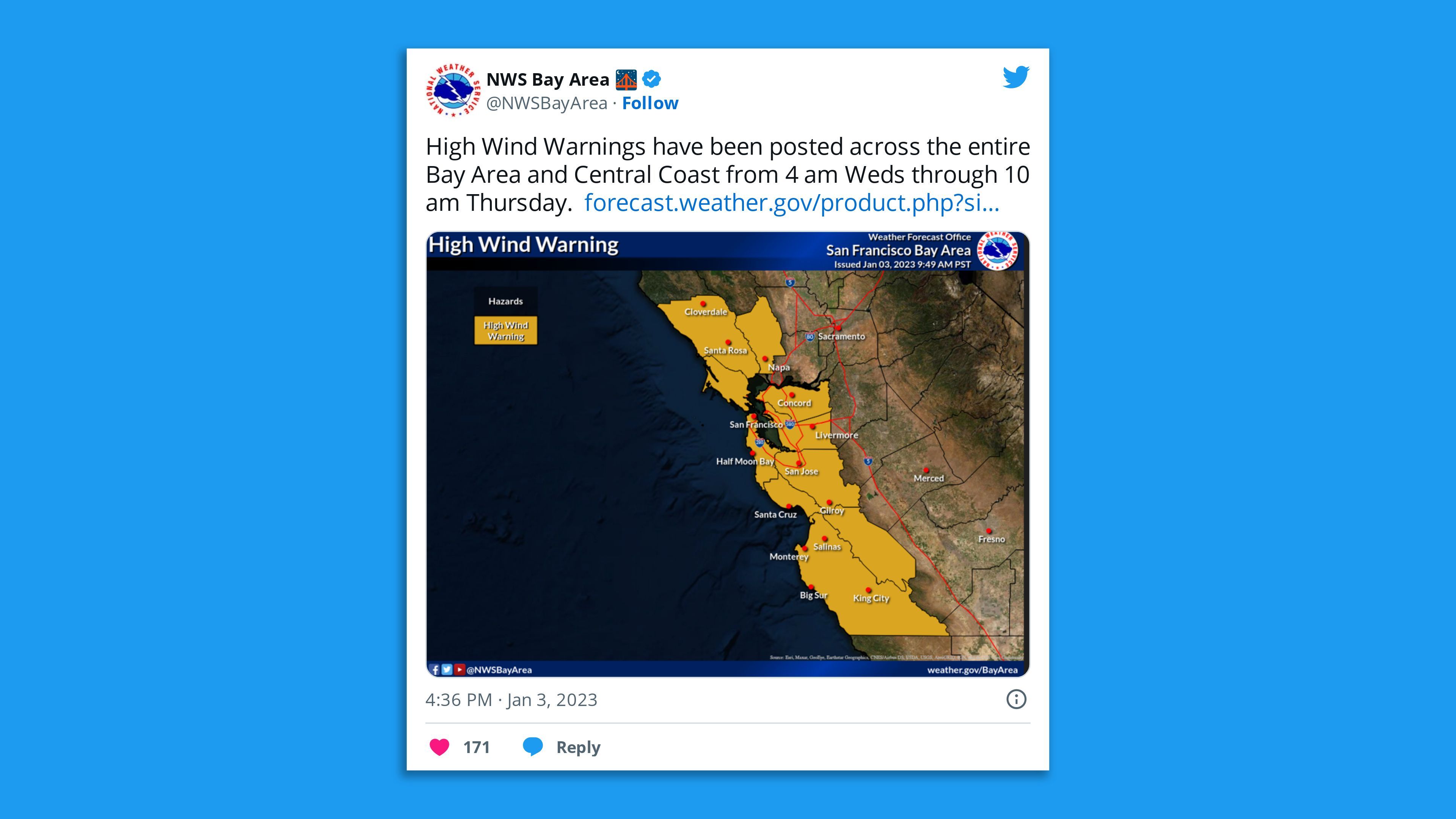 By the numbers: The New Year's Eve storm resulted in downtown San Francisco experiencing its second-wettest calendar day on record, with 5.46 inches of rain.
The UC Berkeley Central Sierra Snow Lab in the Sierra Nevada Mountains recorded 7.5 inches of snow in just one hour on Dec. 31.
The prospect of another 6 to 12 inches of rain, and 2 to 4 feet of additional mountain snow, has forecasters and emergency managers increasingly concerned.
Between the lines: Daniel Swain, a UCLA climate scientist, noted in a Twitter post that a rapidly deepening surface low, or a bomb cyclone, "will remain well offshore, but the associated warm and cold fronts will bring widespread heavy rain and strong winds to Northern California later Wednesday."
Swain said this storm "would be fairly notable in its own right, as it will be associated with an unusually well-defined warm and cold frontal passages and an exceptionally moist and relatively warm" atmospheric river.
For the record: Atmospheric rivers are potent but narrow currents in the air that can carry vast amounts of water vapor thousands of miles from the tropics to mid-and-northern latitudes.
Wednesday's storm impacts "will be further elevated by fact that soils are now saturated" throughout most of Northern California, with some rivers running high and active major flooding and levee breaks along Sacramento County's Cosumnes River, Swain said.
This will bring with it the threat of further flooding and possible landslides.
The NWS is recommending that people get signed up for emergency alerts, pack "go bags" in case evacuations are required, and prepare for power outages or road closures lasting several days.
The bottom line: Climate change is adding even more moisture to atmospheric rivers, enabling them to dump higher rain and snow totals.
California is still in a long-term severe drought, and recent studies have shown that climate change increases the odds of weather whiplash events from drought to flooding and back again.
Editor's note: This article has been updated with additional details throughout.
Go deeper