Google releases most searched for Christmas cookies by state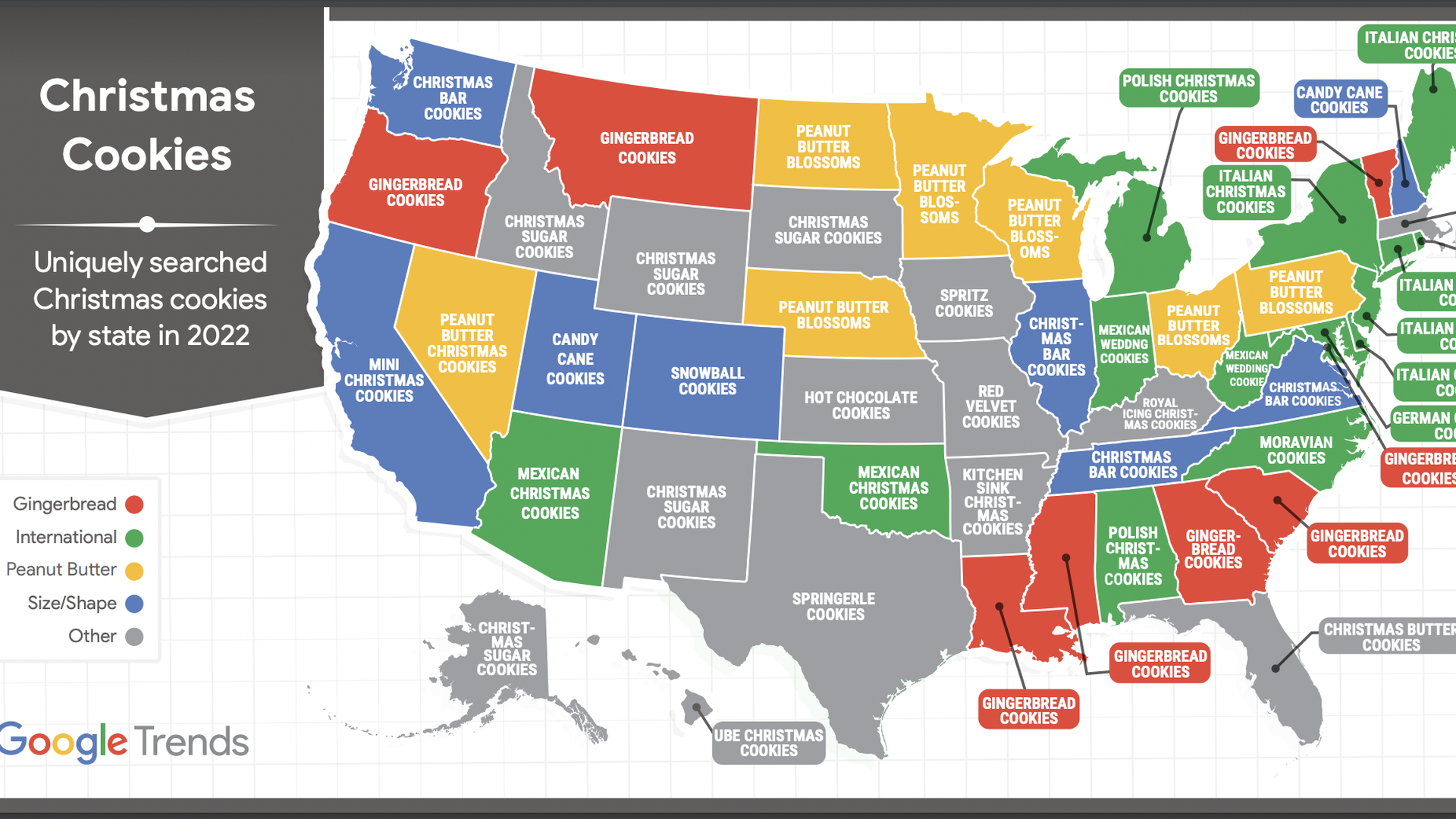 America's most popular Christmas cookies for 2022 are sugar cookies, gingerbread and peanut butter blossoms, according to Google Trends data.
Driving the news: Google released a map Thursday of uniquely searched Christmas cookies by state based on searches between Dec. 3-9.
The big picture: Consumers will buy or bake Christmas cookies to serve or gift to family members and friends ahead of the holiday.
Desserts are on the Christmas shopping list for 61% of holiday revelers, a Numerator survey of 1,510 consumers found.
How it works: Google told Axios that its map "represents the uniquely searched cookies across the US" and it defines "uniquely searched, as a term that is over-represented in a region compared to the country."
Linzer Cookies were uniquely searched in Massachusetts, so that means the state searched for it more than the U.S. as a whole, Jenny Lee, lead Google Trends analyst, told Axios.
What they're saying: "Even though Christmas Cookies remain a yearly constant, the types of cookies people search for change every year and that is what makes these results so interesting," Lee said.
The data showed a strong presence of international-style cookies, particularly on the East Coast with a high concentration of Italian Christmas Cookies, Lee said.
By the numbers: Gingerbread was the top cookie for seven states and D.C. while peanut butter cookie varieties the most searched in seven states.
Six states had Italian Christmas Cookie as the top searched cookie and five Sugar Christmas Cookies, Google data found.
Flashback: Last year, four states had Keto cookies and another four states had gluten-free Christmas cookies as their most searched for holiday cookie.
Christmas cookie list: Gingerbread, Snowball and more
The following are the most searched cookies by state:
Alabama: Polish Christmas Cookies
Alaska: Christmas Sugar Cookies
Arizona: Mexican Christmas Cookies
Arkansas: Kitchen Sink Christmas Cookies
California: Mini Christmas Cookies
Colorado: Snowball Cookies
Connecticut: Italian Christmas Cookies
Delaware: Italian Christmas Cookies
District of Columbia: Gingerbread Cookies
Florida: Christmas Butter Cookies
Georgia: Gingerbread Cookies
Hawaii: Ube Christmas Cookies
Idaho: Christmas Sugar Cookies
Illinois: Christmas Bar Cookies
Indiana: Mexican Wedding Cookies
Iowa: Spritz Cookies
Kansas: Hot Chocolate Cookies
Kentucky: Royal Icing Christmas Cookies
Louisiana: Gingerbread Cookies
Maine: Italian Christmas Cookies
Maryland: German Christmas Cookies
Massachusetts: Linzer Cookies
Michigan: Polish Christmas Cookies
Minnesota: Peanut Butter Blossoms
Mississippi: Gingerbread Cookies
Missouri: Red Velvet Cookies
Montana: Gingerbread Cookies
Nebraska: Peanut Butter Blossoms
Nevada: Peanut Butter Christmas Cookies
New Hampshire: Candy Cane Cookies
New Jersey: Italian Christmas Cookies
New Mexico: Christmas Sugar Cookies
New York: Italian Christmas Cookies
North Carolina: Moravian Cookies
North Dakota: Peanut Butter Blossoms
Ohio: Peanut Butter Blossoms
Oklahoma: Mexican Christmas Cookies
Oregon: Gingerbread Cookies
Pennsylvania: Peanut Butter Blossoms
Rhode Island: Italian Christmas Cookies
South Carolina: Gingerbread Cookies
South Dakota: Christmas Sugar Cookies
Tennessee: Christmas Bar Cookies
Texas: Springerle Cookies
Utah: Candy Cane Cookies
Vermont: Gingerbread Cookies
Virginia: Christmas Bar Cookies
Washington: Christmas Bar Cookies
West Virginia: Mexican Wedding Cookies
Wisconsin: Peanut Butter Blossoms
Wyoming: Christmas Sugar Cookies
More from Axios:
Go deeper