Key moments from the sole Pennsylvania U.S. Senate debate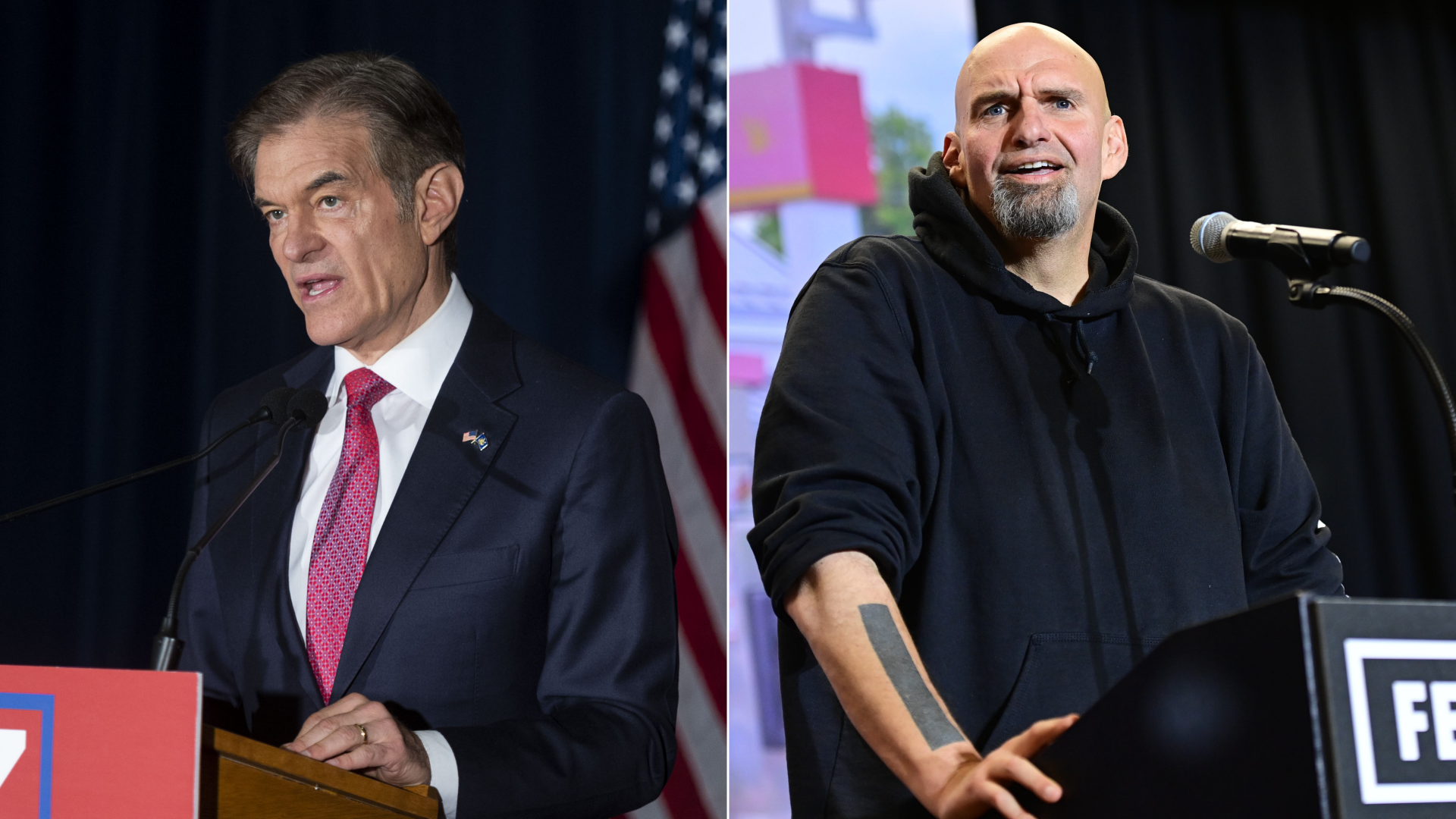 During their first and only televised debate, Pennsylvania's Senate candidates John Fetterman and Mehmet Oz squared off Tuesday over key issues including abortion, minimum wage and crime just two weeks before the Nov. 8 election.
Why it matters: Pennsylvania is emerging as the bellwether state on the Senate map, with Oz, a Republican, and Fetterman, a Democrat, statistically tied in most of the latest polling. Republican and Democratic strategists believe the party that wins this race will hold the Senate majority next year.
Driving the news: Fetterman closed the one-hour debate invoking a similar message from how he started: "My campaign is all about fighting for anyone in Pennsylvania that ever got knocked down and had to get back up again."
In closing, Oz said that he is the "candidate for change."
"Ask yourself this and others in your family, are you unhappy with where America's headed? I am," Oz said in closing.
"If you are as well, then I'm the candidate for change."
Oz opened his debate appearance by digging in on crime and attacking Fetterman's record.
Fetterman opened the debate by referring to his health as the "elephant" in the room. "I had a stroke. He's never let me forget that," he said.
What they're saying: Following the debate, Fetterman's campaign said in a statement: "We are thrilled with John's performance. He did remarkably well tonight – especially when you consider that he's still recovering from a stroke and was working off of delayed captions filled with errors."
Ronna McDaniel, the Republican National Committee chairwoman, called Oz's performance "fantastic."
"Supporting parents, lowering prices, keeping our streets safe… He had a clear message for the people of Pennsylvania!"
Of note: The Nexstar Media Group released a statement in response to the Fetterman campaign's comments on captions errors.
"Both candidates agreed to the technical set-up for the closed captioning process weeks ago, which was implemented at the request of the Fetterman campaign," Nexstar said.
Both candidates were offered two rehearsals with the equipment, but Fetterman only did one, Nexstar added. The company said the process functioned as expected and "we regret that Mr. Fetterman and his campaign feel otherwise."
Some key issues during the debate:
Fracking
Fetterman said during Tuesday's debate that he supports fracking, a key issue in Pennsylvania as one of the leading energy producing states.
"We need independence with energy," the Democrat said.
The debate's moderator pushed back on Fetterman's remarks, as the Senate candidate in the past has said that he never supported the industry and "never" will," CNN previously reported.
"I've always supported fracking," Fetterman said Tuesday.
Oz came prepared on the issue and expressed an effusive pro-fracking position and was eager to focus on energy production.
Crime
Republican candidates are digging in on messaging on crime in the homestretch of the midterm cycle — and Oz was no exception on Tuesday.
Oz said that Fetterman, "during this crime wave, has been trying to get as many murderers ... out of jail as possible."
Fetterman emphasized his focus on gun violence as mayor of Braddock, an industrial town in western Pennsylvania.
Abortion
Fetterman distanced himself from Oz on abortion, saying: "Roe v. Wade for me should be the law; he celebrated when Roe v. Wade went down," referring to his opponent.
Oz took what is likely his most moderate stance yet on the issue, saying abortion should be between "a woman, her doctor and local political leaders."
When Oz was asked whether he would vote for Republican South Carolina Sen. Lindsey Graham's proposed bill to ban abortion after 15 weeks, he repeatedly skirted the question.
"I am not going to support federal federal rules that block the ability of states to do what they wish to do," Oz said.
2024
Oz, when asked whether he'd support former President Trump in 2024, said: "I'll support whoever the Republican Party puts up."
When pressed on the question, he said he would support Trump in 2024, saying: "I would support Donald Trump if he decided to run for president."
Between the lines: Trump, who endorsed Oz, was a staple of the Republican candidate's primary campaign, but he has quietly distanced himself from the former president as the campaign progressed.
Fetterman said that he would "absolutely support" President Biden in 2024 "if he does choose to run."
Minimum wage
Fetterman said that he "absolutely" supports raising the minimum wage to $15 an hour. "I think it's a disgrace at $7.25 an hour," Fetterman said.
Oz, when asked about the state's minimum wage, said: "I think market forces have already driven up the minimum wage."
"John Fetterman thinks the minimum wage is the weekly allowance from his parents," Oz added.
What to know about the race
Context: A classic battleground, the state narrowly voted for Trump in 2016 before backing Biden in 2020.
Fetterman is trying to make atypical inroads with blue-collar voters that have swung Republican lately, while Oz is training his focus on winning swing voters in the battleground Philadelphia and Pittsburgh suburbs.
Zoom out: This is the only debate between Oz and Fetterman, and the stakes couldn't be higher. Fetterman agreed to debate Oz in September, roughly four months after he experienced a stroke just days before winning the Democratic nomination.
Fetterman's campaign in a statement earlier Tuesday called the debate "unprecedented."
"There's never been a closed-captioned political debate in a high-profile Senate race where one of the candidates is dealing with a lingering auditory processing challenge while recovering from a stroke."
Fetterman had requested closed captioning so he can better understand the questions and was granted the accommodation.
Details: Oz has relentlessly attacked Fetterman's progressive positions on crime in his campaign ads. Fetterman's campaign, meanwhile, has been slamming Oz for opposing abortion rights.
Worth noting: Political debates have been dwindling in races up and down the ballot, all over the country, Axios' Andrew Solender reports.
Go deeper: The 11th-hour midterm shifts
This story has been updated throughout with additional details.
Go deeper