Updated Oct 11, 2022 -

World
Biden condemns Ukraine attack as Putin claims it's retaliation for terrorism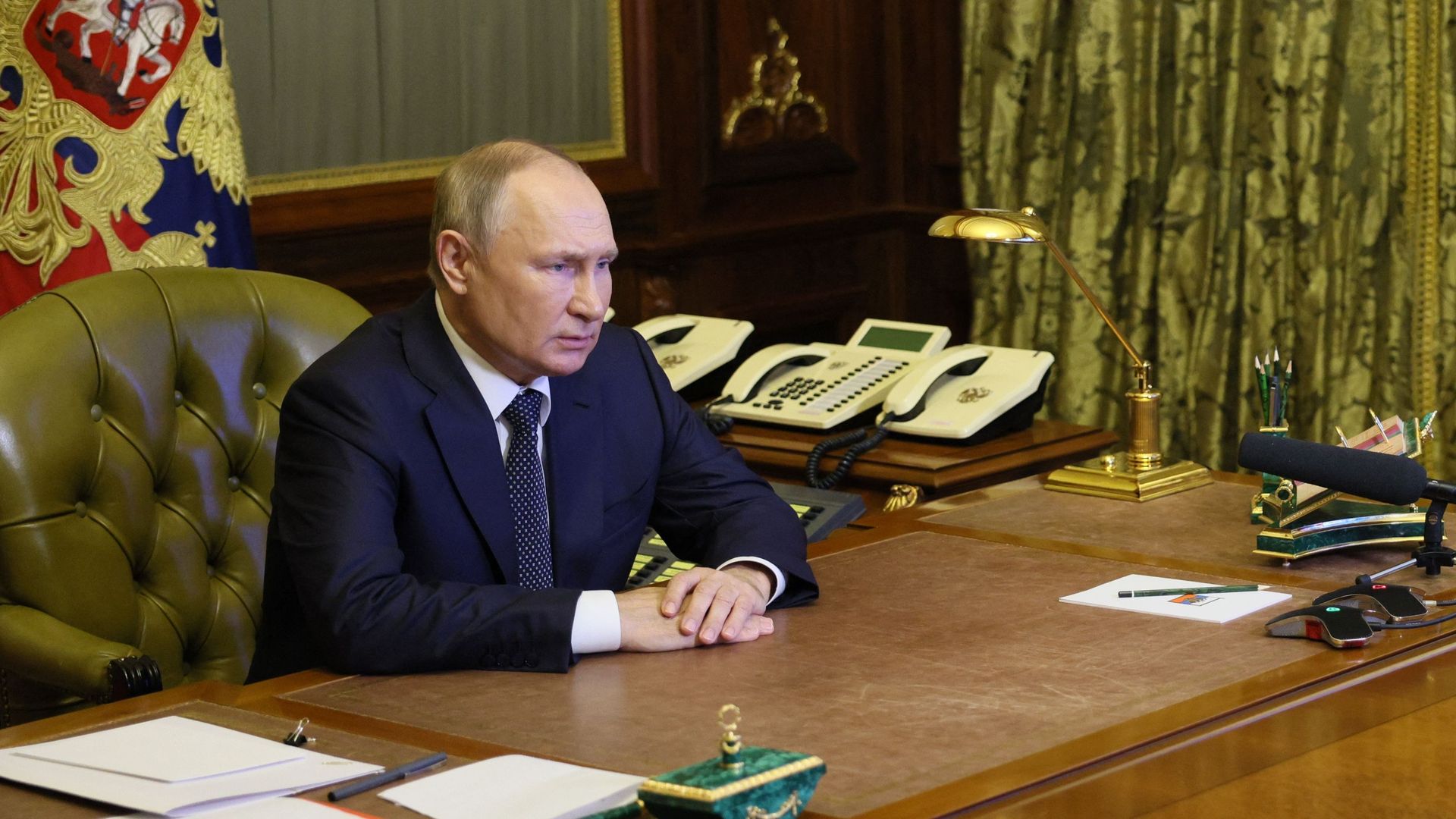 President Biden condemned missile strikes ordered against multiple Ukrainian cities Monday by Russian President Vladimir Putin — who claimed they were in retaliation for the explosion of a bridge linking mainland Russia with occupied Crimea.
The latest: Ukraine's state emergency services said in a Telegram post that at least 19 people died and 105 others were wounded in the attacks, as air raid sirens sounded across the country — with reports on Tuesday that the southeastern city of Zaporizhzhia had again been attacked.
What he's saying: "These attacks killed and injured civilians and destroyed targets with no military purpose. They once again demonstrate the utter brutality of Mr. Putin's illegal war on the Ukrainian people," Biden said in a statement on Monday afternoon.
"These attacks only further reinforce our commitment to stand with the people of Ukraine for as long as it takes," the statement continued.
Biden said the U.S. will continue to "impose costs" on Russia and "hold Putin and Russia accountable for its "atrocities and war crimes."
The president phoned Zelensky to condemn the attacks and vowed the U.S. would "continue providing Ukraine with the support needed to defend itself, including advanced air defense systems," according to the White House.
Between the lines: Putin claimed the Russian strikes targeted Ukrainian "energy, military command and communications facilities" but many landed in civilian areas.
Zoom in: Putin claimed the explosion that partially destroyed the Crimean bridge Saturday was a "terrorist attack. He said at a meeting with his Security Council it's "obvious that the Ukrainian secret services" were behind the attack, according to a Reuters translation.
"If attempts continue to carry out terrorist acts on our territory, Russia's responses will be harsh and in their scale will correspond to the level of threats created for the Russian Federation. No one should have any doubt about that," Putin added.
"Through its actions, the Kyiv regime has put itself on a par with the most odious of international terrorist groups. It is simply impossible to leave crimes of this kind unanswered."
Yes, but: Kyiv has not claimed responsibility for the bridge explosion and while Putin claimed the latest strikes were in response to that blast, the Russian military has hit civilian infrastructure, including hospitals, schools and temporary shelters, since the start of the invasion.
"Putin was not 'provoked' to unleash missile terror by 'Crimea Bridge'. Russia had been constantly hitting Ukraine with missiles before the bridge," Ukrainian Foreign Minister Dmytro Kuleba said on Monday.
"Putin is desperate because of battlefield defeats and uses missile terror to try to change the pace of war in his favor. This nonsense about Putin being 'provoked' must stop. He does not need anything to 'provoke' him in order to commit heinous crimes."
Meanwhile, Ukraine's defense intelligence agency claimed Monday the Kremlin told Russia's military on Oct. 2 and 3 to prepare mass missile strikes on civilian infrastructure in "densely populated Ukrainian cities"— well before the bridge blast.
The big picture: European Union leaders and NATO Secretary General Jens Stoltenberg condemned the attacks and key Russian allies China and India have both called for a de-escalation in the war.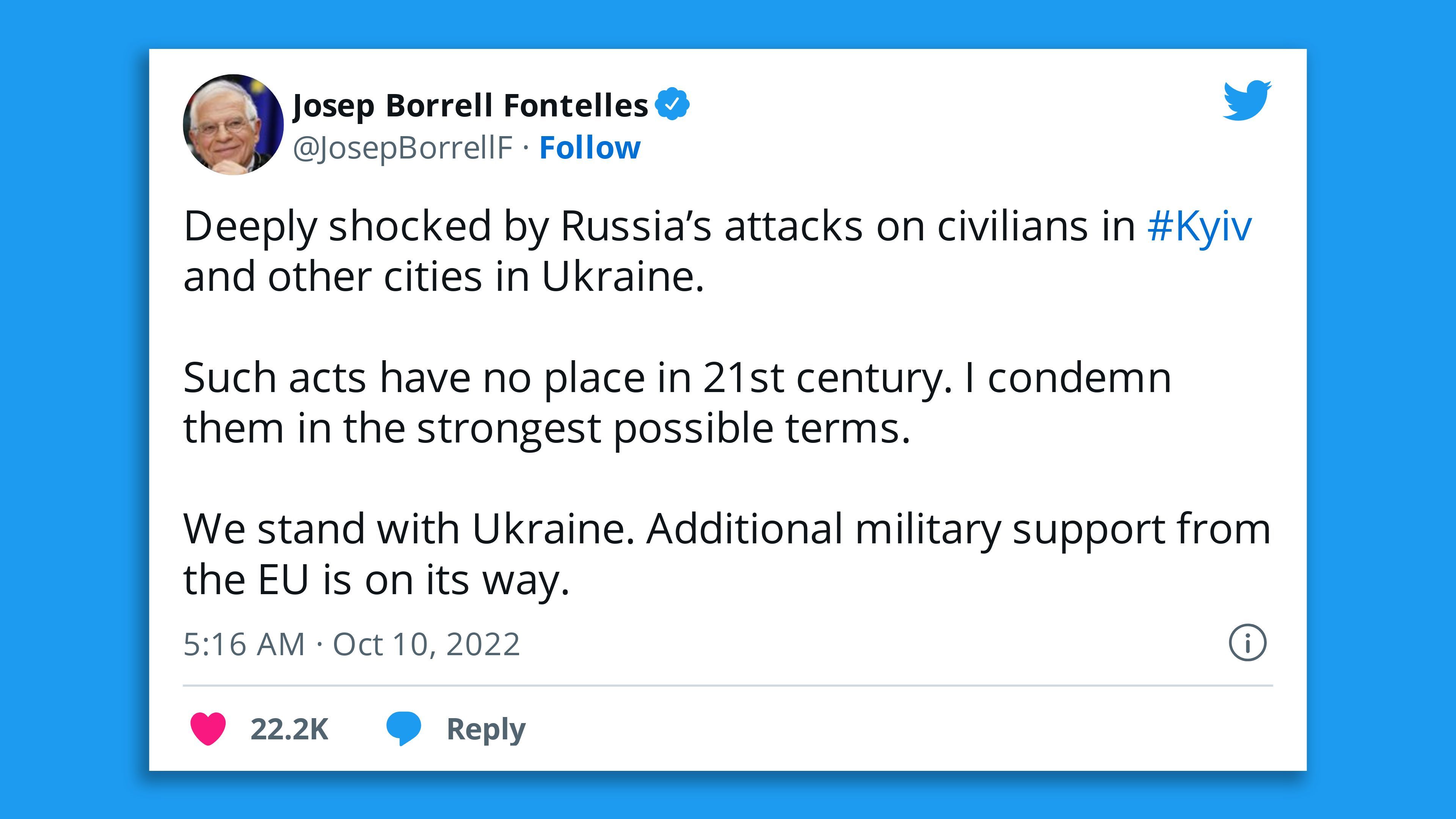 Go deeper:
Editor's note: This article has been updated with new details throughout.
Go deeper