Updated Aug 8, 2022 -

World
Gaza ceasefire takes effect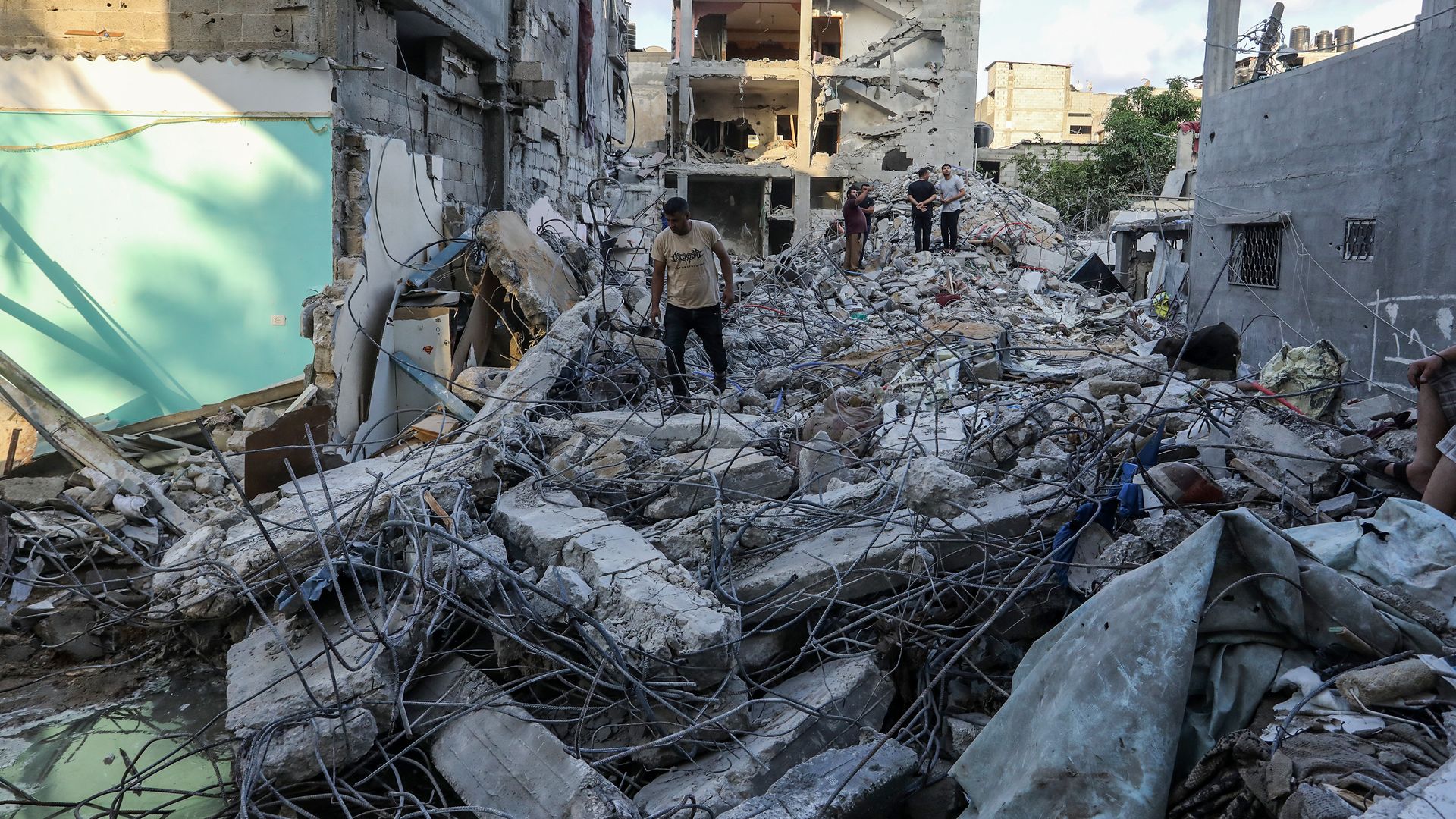 An Egypt-mediated ceasefire in Gaza began on Sunday at 11:30pm local time, Egyptian, Israeli and Islamic Jihad officials said separately.
The latest: The ceasefire, which was reached following three days of fighting that marked the worst violence in Gaza since a devastating 11-day war in May 2021, held overnight.
Driving the news: The deal followed a day of intense negotiations to end the fighting that left more than 40 Palestinians dead and over 300 wounded.
Israeli Prime Minister Yair Lapid said in a meeting with mayors of towns near Gaza Sunday that Israel's operation in Gaza had achieved its goals — including killing two Islamic Jihad commanders — and there was no point in continuing it.
Israel wanted the fighting to end before the situation on the ground deteriorated further and drew Hamas, which controls Gaza, into the fighting, senior Israeli officials said.
Western diplomats who spoke with Hamas officials said earlier Sunday that the organization wanted a ceasefire as soon as possible.
What they're saying: President Biden in a statement on Sunday evening welcomed the ceasefire and said U.S. officials had been working with those in Israel, at the Palestinian Authority and across the region "to encourage a swift resolution" to the conflict.
He said his administration would remain engaged with Israeli and Palestinian leaders, adding:"My support for Israel's security is long-standing and unwavering — including its right to defend itself against attacks."
"Over these recent days, Israel has defended its people from indiscriminate rocket attacks launched by the terrorist group Palestinian Islamic Jihad, and the United States is proud of our support for Israel's Iron-Dome, which intercepted hundreds of rockets and saved countless lives," Biden said.
"The reports of civilian casualties in Gaza are a tragedy, whether by Israeli strikes against Islamic Jihad positions or the dozens of Islamic Jihad rockets that reportedly fell inside Gaza," added Biden, noting his administration "supports a timely and thorough investigation into all of these reports."
— Excerpt from President Biden's statement
Meanwhile, the Israeli Prime Minister's Office thanked Egyptian officials for their efforts.
"If the ceasefire is violated, the State of Israel maintains the right to respond strongly. We will not allow any disruption to the lives of the citizens of the State of Israel," the statement added.
As part of the agreement, Egypt committed to working for the release of two Islamic Jihad members Israel arrested in the occupied West Bank, per a statement released on Egyptian state media.
UN envoy Tor Wennesland said the UN "has been intensively engaged and closely working with Egypt on mediating a restoration of calm."
"We underscore our commitment to do all we can towards ending the ongoing escalation, ensuring the safety and security of the civilian population, and following-up on the Palestinian prisoners file," he added. I will continue to work with all relevant parties to de-escalate the situation urgently."
The big picture: Several children and women were among the 43 Palestinians killed since the fighting began on Friday. Some were killed by Israeli airstrikes. Israel says others were killed by failed Islamic Jihad rockets that landed in Gaza.
Of the more than 900 rockets fired by Islamic Jihad from Gaza, about 20-30% landed inside the Gaza Strip, the Israeli military said.
About 97% of the rockets that crossed into Israel were intercepted by the Iron Dome system, the IDF said.
State of play: The latest violence began after Israel launched air raids in Gaza amid rising tensions over the arrest of an Islamic Jihad member in the occupied West Bank last week.
Israeli officials said they had intelligence that showed that Islamic Jihad was preparing to conduct attacks against Israel and the strikes in Gaza were meant to "remove a concrete threat against Israeli civilians."
Palestinian leaders, meanwhile, condemned the Israeli strikes and blamed Israel for the latest escalation.
Of note: While the economic situation in Gaza had slightly improved since last year, minimal rebuilding has taken place, and the enclave — home to more than 2 million Palestinians — continues to face high rates of poverty.
Israel closed Gaza border crossings last week, exacerbating fuel shortages. Gaza's lone power plant shut down at noon local time on Saturday due to the shortages.
Editor's note: This story has been updated with additional details throughout.
Go deeper